A Guide to the Best Sony Bravia Home Theater Systems

Most people want to have it all when it comes to their home cinema system: affordability, style and of course great performance. If you are one of those hard-to-please people, the Sony Bravia home theater range is a natural choice to consider as it combines those qualities to an almost unprecedented degree. Have a look at these best-selling models. One of them might be just the perfect system for you.
Sony DAV-DZ170 BRAVIA theater system
The Sony DAV-DZ170 BRAVIA theater system offers a great combination of style andperformance. This 5.1 channel surround sound system comes packed with over a 1000 watts of power, allowing you to enjoy the full impact of your favourite movies and music. The built-in DVD player offers multiple format disc playback supports DVD/DVD-RW/DVD-R/DVD+RW/DVD+R DL and CD-R/CD-RW discs playing WMA, AAC, and JPEG files. The DAV-DZ170 also lets you to connect your iPod or other digital music player via the front USB port, ensuring that your are never short of playback options.
What is more, you can use the HDMI interface to upscale your DVDs to near 1080p quality, allowing you to watch your DVD collection at optimum quality. This feature-packed Bravia system comes equipped with Digital Cinema Auto Calibration, which automatically optimizes your speaker setting via the supplied microphone. You also get a smart remote control and the ability to rip CDs to your USB drive so you can take your favourite songs wherever you go.
Sony DAV-HDX585 BRAVIA theater system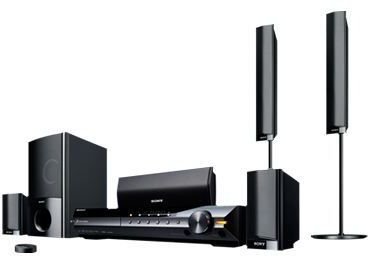 The DAV-HDX585 BRAVIA theater system offers a supercharged home theater experience, thanks to its great features and 1000 watts of attention-grabbing performance. An integrated 5-disc DVD/CD changer allows you to enjoy hours of non-stop entertainment while an included iPod dock extends your playback options. The sophisticated Digital Cinema Auto Calibration system optimizes the impressive floorstanding speakers performance in just 30 seconds. You also have the option of wirelessly sending audio to another room allowing you to enjoy the performance of this great system in other areas of your house.
You need to connect just one simple cable for audio and video thanks to HDMI connectivity which also allows you to upscale your DVDs to 1080p quality. The Digital Media Port of the DAV-HDX585 not only connects iPods, mp3 players and other digital music player but also has a booster to enhance the quality of the audio coming from these players.
Sony DAV-HDX678WF BRAVIA theater system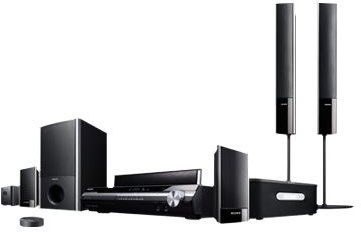 The DAV-HDX678WF BRAVIA theater system will appeal to those who value powerful home cinema sound and great features in a simple-to-use system. This sophisticated unit has a 5-disc DVD/CD changer which reads the data on a DVD at 480p before maximising the video resolution to 720p or 1080p via HDMI interface, allowing you to enjoy enhanced performance via just a single cable. The DAV-HDX678WF also comes equipped with S-AIR technology which provides multi-room listening through simple, wireless plug-and-play technology.
You will also find simplified front audio and video connectors on the DAV-HDX678WF facilitating easy connection of portable music devices. A powerful Digital Signal Processor expands the quality of any connected players while Digital Cinema Auto Calibration and Multi Speaker Formation provide optimum sound quality in any room.
Conclusion
As you can see, Sony Bravia home theater systems combine style and performance with features usually found in a far more expensive home theater systems. If your budget is on the more affordable spectrum of price, but you don't want to skimp on price, audition the systems detailed here: one of them is bound to fit you perfectly.