An Introduction to Sony Home Theater Speakers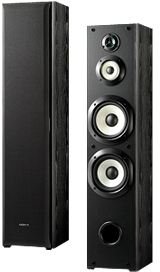 Putting together a home theater system? Your speakers will arguably have the biggest impact on the quality of sound that you enjoy, so it pays dividends to choose carefully. You can't go wrong with Sony home theater speakers which offer exceptional value, are well made and are designed to bring out the best in high definition content. Here is an overview of their most popular models.
Sony SS-F7000 floor-standing speakers
The ultra-powerful SS-F7000 floor-standing speakers are designed to reproduce the full impact of high resolution audio. This three-way, four driver speaker is equipped with high-tech drive units to capture every nuance of the reproduced material, bring audio to life just as the creators intended. A 1 inch nano fine balanced dome ensures pristine highs up to 50khz, while two 8 inch mica reinforced woofers supply floor shaking bass. A dedicated 3 inch midrange unit rounds up this very impressive package.
Sony SA-W3000 subwoofer
As every home theater enthusiast knows, a quality subwoofer is essential for reproducing the demanding low frequency effects found in most modern films. The SA-W3000 performance line subwoofer with its 12 inch mica reinforced cellular woofer will let you feel the full impact of the movies you watch. The SA-W3000 goes all the way down to 20Hz to reproduce those floor shaking sound effects. A 180 watt dedicated amplifier provides the grunt while advanced motion feedback technology ensures that the sound is as controlled as it is powerful.
Sony SS-F6000 floor-standing speakers
The high-performance SS-F6000 floor-standing speakers is designed to deliver the full quality of high definition entertainment in a relative slim and discreet package. Thanks to its advanced drive units however, the SS-F6000 can reproduce everything from thunderous lows to delicate highs. A 1 inch nano fine balanced dome tweeter takes sound reproduction to 50kHz while two 6 1⁄2 inch woofers deliver chest thumping bass.
Sony SS-CN5000 center speaker
While many people concentrate on buying a great subwoofer, a quality center channel speaker is just as important for a quality home theater system. The SS-CN5000 center speaker is designed to bring voices and dialogue to life, reproducing sound with crystalline quality. The highly sophisticated nano fine balanced dome tweeter provides nuanced treble to 50khz, and enhanced H.O.P. dual 5 1/4 inch drivers bring enhanced resolution and detail to the all-important mid-range, bringing new life and clarity to your movies and music.
Sony SS-B1000 performance bookshelf speakers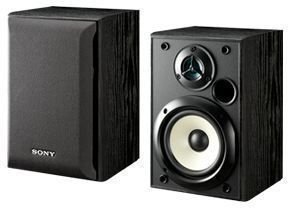 The diminutive but room-filling SS-B1000 performance bookshelf speakers can fit into the tightest of spaces while providing rich, dramatic sound of surprising quality. A newly developed 5 1/4 inch H.O.P. cone woofer provides hard hitting bass with surprising impact for its size while the highly advanced tweeter provides detailed highs to 50khz. With a maximum input of 120 watts, this is a small speaker that can definitely punch above its weight.