Introduction to Bose Home Entertainment Products for Your Home Theater System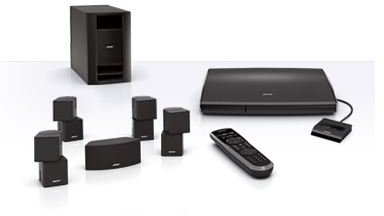 Introducing Bose Home Entertainment Products
Bose had been a household name in home entertainment for decades, famous for direct/reflecting speakers that provide stereo sound over a wide area of the room. Their 5.1 channel products bring their breakthrough technology to the home theater market. Here is a breakdown of their most popular products and how they could meet your home entertainment requirements.
Lifestyle V35 Home Entertainment System
The Bose Lifestyle V35 home entertainment system is designed with simplicity in mind. Guided setup makes installation a breeze and easy to follow on screen messages recommend the best connectors for the components added to the central console and even verify that you have made the correct connections. This means that anyone can get this system up and running in no time. And once you get it up and running, you can enjoy the exciting surround sound that is the hallmark of all Bose Lifestyle systems. The patented ADAPTiQ systems analyses your room's acoustics and automatically adjusts the sound, giving you optimum quality whatever the room. The V35 system can be bought with Bose's new Jewel Cube speakers which are much smaller than the normal direct/reflecting speakers and discreetly blend with any environment.
Lifestyle T20 Home Theater System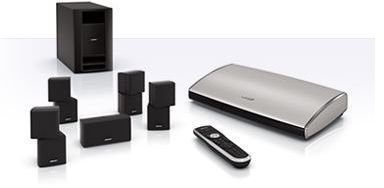 The Bose Lifestyle T20 system is a more affordable introduction to the wonderful sound of Bose, bringing out the best in your movies and games. It doesn't skimp on features either with the Unify intelligent integration system ensuring that setup is fool proof. With video upscaling to 1080p via HDMI, the T20 system allows you to enjoy up to 6 HD video sources, such as your Blu-Ray player, gaming system and cable box. What's more, you can control all of them with one remote. The T20 is available with Bose Direct/Reflecting speakers which offer high fidelity stereo sound in a compact package. The T20 also features the patented ADAPTiQ audio calibration system which automatically adjusts the sound according to room acoustics, giving superior quality in any environment.
Lifestyle 48 Home Entertainment System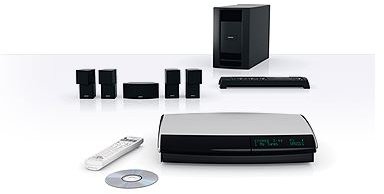 The high performance Lifestyle 48 home entertainment system is capable of distributing audio to 14 additional rooms, including outdoors. This fully featured system comes equipped with a progressive scan DVD/CD player and can digitally store up to 340 hours of CD music. While you enjoy music automatically calibrated to the room acoustics in your main listening area, Bose link technology allows you to connect compatible Bose products to your Lifestyle 48 system and channel music to other areas of your home. This advanced technology even allows you to play two different sources in different zones. Meanwhile, the Lifestyle 48's uMusic + intelligent system lets you store music from CDs and MP3s and includes a playlist mode with extensive functionality, allowing you to find any stored song with ease. You can listen to your favorite music in 5.1 surround over the premium Jewel Cube speakers and dedicated center channel.