Ready to Build Home Theater Plans and How-to Guide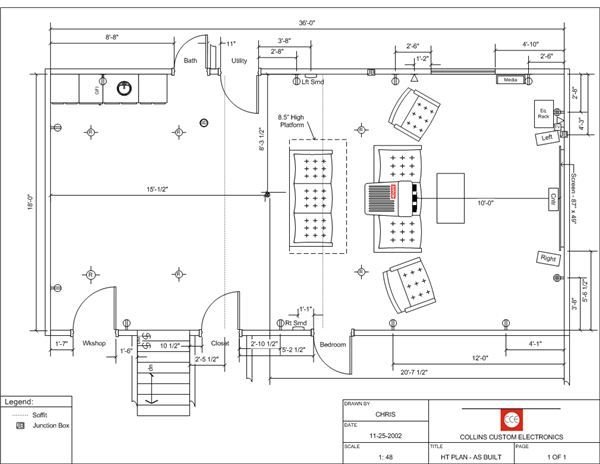 Picking a Room for Your Home Theater
If you're planning on installing a home theater, some ready to build home theater plans can go a long way in assisting you in getting the ball rolling. But, before jumping into any home theater building project, you need to think about your available space.
Most home theaters are going to be fairly simple setups: maybe some theater seats, the TV and some speakers. If it's anything more than that, then you're going to have to consider installing drywall, laying flooring and a variety of other tasks. But, if you just want a ready-made home theater room, find a room that is already not being occupied. Consider a basement or spare room. The walls are already ready to go. You just need to add the accoutrements.
Pick a room that preferably has little to no windows. This way, it's already dark. If there is only one window, then a simple curtain can be hung.
Adding a Home Theater to an Existing Room
Next, measure your room. This will assist you in picking out home theater seats. Once you have your measurements, the first thing that you want to do is mount your plasma/LCD television in your home theater room. Since this will set up the rest of the room, it should be done first. Now, you have to layout your home theater seats. Generally, you want to be able to have enough room where everyone can be comfortable, still see the television and move around the room. Oftentimes, a simple sectional sofa arranged around the television will suffice.
Next, you want to layout your home theater speakers. Part of planning your home theater room will be deciding whether or not you want wired or wireless speakers. With wired speakers, you will have to run the cords somewhere and try to hide the surround sound wires. With this done, you now have completed your home theater plan setup.
While this is the simplified version how to build your own home theater, what happens if you want more? Or what if you want to add noise reduction to your home theater room? You have to basically add this before adding anything else. Now, it's time to get into construction. Here are some step-by-step instructions to help you build a home theater in a new or home that's being remodeled. Preferably, the room that you're considering has already been framed out. If not, you may have to do that yourself or get your contractor to frame it out.
Adding Sound Proofing Material to a Framed-out Room
Materials
Plywood
Neoprene Pads
Flooring
Stud Locater
Drill
Wood Screws
Insert the neoprene pads under the new floor joists.
Lay your plywood out in an even pattern.
Locate your studs, and mark them.
Drill holes through the plywood into the studs.
Screw the plywood in the studs over the pads.
Lay the flooring (carpet would be best) that you plan on using.
If you have completely deconstructed your walls, you can also add soundboard in between the studs on the walls and ceiling. This will also assist with reducing sound in the room.
Materials
Soundboard
Drywall
Screws
Drill
Stud Locater
Secure the soundboard via screws to the areas between the studs.
Start arranging the drywall so that it's in an even pattern.
Locate your studs behind the drywall, and mark them.
Drill holes through the drywall and into the studs.
Secure your drywall to the studs with drywall screws.
Once you have done the manual construction, you just need to do the aesthetics of painting and hanging fixtures. Then, you can move onto adding the features listed in the previous section.