Home Theater Paint Colors - Tips on Painting Your Home Theater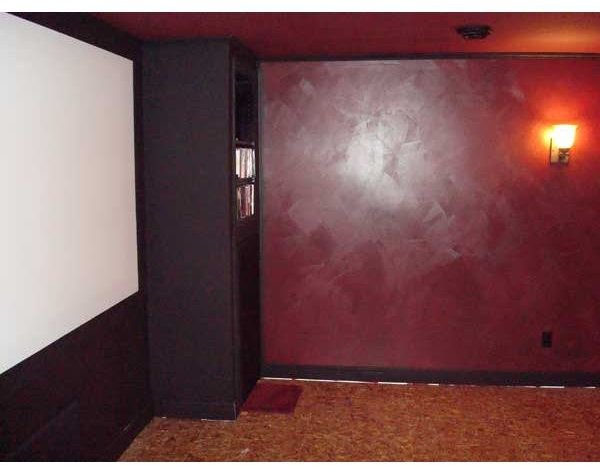 Try to Make it as Dark as Possible
The higher the level of ambient light in the room, the greater will be the problems involved; especially the surface may shine a lot, and you may have problems in viewing from wider angles. Therefore, it is recommendable to use a paint that has minimal luster.
If the room is absolutely dark, then the screen of your home theater will not suffer from reflections, and the image quality will be very high.
Try Flat Paints
The darker you paint the walls and the ceiling, the better off you will be. Even a small bit of light reflected onto the theater screen can diminish the image quality and make the black levels on the screen not look very black.
The ideal paint for watching movies would be flat blank paint on the walls and on the ceiling. So, you'd always be better off with flat paint, rather than trying something extravagant.
You should try to use a paint with minimal amount of sheen, as flat paint won't reflect light as much as an eggshell or semi-gloss paint would.
Good Options Amongst Dark Glazy Shades: Dark Burgundy with Darker Glaze
Weird as it may sound, but you can even think of trying a very dark shade of burgundy along with another darker glaze; as far as the paint color is concerned, this may be almost equivalent to jet black. And, it will ensure very low lighting levels in the room.
Looking at the image to the left; you can easily make out the kind of impact a darker shade like burgundy can have on the overall ambiance.
Tip: To prevent light reflections on the ceiling, you may consider painting surrounding areas of the screen in flat black for best results.
The Best Color Choices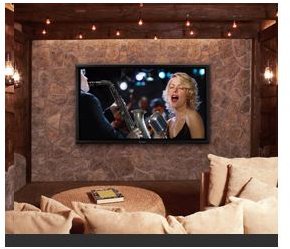 The color selection for painting your home theater room and its walls is totally up to you; but, as mentioned earlier, you need to ensure that you picked darker shades to minimize possibilities of reflection.
But, this is under the assumption that you're planning to use your home theater system exclusively for watching movies, and nothing else! However, if this doesn't happen to be the case and you're thinking about using your home theater primarily for watching TV programs then you may have to give it a second thought.
It is a well-known fact that you enjoy watching movies in theaters merely due to that impact, low lighting levels, and awesome sound clarity. But, you don't essentially require a similar environment for watching TV shows, and sports telecasts. As a matter of fact, a small room with low lighting levels may look more like a cage; so, you may want to select a suitable light color tone for conducive lighting conditions.
Other Coloring Options
Apart from jet black and dark shades like burgundy, you can even consider painting your home theater screen in darker shades of grey, for facilitating better contrast and targeting the focal point for enhanced viewing pleasures.
A Valuable Tip
Before you start painting your home theater, you must keep all the joints in mind, and try to seal them meticulously to prevent sound from escaping. A deep color and tinted primer is always preferable, because it can help in maximizing the color contrast with videos, and give you the perfect feel of a real movie theater!