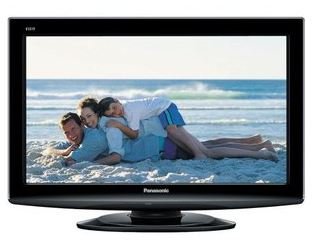 Overview
Samsung LED-based UNB8500 series models became quite famous right from the first day, but we're not covering them in this article, since their size as well as hefty price tag of $3,500 don't just fit into the league of small HDTVs. So, let us now move on to the top performing small HDTVs, and review them in detail one after the other.
Panasonic VIERA TC-L26X1 HDTV (5 out of 5)
The Panasonic Viera TC-L26X1 LCD is a 26-inch HDTV that comes with 720p resolution level, and turns out to be an ideal choice for music freaks as well as those who love to keep watching several movies at a stretch.
There are many aspects of Viera that distinguish it from the rest, such as the Viera Image viewer for sharing photos, Viera link to exercise complete control over linked Blu-ray Disc players, HD camcorders, DVD recorders, and home theater sound system, that too with a single remote!
Panasonic VIERA has amazing picture quality, comes in stylish design, contrast ratio of 12,000:1, and , smart networking capabilities. Its environmental friendliness has been acclaimed by most of the critics and the iPod Entertainment Kit (not included in the box) is something that's not to be seen on most of the other small HDTVs of its segment.
It has an intelligent Scene Controller, 3 HDMI Inputs (32" and 37"), and a dedicated gaming mode to cater to the needs of hardcore gamers.
What's more, it wide 178 degree viewing angle give it the extra edge over most of its rivals and backlight's wide transmission aperture also strengthens the motion-image response.
With an attractive panel design, and an exclusive VIERA tools user interface, Panasonic Vierra TC-L26X1 is one hell of an HDTV, which also has added goodies like anti-image retention (to control wobbling), and eco mode featuring automatic off function and awesome energy-saving efficiency.
It is available for just $290 at Amazon marketplace
Toshiba 19AV600U Portable LCD HDTV (4 out of 5)
The 19AV600U from the house of Toshiba is yet another powerful small HDTV that comes in 19-inches size and 720p resolution level.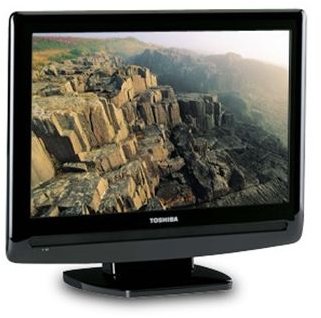 Featuring a classy look, it is an ideal choice for the budget minded consumers as well as those who are looking for a second HDTV. The 19aV600U has a unique dynamic backlight system called the 'DynaLight' that renders a natural feel to the images by improving their brightness levels.
It has an in-built HDTV tuner that allows you to receive broadcasts via compatible antennas; so a set-top box is all that you need to view high-definition satellite television programs.
It has an aspect ratio of 16:9 making it a decent choice for the ideal home theater experience in medium budget range. And, Hitachi hasn't left out the hardcore gamers either; the special gaming mode of the Toshiba 19AV600U HDTV makes the action sequences truly worth watching with shortened signal-to-screen time and faster response time.
This is one of the best small HDTVs in terms of looks, thanks to its high-gloss black cabinetry. It has 10-bit video processor, integrated ATSC/NTSC/QAM TV tuning capability, 60 Hz video scan rate, 1 HDMI input, and it is an Energy Star 3.0 compliant HDTV.
It is available at the Amazon marketplace for under $200
Samsung LN19B360 LCD HDTV (5 out of 5)
The Samsung LN19B360 is yet another 19-inch high definition TV that comes with one HDMI input and 720p resolution level. It renders considerably shaper pictures, thanks to its Wide Color Enhancer 2 technology, dynamic contrast ratio of 15,000:1, and quick response time of 8ms.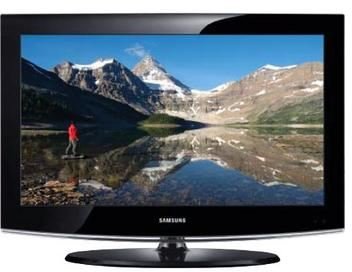 You get couple of 3W bottom speakers and its SRS TruSurround HD as well as virtual surround-sound listening experience help you get into the fantasy world of your own. It also has a built-in digital tuner, and gaming mode rendering enhanced blacks, optimum audio output and sharp picture quality. What's more, you can enhance the image processing response with the click of a button to experience unparalleled gaming experience.
Samsung gives one-year parts and labor warranty on the LN19B360. All in all, this small HDTV provides the right combination of resourceful features and affordability, adding realism to everything that you watch.
You can buy this small HDTV at Amazon marketplace for just $171.00
Panasonic TC-PV10 Series (4 out of 5)
If you count out the Samsung's UNB8500 series, then the Panasonic TC-PV10 series of plasmas has been simply unparalleled. It was not only great for enjoying superb picture quality in front of the TV, but also from those odd angles.
These HDTVs were priced around the $2,100 mark (initially), and turned out to be a costly affair, in comparison to the other contenders like Samsung PNB650 series, Panasonic TC-PG10 series, and Samsung LNB750 series models.
However, when you consider the picture clarity, these HDTVs are next to being picture-perfect (amongst small HDTVs available at comparable cost). Overall, they were one of the best small HDTV released in past couple of years.