Choosing The Best Wine Refrigerator for Your Home Theater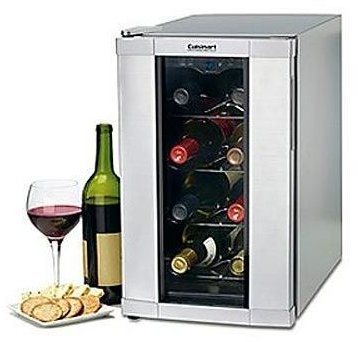 Overview
If you are choosing a wine refrigerator for your home theater, there are several factors you should take into account. Before you go wine cooler shopping, consider these aspects to help you come to the best decision.
Space
When choosing a wine refrigerator for your home theater, it is imperative that you know where you will install it. Measure the height, width and depth of the spot where you want to add a wine refrigerator and write down these measurements. If your home theater is already full of furnishings and devices, you may need to look for a relatively small wine cooler that does not require much space. Your wine refrigerator will require an electrical connection, as well, so be sure that you select a location with an available outlet. There are many compact wine refrigerators that take up little floor space or can be placed on a shelf or table, such as this Cuisinart Eight-Bottle cooler.
If you have plenty of space, however, and want to be able to serve a variety of beverages, there are many larger models that nicely contain and cool everything from wine bottles to beer cans to two-liter soda containers, such as this Danby SilhouetteBeverage Center that holds 165 cans, five two-liter bottles and 77 bottles of wine.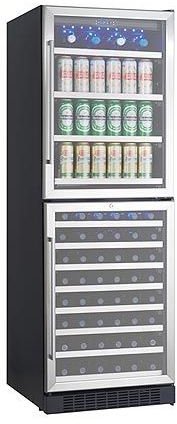 Capacity
Along with considering the space in the room, you should also factor in the size and number of the containers you will likely want to store when choosing a wine refrigerator for your home theater. If you typically only keep a few small bottles of wine on hand, you may not need to invest in a large wine cooler. Something like this compact Four Bottle Wine Cellar may be sufficient.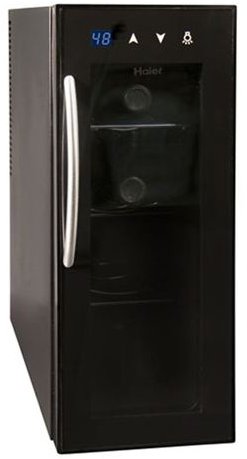 If you want to be able to keep multiple types and sizes of beverages on hand, such as cans of soda and a variety of wines and beers, it may be more economical to purchase a single, larger refrigerator than to purchase two separate models.
Wine Varieties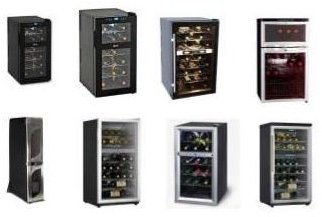 Consider the types of wine you typically keep on hand as well as other beverages you will want to cool and store when choosing a wine refrigerator for your home theater. This will help you know what to look for regarding zones and temperatures. Red wines should be stored at around 60 degrees Fahrenheit; white, rose and blush wines should be stored at around 50 degrees; champagne or sparkling wines are best kept at around 45 degrees; while beer and soft drinks are nice and cold at about 40 degrees. If you typically stick with one type of wine, look for a refrigerator that will easily stay at the required temperature. If you prefer to store more than one type of wine or beverage, there are several dual-zone wine refrigerators on the market that allow you to store beverages in two different "zones" at two distinct temperatures.
Budget
Finally, although by no means of least importance, you should consider your budget when choosing a wine refrigerator for your home theater. There are wine refrigerators that start at under $50, such as the Vissani 6 Bottle Wine Cooler, and others in the tens of thousands of dollars, such as the EuroCave Performance 283 Triple Elite Wine Cellar (shown here). Once you know your price range, needs and desires, take the time to shop around. Sooner or later, you will find th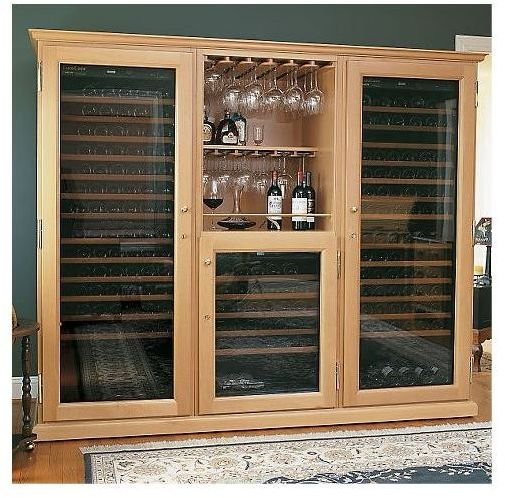 e ideal wine refrigerator for your home theater.
For more home theater ideas, check out Home Theater Accessories and Decorating Ideas.