Explained - Three Ways How To Hide Wires When You Put A LCD TV On The Wall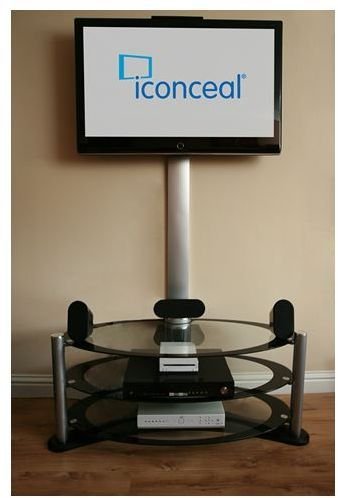 Hide Unsightly Cabling!
If you're looking at how to hide wires when you put a LCD TV on the wall, read on – you might just find there are more ways to do this than you thought!
There are three popular ways:
Cable covers
Custom mounts
Installing into a drywall
Each of these methods has its advantages and disadvantages – depending on how much effort you're willing to spend on hiding your wires.
Factors that might influence your choice include workload, DIY proficiency, budget and aesthetic requirements.
Let's take a look at each in turn:
Using Cable Covers
Available from various online retailers, several manufacturers have started to sell cable covers that are both stylish and easy-to-install solutions for anyone wishing to hide the wires and cabling after their LCD TV is mounted.
One such example is iConceal which offers black and silver aluminum covers than can be slipped into place, stuck onto the wall with self-adhesive brackets and can be adjusted to a maximum height of 1.1 metres.
Similarly, the AVF UA180W Premium Cable Management system (visit their website here) can be easily installed and is suitable for painting, making it more suitable for use in rooms where black or silver trunking would look ugly.
Installing into a Drywall
Finally, you might choose the DIY solution. This involves spending time on the positioning of your display to ensure the chosen drywall has a suitable stud system for supporting a TV and its mount, and taking steps to secrete your cabling within the wall.
The best way to do this is to utilize some extension cables where necessary and remove a portion of the drywall (which would be out of sight when the TV is mounted) through which you can push your cabling. A similar manufactured gap at the foot of the wall will then allow you to connect the cabling to the appropriate equipment. You can purchase covers from DIY and hardware stores to avoid unsightly gaps.
You might also employ the services of a qualified electrician to create a recessed mains outlet behind the TV.
Tidy it up With a Custom Mount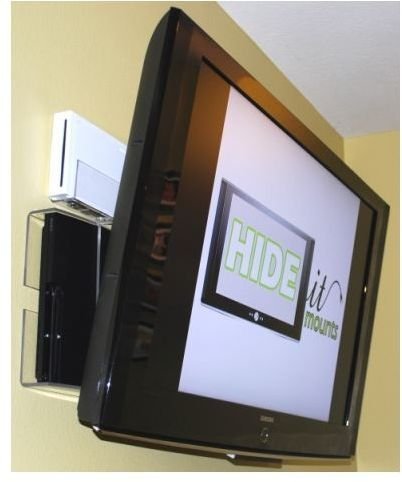 Another way how to hide wires when you put a LCD TV on the wall is to utilise custom mounts to store your hardware. This method can be used either alone or in conjunction with installing into a drywall.
Suitable mounts are available from www.hideitmounts.com – these are designed to conceal Sony PlayStation, Microsoft Xbox 360, Nintendo Wii, Apple TV, and other devices. There is a choice of mount depending on your hardware, and each is made from clear acrylic and ships with installation instructions.
These mounts should be secreted beside the wall bracket behind your TV – note however that they may cause unnecessary additional strain on a drywall if the stud system isn't of sufficient quality to support any further load.