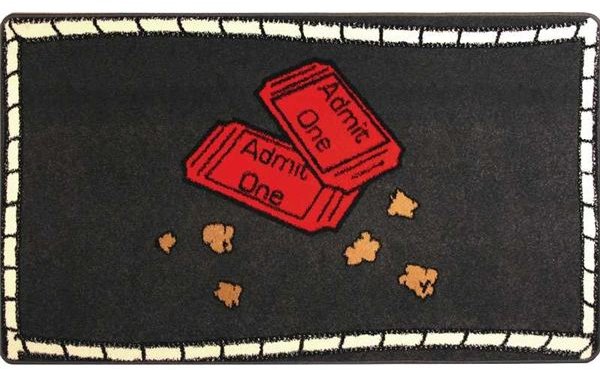 Overview
When selecting home theater accessories, there are several factors to consider. You can decorate everything from ceiling to floor, although you do not have to heap accessories into your home theater. A few interesting pieces placed thoughtfully in the room will help you create the home theater ambiance you desire.
Home Theater Accessories for the Floor
When decorating your home theater with accessories, what better way to start than from the ground up? There are dozens of area rugs and carpeting options that will make you and your guests think you are walking into a cinema.You can choose from one of two basic themes. Select an area rug or carpeting with a distinctive theatrical print, or opt for a more subtle flooring choice that is reminiscent of the carpet you might see at a movie theater. An added benefit to using theatrical carpeting or rugs as a home theater accessory is that these flooring options tend to be sturdier and more spill-proof than typical carpet or area rugs.
Choose an area rug with a whimsical motif, such as this Admit One print rug offered by All Movie Replicas. This home theater accessory measures 3' x 5' and is currently priced at $229.99. Other designs available through this retailer include a "Comedy and Tragedy" design and a movie reel pattern, each selling for $229.99.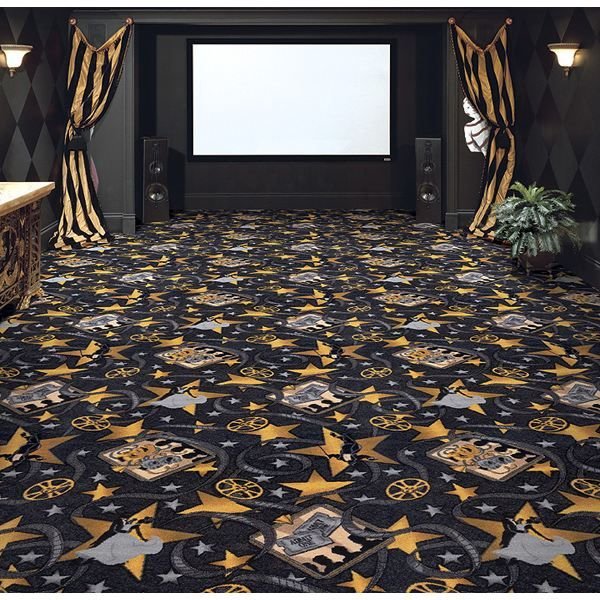 Another vendor of rugs and carpeting decorated with a home theater print include HT Market. Along with standard sized area rugs, this retailer also offers cut to order carpet with patterns such as Silver Screening Room (pictured here), Cinema Black, which features a reel and popcorn design on a black background or a Walk of Fame print, with swirling ribbons and stars. The prices for these vary depending on the size you need, and each has a minimum size order, which also varies by design.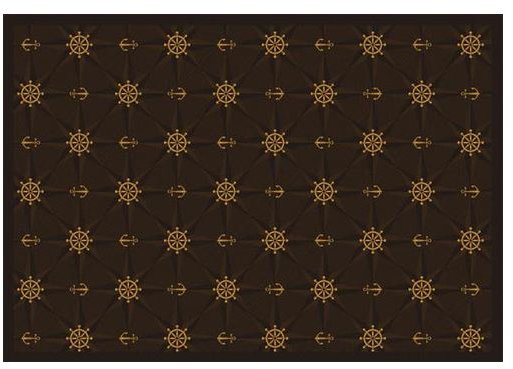 If these designs are a little too theatrical for your taste, you can choose area rugs or carpeting that is still sturdy and provides a movie theater appearance without as much embellishment. HT Market offers carpet tiles and industrial carpeting that is attractive, sturdy and will suit your home theater decor. KidCarpet.com also offers a variety of options that are sturdy, suitable and attractive yet will not compete with your other furnishings or home theater accessories, such as Mariner's Tale, pictured here in chocolate. This print is also available in emerald, navy, onyx and wine and is sold in a variety of sizes.
Along with rugs and carpeting, if you really want to create a cinematic experience, there are other home theater accessories for your floor.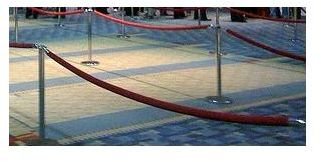 For instance, Cinema Builder sells movie theater posts in chrome, black or brass and velvet or naugahyde ropes in red, black, blue or maroon. You could use these to make guests feel as though they are at a private film viewing or cordon off the area to imply that you want privacy and quiet, although spouses and offspring may not take kindly or adhere to this implication!
Photo credit, posts and ropes: flickr.com/sapphir3blu3
Home Theater Accessories for the Walls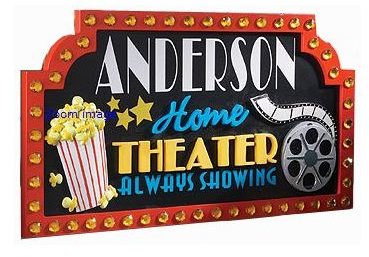 When it comes to decking the wall of your home theater, accessories are bountiful. You can choose to hang one or two decorative items, or turn the room into a full-blown home cinema; it depends only on your decorating tastes and style. For example, you might prefer one prominent sign, such as this personalized home theater sign offered by Home Theater Interiors for under $60. A noticeable accessory such as this one will customize your home theater all on its own.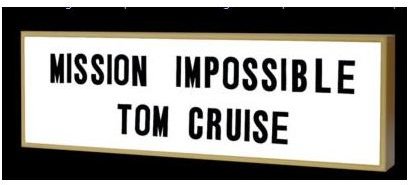 You do not have to stop at just one item, however, If you are aiming for the whole cinematic enchilada, you can pull out all the stops and cover the walls of your home theater with accessories. For example, Home Theater Interiors also offers several types of wallpaper borders that are perfect for a home theater, with prints including vintage movie posters, classic movie star couples and more. MoviePosters.com has posters available from just about every imaginable film, from Casablanca to Pippi Longstocking to New Moon. Cinema Shop offers marquees and concession signs starting at $319 with free shipping, although you do have to purchase the letter kits separately.
Other Home Theater Accessories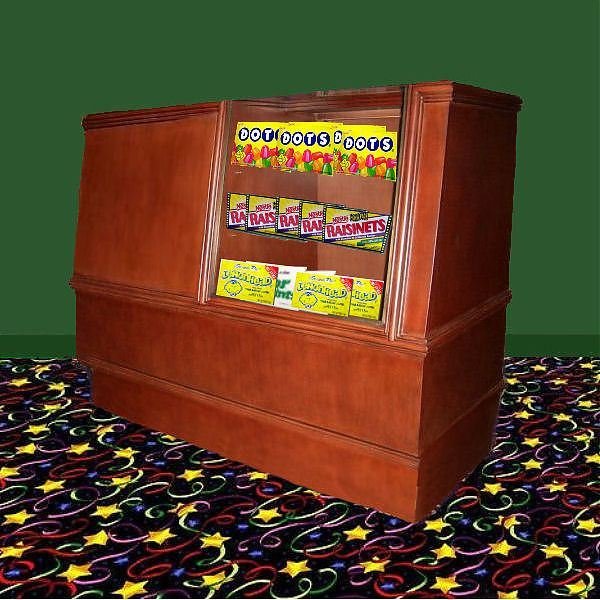 There are countless other home theater accessories you can incorporate into your decor. Again, you can choose for a simpler look with a few fun, eye-catching pieces or opt to create a movie theater experience in your home.
You can create a concession area by installing a candy counter like this one from Stargate Cinema for $1,199.99 with free shipping. Of course, you will also need a popcorn machine. Cinema Shop offers a wide variety starting at right around $300; they have nacho and sno-cone machines, as well.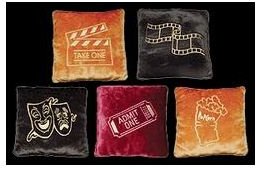 Alternatively, you can toss some plush, theater-related throw pillows on your sofa. HT Market offers a fun assortment. Pop up some corn in the microwave, grab a soft drink from the fridge and cuddle up on the couch for movie night at home.
As you can see, there are plenty of home theater accessories on the market. The bottom line is to create a home theater which feels inviting and comfortable to you.
Related Articles
Want more tips and advice on setting up your home theater? Read Home Theater Room Design, How to Choose Home Theater Lighting and What People Are Buying for Their Home Theater Systems from the Bright Hub Home Theater channel.