What is the Best Outdoor HDTV Antenna? A Look at the Top Three Outdoor HDTV Antennas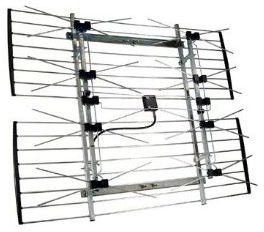 Outdoor Antennas
When I was growing up in my parent's two-story home, we had a giant metal antenna on the side of the house that rose above the roof. Inside, we had a little rotary dial that was used to adjust the antenna by rotating the top. The process was never quite exact, but on a good day we could pick up television stations from over fifty miles away. Things have changed a lot since those old analog days, especially now that everything has gone digital. Instead of the giant towering metal antennas of yesterday, you can get even better performance with a smaller digital antenna that mounts on the side of your house. Here's a look at some of the best outdoor HDTV antennas currently on the market.
Channel Master 4228HD Outdoor Rooftop HDTV Antenna
This monstrosity is about four feet wide by three feet tall, but it is considered one of the best long range outdoor antennas you can buy. It can be mounted on the rooftop, just like in the old days, or hung up in your attic. You'll get the best performance putting it outside, and mounted so this antenna is rated to pick up VHF and UHF signals from up to 60 miles away. Given that type of power, this impressive antenna is perfect for someone who lives in an area where reception isn't so easy to come by, such as rural areas. Roof installation does require a mast to be installed, so the $75-80 price tage is not all-inclusive. Crutchfield.com also recommends that you couple this antenna with the Channel Master 7777 Preamplifier for even better performance.
It is currently available from Amazon.com for $74.49.
For more information, visit the manufacturer's website.
Antennas Direct DB4 Multi Directional HDTV Antenna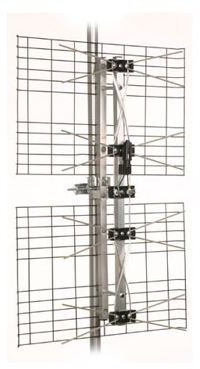 The DB4 model antenna from Antennas Direct is more or less just a pair of their DB2 model antenna, both of which are highly regarded for their reception. Although it can be installed in your attic, this antenna was primarily designed to go outside of your home. Each pane measures 19 inches wide and 29 inches tall, or vice versa depending on how you orient the antenna during installation. Both panels are adjustable, meaning that you won't have to tweak this one too much once you get it set right during installation. According to the manufacturer, it has an approximate 13.7 dB gain, which is very good.
It is currently available from Amazon.com for $48.21. The price does not include the mounting mast, which is @ $20 more.
For more information, including bundle packages that include the mast and an amplifier, visit the manufacturer's website.
Terk HDTV Amplified Antenna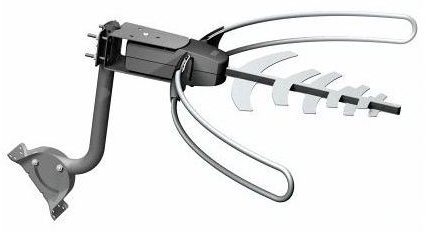 This outdoor antenna from Terk is the big brother to their stellar indoor model, and you can see the design similarities. One big plus to this model is that it includes all the necessary mounting hardware, so there is nothing else to buy. You can mount it inside your attic or on the side of your house, or even clamp it directly onto your existing antenna mast. It's not a very small antenna, with a reach measuring almost four feet, but that is what makes it work so well. This antenna is also amplified, thus providing even more boost to the signals it receives, and it is multidirectional so you can mount it in one place and never have to mess with it again.
It is currently available from Amazon.com for $71.99.
Terk is a division of the Audiovox Corporation, which also owns brands like RCA and Jensen. The Terk website is still under construction at this time.