Single Speaker Surround Sound Systems

Surround Sound from a Single Speaker?
You may have a home theater setup in your den. Maybe you have a small living room or hardwood flooring which makes it impossible to hide wires. Perhaps you just prefer the minimalist look and don't want to clutter the room with satellite speakers. Whatever the reason single speaker systems can definitely provide the solution. They are affordable, they are stylish and they can deliver a pretty decent approximation of surround sound by bouncing the sound off your walls.
Even with an optimum placement a single speaker system will never quite deliver the same surround sound experience as separate speakers can. If you are a real audiophile then you may want to consider another solution, but the vast majority of us will be impressed and happy with the sound produced by these systems. This is a growing category as the technology improves so let's dive in and have a look at what's on offer.
Polk Audio SurroundBar360° Home Theater System
This is a really stylish system which delivers an approximation of 5.1 surround sound from a single bar speaker designed to sit under your TV. It includes a DVD and CD player with HDMI and it offers upscaling to 1080i but not full 1080p. The set up is incredibly simple, plug and play. The sound bar itself is 44.5 inches long and it ships with a single 15 foot cable. As a nice extra the Polk folk have included a universal remote as part of the package and it ties in nicely with their uncluttered theme.
Their surround sound comes via their SDA system, which stands for Stereo Dimensional Array. It does produce a decent sound and surprising good bass for a system without a subwoofer but it doesn't sound as good as a traditional 5.1 system. You will also need to go for optimum placement, which is under your TV, if you want to get the proper effect. You can hook it up to your games console, satellite or cable box or even an MP3 player. It also supports JPEGs so you can view photos if you like. Of course it supports MP3s, and it has a built in AM/FM radio for music.
At full price there's no way this is worthy of consideration but Amazon is offering it at $449.99 and that brings it into contention.
Philips AmbiSound Home Theater Sound Bar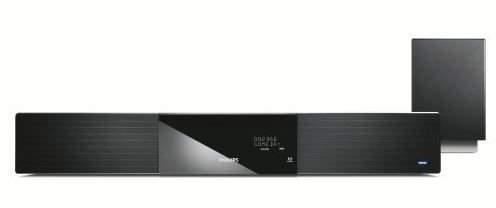 This system offers another sound bar speaker but this time there is a separate subwoofer. As with all sound bars the internal speakers are angled and the idea of creating a surround sound experience is about bouncing the sound off the walls to produce the right effect. Once again this system fails to emulate real 5.1 channel surround sound and it seems there is no substitute for a pair of rear speakers.
On the other hand, while it may not be surround, this system does offer terrific sound and it has quite a few advantages over the Polk system. For a start the DVD and CD unit looks very stylish and the system has a variety of optimum sound settings for movies or various types of music. You can also hook up an MP3 player and there is a USB connection for music or photos. The built in AM/FM radio completes the package. The other big bonus over the Polk system is the DVD upscaling and this system outputs in full 1080p.
Once again at full price I would hesitate to recommend this but at the Amazon price of $299.88 it looks to be a real bargain.
Samsung HT-BD8200 Sound Bar Home Theater System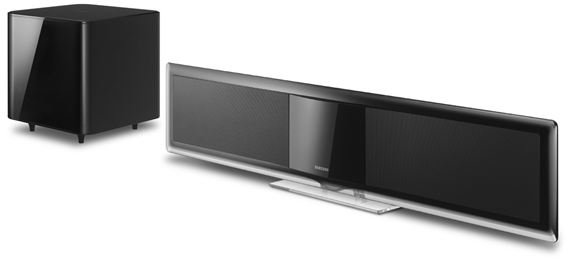 The previous systems on our list so far have lacked one important feature, the ability to play Blu-ray discs. This system from Samsung combines BD-Live compliant Blu-ray support with a host of cutting edge features and it looks like a great product. There is a stylish sound bar and a separate subwoofer (wireless) and it hooks up to your HDTV via HDMI with CEC. It supports Dolby TrueHD and DTS-HD Master Audio.
The extras include wireless streaming so you can watch movies from Netflix, stream music from Pandora or access content on your home network (although you'll need a USB dongle for Wi-Fi). It also supports iPod, both audio and video, and the iPhone. It has a built FM radio and support for Bluetooth as well. In terms of formats it will happily play Blu-ray, DVD and CD including home burned discs and DivX or Xvid movies.
It is a little pricier than the other options so far but you do get a lot more for your money. You can order this system for $599.99.
Sony HTCT100 Sound Bar with Subwoofer
Many of us already have a DVD or Blu-ray player, even better perhaps you already have a PlayStation 3 as part of your home entertainment system. If that's the case, then you don't need another player, you just need the actual speakers and that's where this system comes in. This is a sound bar and a subwoofer from Sony offering a combined output of 250 watts.
It has 3 HDMI ports and the Bravia sync means you can control some Sony TVs through the HDMI interface. This is minimalist and ideal for gaming or movies and along with a PS3 and an HDTV you would have a complete home theater solution. It has digital cinema auto calibration and supports S-Force Pro front surround sound. As we've already discussed it won't be as good as a real 5.1 surround sound system with rear speakers but it still provides top quality crisp sound with deep bass.
You can order this for just $229.75 and it gets my vote. Even if you have to buy a PS3 it still comes in cheaper than the Samsung and you will have a much greater range of features.