Blu Ray VHS Combo Player from Panasonic: How Blu Ray and VHS Work Together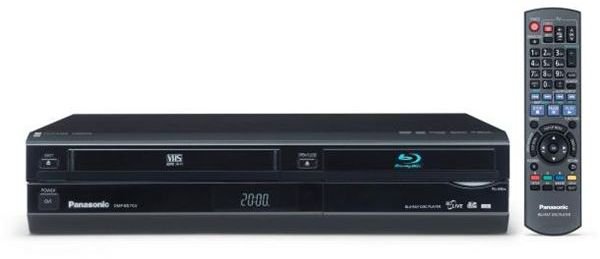 Intro
Panasonic seems to have had more foresight than most electronics manufacturers in providing technology consolidation. When Panasonic released their DMP-BD70V Blu-Ray/VHS player combo in March of this year, it became an unexpected hit with consumers who'd rather watch their original VHS tapes on a player unit while concurrently enjoying the benefits of Blu-Ray for movies.
Whether or not a player with this kind of consolidation will be right for you depends on what you want to do in bridging the gap between an archaic technology and the latest one:
Features
The Blu-Ray side of this Panasonic unit provides an unsurprising exemplary 1080p picture with some excellent picture adjustment features for the type of movie you're watching. Select a mode of picture from Soft, Cinema or a customized mode. The quality of picture can easily be adjusted, all the way up to the Gamma correction. Audio is also superior with Dolby HD built in and the ability to re-master any sound format to 96kHz.

While the above is rudimentary in unit features, the real selling point isn't even mentioned in the stats. This player operates efficiently without being plagued with firmware updates as the sometimes superior Samsung Blu-Ray players have been. If firmware updates are required, it's quite simple to get them if you have an internet connection attached to the unit for BD-Live features. Nevertheless, firmware issues don't seem to exist on very many Panasonic products.

On the VHS side, you merely have a player and not a recordable VCR as you'd get with some DVR/VHS combos, something Panasonic also has on the market. The advantage to playing your original tapes on this player is that it acts as an upscaling tool so your old VHS tapes from 25 years ago will look better than they ever did originally. This unit is the best choice if you don't trust transferring your videotapes to DVD on a DVR/VHS combo system.

As with many HD products out this year, the consolidation of internet with HDTV and HD movies is about to become mainstream. Panasonic gives you the ability here to connect to Youtube, Picasa and even Amazon.com's Video on Demand. With features like this, you won't even need Comcast's On Demand services, which is just what Amazon.com ordered.

In making Panasonic a truly family-friendly product line, the company also offers the ability for this unit to upload your digital photos so you don't have to do it on your computer. It also allows you to cobble together your own little home movie production with music and editing tools.
Price
Full retail price on this is usually close to $400 for the obvious reason of VHS player and Blu-Ray consolidation.Considering units like this are rare, it's worth investing in so you can keep one foot in the past and the other in the future.
Images