Best Buy Home Theater Sound Systems - Christmas 2009
Panasonic SC-BT300 1250W 7.1 Channel Blu-ray Disc Home Theater Sound System
Panasonic has put everything into its SC-BT 300 1250W 7.1 Channel BD Home Theater Sound System. It is a bundled package consisting of a Blu-ray disc player, AV Receiver and speakers. This setup makes it easy to adapt to a superb surround sound system bolstered by 1250-watt power. The sound system offers dynamic and clear audio with easy operation.
This Panasonic Home Theater Sound System features front and center Bamboo Cone Speakers complemented by a Kelton Subwoofer in a system that is simple to set up and manage.
The system consists of the following Speaker components:
Front: 125W x 2 (1 kHz, 3 ohms, 10% THD)
Center: 250W (1 kHz, 3 ohms, 10% THD)
Surround: 125W x 2 (1 kHz, 3 ohms, 10% THD)
Surround Back: 125W x 2 (1 kHz, 3 ohms, 10% THD)
Subwoofer: 250W (100 Hz, 3 ohms, 10% THD)
Home Theater Mode: Total Output Power of 600W
That makes seven speakers in all, enveloping you as you watch your favorite movie on Blu-ray disc. Its front speakers are made of bamboo diaphragm, which provides intertwined fiber that delivers sound rigidity and accuracy.
Its Kelton Subwoofer system is capable of delivering deep powerful bass with its dual-diameter structure.
This Panasonic Home Theater Sound System also features a high definition audio decoder via Dolby Digital Plus, Dolby True HD, and DTS-HD Master Audio Essential and takes advantage of 7.1 channel surround sound integrated to Blu-ray discs. (Price: $376.73)
Sony BRAVIA DAV-HDX285 5.1-Channel Theater System

This Sony HT system also comes with an optional S-AIR receiver/speakers system that allows you to send music wirelessly to another room in your home. You can set this up easily as well. The system also lets you control several Bravia TV sets using Bravia Sync HDMI interface.
Although the Sony Bravia DAV-HDX285 Home Theater System with 5.1-Channel Sound is ideal for first-time buyers of an HT system, others who didn't have a Sony HT system before may still find this system a worthy purchase. Its 5.1-channel surround sound system may be inferior with that of the Panasonic, but it still can provide great sound quality. The package contains a 5-disc DVD/CD changer, 1000 wattage of home theater sound power, and even has an iPod dock system. (Price: $229.99)
Paradigm Cinema 110 CT 5.1 Home Theater Surround Sound System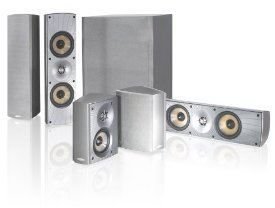 In my part of the world, Paradigm is not really a well-known brand when it comes to home theater sound systems. However, in other parts of the world it is actually a big-name brand. With that said, you might want to consider the Paradigm Cinema 110 CT 5.1 Home Theater Surround Sound System for your next HTS purchase. The Paradigm Cinema HTS package contains five Cinema speakers and a Cinema subwoofer capable of delivering high-quality sound worthy of its retail price. These include two Cinema 110 satellites, two Cinema ADP that produce great surround performance, a Cinema 110 C center channel and a Cinema 110 CT subwoofer with 10-inch driver.
Individually, these components each contribute to the delivery of great sound in your home theater system. For instance, the Cinema 110 satellites produce low frequencies down to 120 Hz and high frequencies as high as 20 kHz. The Cinema ADP has a frequency response of 120 Hz to 20 kHz and the Cinema 110 C center ranges from 120 Hz to 20 kHz as well.
Design wise, the Paradigm Cinema HTS system boasts of sleek, and crisp silver finish. Its neutral color would suit well in whatever interior motif you have in your home. (Price: $499.99)