A Buyer's Guide to Projector Screens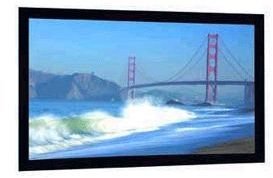 And the Winners Are…
Welcome back, Home Theater readers – in this article, we'll be discussing the nature of your projector screen purchase. Again, I'm switching the format to conform to the type of product you're going to be buying. Every room has a specific size of screen that it needs to have, and furthermore, each room also is best suited to a specific kind of contrast paint. Therefore, for me to sit here and talk to you about the best projector screens would be problematic – rather, I thought I'd run down some of the best brands available for the projector screen buyer.
Da-Lite Screens
Da-Lite is the projector-screen business equivalent of Coca-Cola. It's the brand everyone seems to love and have been enjoying for 100 years now. Da-Lite screens have no equal, at least in my book, but for that be prepared to pay a premium for their proprietary high-contrast gray materials and special frames. Their product is extremely easily assembled – as a matter of fact, while I did have help when I installed my screen in the media room, it wouldn't have been a hard job to do alone.
Aside from the magnificent quality of the screens and the great craftsmanship of the framework, the screens themselves seem to last and last, provided you don't really mess too much with them. Cleaning doesn't even seem to be too big of a problem, as a simple duster will often be more than enough to clear up dust and allow your screen to look brand new.
Da-Lite screens work well because they are that perfect combination of low-maintenance, durable, and high-value screens that a mid-range buyer or a high-end buyer would want.
Elite Screens
Elite Screens is another big player in the projector screen industry. Between Da-Lite and Elite, you're covered for all your projection screen needs. Other brands may be cheaper, but keep in mind that buying a projector screen is an investment for a number of years to come. If your screen seems initially very costly, spread the cost out over 6-7 years, which is how long the product should be lasting you.
Getting back to Elite Screens, they offer the same kind of protection and service warranties that Da-Lite does, but their product's surface coating feels and looks inferior to that of the Da-Lite screens, but it's something that you have to see more for yourself at your local home theater retailer. Their gray materials are still great though if you're looking for a cheaper solution to the Da-Lite screens.
Elite Sceens aren't cheap by any stretch of the imagination, but for those that don't want to spend a fortune getting their home theater dreams to come true, Elite is a perfectly good substitute.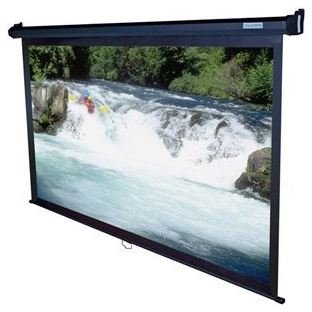 Other Considerations
Buying a projector is like buying a computer; it comes down to facts – lumens, contrast ratios, throw distance, etc. Buying a screen on the other hand, is like buying a car. You need to take it for a test drive to know that it's the right one to take home and use on a daily basis. Only with a proper HDMI source and projector can you determine if the blacks on the screen are "black enough", and if the contrast isn't throwing off the way you imagine the picture should look.
This post is part of the series: Building the Perfect Home Theater System
We take you through the ups and downs of owning a movie room and having that home theater set-up that everyone envies.