Best Buy DVD Players Christmas 2009

DVD Players - Still Available and Still Popular
Getting the best DVD player for your home theater often means the difference between good sound and picture quality, and great sound and picture quality.
With the introduction of Blu-ray players, standard DVD players are available for a fraction of their previous price and while DVD remains the dominant video disk format it's wise to get hold of one of the best players on the market to get the best from your DVD movies. The current trend among DVD players is "upscaling" – effectively converting the resolution of standard DVDs so that they look good on 1080p TVs.
With models from Toshiba, Samsung, and Panasonic this buyer's guide of five best buy DVD players even features a low-cost Blu-ray player which is of course fully compatible with DVDs
Samsung DVD-1080P9
Designed to playback media from almost any CD or DVD optical disk, this standard DVD player from Samsung costs just $70 – given the features on offer, this is a bargain.
Also featuring HD upscaling, HDMI output and MPEG 4 and DivX playback, the Samsung DVD-1080P9n does have a basic display and a simple remote control, as well as good compatibility across various CD and DVD formats.
Find out more about this player at www.samsung.com.
Toshiba SD4200

Compatible with all of the CD and DVD formats you would expect from a $38 device, Toshiba's SD4200 is a great budget option that features basic display options, an uncluttered remote control and is a great option for a child or older relative.
DVD playback is crisp and smooth while the device is extremely easy to setup - simply plug it in and play your disk.
DVD-R, DVD-RW, CD-R, CD-RW, JPEG and MP3 compatible, this model boasts 3D Virtual Surround Sound. With no bells and whistles it is an excellent budget choice and its low feature-set makes it ideal for installation in a bedroom.
Find out more at www.toshiba.com.
Sony DVP-SR200P/B

Available for just $34, this Sony DVD player features 480p upscaling and video equalizing as well as Dolby Digital sound but it is the effort made with format compatibility that impresses.
While not a DVD recorder, the Sony DVP-SR200P/B will playback DVD RW +/- disks as well as VCD, SVCD, DVD R +/- and various forms of CD as well as MP3s on CD.
It's a low budget DVD player that offers plenty in terms of features and functionality.
See more at www.sonystyle.com!
Philips DVP3980

This is a remarkable device – for just $49 you get a HD 1080p upconversion DVD player which will breathe new life into your old DVDs when you watch them on your HDTV.
Philips have produced a great DVD player in the DVP3980, with progressive scan producing razor-sharp images and a wide range of playback options including WMA, MP3, JPG and many different CD and DVD variants.
A great low-budget option for anyone wanting to enjoy DVDs with their HDTV!
View reviews and technical specs for the Philips DVP3980 on Amazon.
Panasonic DMP-BD60 Blu-ray Disc Player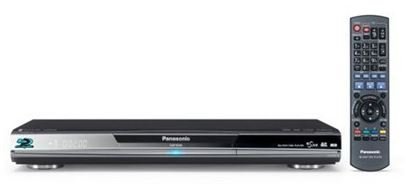 You could do far worse than forking out $125 on a Blu-ray player – and as with all players of this type, this model from Panasonic is fully compatible with DVDs.
It makes this list due to the low price and compatibility level – the Panasonic DMP-BD60 isn't just a Blu-ray player with DVD compatibility bolted on.
Rather, this is a low-cost home theater hub, presenting the buyer with DVD and Blu-ray playback, 1080p upconversion, SD and USB slots and even access to YouTube via VIERA Cast.
Buyers looking for a quality Blu-ray player at a low price with good DVD and multimedia playback options should be queuing up to buy this!