Which are The Best Buy Home Theater Speakers for Christmas 2009?

A quality home theater system has to include amazing sound. Let's be honest, even if you had a 90 inch TV with HD it would still seem cheap without the audio to back it up. No one wants to hear a tiny meow when they should be hearing a lions roar. That is why you need to get your hands on some quality speakers. Today, we are going to look at some of the best buys of home theater sound systems.
KEF KHT5005.2
These are the kind of speakers you can fall in love with at first sight. Not only do they have the look, but the manufacturers understand that not everyone has the room to devote to larger speakers. They also understand that people who want small speakers do not want small sound. It is the perfect balance of form and function. This set is powerful enough to give you quality, without turning your living room into a media room. It has the standard speakers, in a four set. Then it has a powerful, 250-watt 250-millimeter (10-inch) powered subwoofer. It also comes with both the wall mounts and a set of table stands. That is good news for people with a preference. No running to the store for more stands, unless, you wanted a floor stand. They are out there, but you have to buy them. You can get this sound system at Amazon.
The Official Specs
5.1 surround sound speaker system
Each 3-way satellite features aluminum 75-millimeter (3-inch) Uni-Q drivers
2 x long throw 75-millimeter (3-inch) mid-bass drivers
Cast aluminum cabinets with integrated foot stand / wall mount
Slender cast aluminum cabinets
250-watt 250-millimeter (10-inch) powered subwoofer
KEF FiveTwo Series Model 11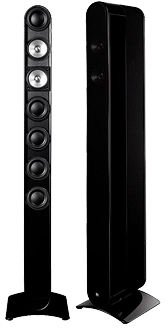 Sure, they do not look like much. This dynamic duo, is capable of giving you the sound that you want. You will need to spend a little bit of time to do the set up, but once you get the placement down, the sound will be amazing. Very clear in most rooms. Larger rooms may have problems with the 16 foot cord, so be aware of this before you buy. They do have some bonus versatility since they are designed to work with any A/V receiver. You can get your hands on these at One Call.
The Official Specs
Frequency Response 90Hz-30kHz
(2) 3 Sensitivity 87dB
3-Way Tweeter Size (Inches)(2) 0.6
Wall Mountable Yes
Woofer Size (Inches) (5) 3
Polk Audio SurroundBar 50

A newer edition to the already fairly well known SoundBar series, this is a uni-bar model that provides a solid sound quality, without forcing you to deal with a lot of complex set up or drilling 50 holes into your wall. They also do not require a rear wire, which is good for the astethics of your room. Nothing to try and hide under the carpets. At 42 inches long, this model manages to give you quality sound by bouncing it off of the back walls of the room. Great news for anyone who wants to mount their speakers at a high level. It can handle even large rooms. You can get them at Buy.
The Official Stats
Speaker Type 2-way - passive Response
Bandwidth 100 - 20000 Hz
Input Impedance 8 Ohm Recommended Amplifier
Power 20 - 125 Watt
Sensitivity 89 dB
Magnetic Shield: Yes
Driver Details: Five channel speaker : 7 x midrange driver - 3.5" Five channel speaker : 3 x tweeter driver - 3/4" - silk/polymer composite
Now that you know about some of the best sound around, there is no reason not to enjoy your favorite movie with a real movie theater style experience. Just do not forget the popcorn.