What are The Best Cheap Dual DVD Players

Dual DVD Players Down in Price
Getting your hands on a Dual DVD player used to be an expensive affair. Of course, as with all newer technologies the cost has begun to come down. That is good news for you, since it means that you can get your hands on a dual DVD player without breaking your budget. Let's take a few moments to look at some of your options.
Philips PET7402
Coming in at 138 dollars with a pretty sturdy stand, this model is a strong contender for your needs. The TFT LCD screen is a decent size at 7 inches. One interesting thing to know, for the home film makers out there, is that this model is capable of playing VCD's and CDR's. That means it should have no trouble with just about anything that you can burn yourself. Even if the file is too big to burn as a standard DVD. Sorry Bluray fans, you will not be able to use this model. It also includes two built in speakers, that give you great sound quality. You can get it at Phillips.
The Official Specs
Display screen type LCD TFT
Diagonal screen size (inch) 7 inch
Resolution 480(w)x234(H)x3(RGB)
Brightness 120 cd/m² LCD panel type
Anti-glare polarizer
Contrast ratio (typical) 200:1
Effective viewing area 154.1x86.6mm
Response time (typical) 30 ms
Dual XDVD180 DVD player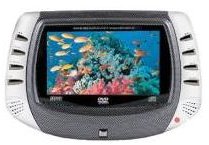 This model is hand held, so those giant sides that look silly on the photos, actually turn out to be very comfy hand grips. The screen also avoids the issues that many of the flat screens out today have. It allows you to use a wide variety of angles. You can sit up and hold it in front of yourself, you can lie back and put it over your head, or you can jam it between two things, and stare at it on an angle. Also, it is fairly drop resistant. So you can give it to the kids without too many worries. It comes in as low as 69 dollars. Do your comparison shopping and you will be rewarded. You can buy it on Amazon.
The Official Specs
Brand Name: Dual
Model: XDVD-180
DVD Type: DVD player
Audio Output Mode: Stereo
Display Size: 7 inches
Coby TFDVD7750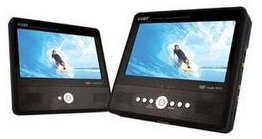 This one comes in at 130 dollars. Just be aware that it has little in the way of shock protection, so this is a mount it and keep your hands off model. It does have an admirable anti skip feature that handles well even on bumpy back roads. So if you are a country driver, or just a stop and go driver, this may be something to consider. After all, noone wants to keep missing a section of the movie because of a pothole. You can get it on Amazon.
The Official Specs
Compact portable design/Two 7" Widescreen (16:9) TFT Color Displays
Plays DVD, DVD+R/RW, CD, CD-R/RW, MP3 and JPEG Compatible
Multiple Subtitles/Viewing angles, Slow/Fast Motion Play, Zoom Operation/Convenient on screen display
Composite video output/Coaxial digital audio output
2 Headphone jacks for private listening
Now that you have taken a look at some of your low budget options you have no excuse not to get your hands on a budget friendly dual DVD player. Just be sure with the car models that you mount them properly. No point in messing with the safety of your investment.