Top Wireless Surround Sound Systems Reviewed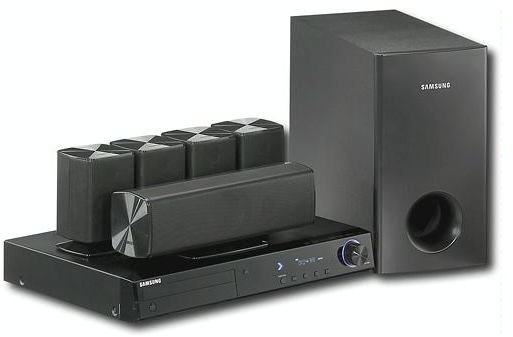 Overview
For those of you looking to buy a brand new surround sound system, there are several new offerings in the market. What's more, buying a wireless surround sound system today doesn't necessarily mean that you need to spend a fortune as the top class systems from manufacturers like Samsung, Panasonic, Bose, Sony, Creative Labs etc., are available in reasonable price of $230-$350.
So, it is time to take a look at the top wireless surround sound home theatre systems of 2009.
1. Samsung HT-Z310T Home Theater Surround Sound System
It is a 5.1-channel Wireless home theater surround sound system that comes with built-in FM/RDS tuner as a part of the package. It is provided with four powerhouse wireless satellite speakers (2-front and 2-rear).
The assembly has a total power output of 1000 watts, and also comes with DTS, Dolby Digital, and Dolby Pro Logic). However, it is just a single disc changer system. This wireless HT system is capable of reading any media that you throw at it, right from DivX down to high quality DVD in HD mode.
Furthermore, it also comes with an Ipod Dock that can sync your Ipod playlist, and you don't need to burn DVDs, thanks to its play ready USB host. As far as pricing goes, the Samsung HT-Z310T is a superb option at just $230.
2. Acoustic Research Wireless Home Theater System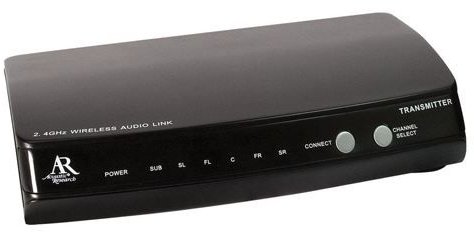 The Acoustic Research WHT6024 is one of its very kind, wireless home theatre systems featuring full-frequency CD quality to wireless speakers first time around. So, forget those low quality sub-par system speakers and enjoy the goodness of the unparalleled 2.4 GHz high technology speakers producing sound that has been never heard before.
It costs just under $350, which is not too economic, nevertheless a reasonable price for such high quality, making it a worthy investment as your new wireless surround sound home theatre system.
What's more, the Acoustic Research WHT6024 comes with interference immunity, zero signal drop-out, true compressed CD quality wireless as well as point to multi-point transmission.
3. Sony DAV-HDX275 Bravia 5.1 Wireless Surround Sound Home Theatre System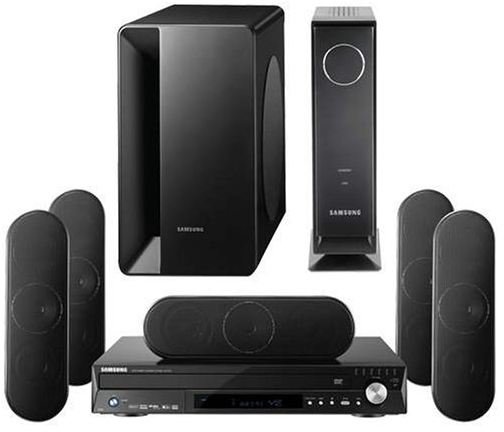 Sony has always been a strong contender in the world of LCDs and home theatre systems. Just a while back they came out with the Sony DAV-HDX275 Bravia 5.1 wireless surround sound home theatre system that produces 1000 Watts output. But, if you're longing for more, you can pick the WAHT-SA1 rear speaker unit, which can be purchased separately.
It is built with the multi-room S-AIR Technology (S-Air Ready), and also features digital cinema auto calibration capability as well. This powerhouse wireless home theatre can perform 1080p upscaling via HDMI port, and the TDM-iP10 iPod Cradle allows you to play music from your iPod effortlessly.
As usual the Sony electronic goods are a costly affair and the Sony DAV-HDX275 Bravia 5.1 Wireless Surround Sound Home Theatre System can be yours for $375, if you pick it from Amazon
4. Creative Labs GigaWorks
When you need some serious surround sound effect, you should always look at the line-up of Creative. This time around the Creative Labs Gigaworks 550W wireless surround sound 5.1 home theater system offers the very best sound effects ideal for all the hard core gamers, who love to enjoy the next generation games in style.
Apart from regular PC use, it can even playback MP3s, and delivers powerful 36 Watts RMS output. It is equipped with 3" full-range satellite drivers for greater sonic accuracy, and the wireless remote control allows you to enjoy uninterrupted music even when you move about from one room to the other.
What's more, the unit also comes with a 130Watts RMS subwoofer and 8" front-firing long-throw driver, making it a comprehensive wireless surround sound home theatre system.
5. Panasonic SC-PT760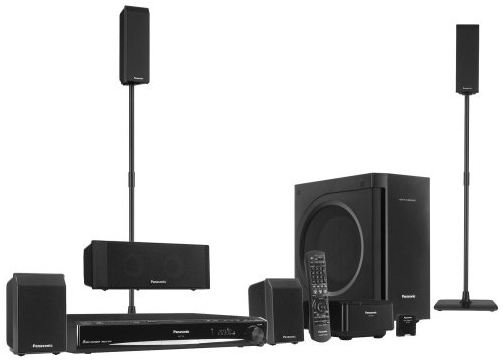 The Panasonic SC-PT760 is yet another handy option in the line up of wireless surround sound HT systems. It is a 5-disc DVD HT with a center speaker, couple of surround speakers, 2 tallboy front speakers, as well as a Kelton subwoofer.
Along with the box, you get the wireless kit for rear speakers,VIERA Link display as well as an integrated universal dock for iPod too. Just like all the good HT systems, the Panasonic SC-PT760 comes with Dolby Digital, DTS decoders, and Dolby Pro Logic audio decoders. It is one of the cheaper options, though it is no match for the likes of Samsung HT-Z310T and Sony DAV-HDX275 Bravia.
If you're looking for Wireless Surround Sound Speaker Kits click here
You may also want to check out some budget Blu Ray Players and the Blu Ray Home Theater Systems with Wireless Rear Speakers