Easy to Use Universal Remote Controllers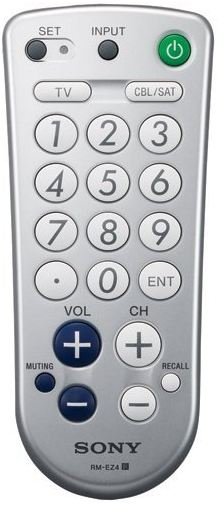 Easy Universal Remotes
The whole idea behind the universal remote controller is to make life easier. Things should be more convenient as you have only one remote control to worry about. You don't need to shift between three different remotes just to get your movie going with surround sound. The problem is that some universal remote controllers are so packed with features that they end up making life more difficult. Luckily there are several user friendly devices on the market aimed at the whole family and designed to be hassle free.
If you are just interested in the best universal remotes in terms of features then read my article on the Top Five Universal Remotes. In this article we are going to identify a few options which have been highlighted purely for their ease of use. I have avoided any overlap with the other article but the one remote on that list which really applies to this topic is the Harmony 1100 Advanced Universal Remote Control which is a color touch screen remote with easy to use intuitive icons. Let's take a look at some simple universal remote options.
Sony Universal Remote
It doesn't get simpler than this big button universal remote from Sony. This is designed to control 2 devices, your TV and Cable box or Satellite. The functions have been simplified, the buttons are huge and it is compatible with most major brands. It is very easy to program and the large buttons are ideal for people with poor eyesight. It sits comfortably in the hand and would suit anyone with limited dexterity. There are no fancy features but it performs as expected and it only costs around $10.
One For All URC 4110 Universal Remote Control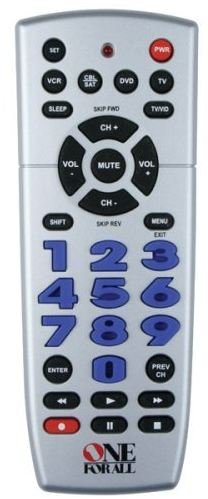 There is really no escaping the fact that this is an ugly device but it is also very easy to use and very cheap. It is capable of handling up to four devices which is enough for most people. It features oversized keys to make it very easy to see and select the right button. Programming the device is very simple and you can have it operating your TV, DVD player and Cable box in no time. It has the buttons you need without a lot of extra details that most people ignore anyway. Cleverly the number buttons are shaped like the numbers so even with a lot of use and wear you'll still be able to see what each number is. This is the ideal universal remote for older technophobes. It will cost around $10.
La-z Boy LZ6200 Touch Screen Universal Remote Control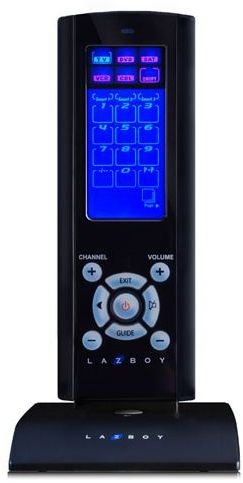 This is definitely a much more complex device than our other two offerings but once programmed this remote offers easy operation and it also has a backlit screen for use in the dark. You can control up to 10 devices with this remote and there are 6 programmable keys and 9 direct keys for your most used functions. You can plug it into your computer using USB and there is a simple tutorial which will help you through the set-up process. There is also a 24/7 customer service line to help if you find the process tricky. Admittedly it may involve a bit of tweaking to set up the way you want but once it is done you have a clear system for one touch control of your devices. It also comes with a charging cradle which helps prevent you from losing it and dispenses with the need for batteries. It is a lot more expensive though, at $74.99 on Amazon.
One For All OARK02R Kid's Universal Remote Control

This is a nice idea, a simplified universal remote control designed for kids to use. It features easy, one touch programming. It has 8 pre-programmed kids channels buttons which take them straight to their favourites. There are also Star and Moon keys so they can add more of their favourite channels. The remote can also be reprogrammed for use with cable. It is bright and colourful and very easy for kids to operate and it takes 2 AAA batteries. It only costs $11.85 at Amazon.
Logitech Remotes
The Logitech range of universal remote controls is very popular but they aren't always easy to use. If you can get someone with a bit of technical skill to set up a remote for you then the Logitech Harmony range are well worth a look. Once they have been programmed you can select simple options like "Watch a movie" and the remote will start up all the relevant devices. They also tend to have backlit screens for operation in the dark which is a big plus point over the cheaper options. It all depends on your level of technical skill and your budget. The simple universal remote control options here will suit most people looking for an easy to use device.