Best Portable DVD Players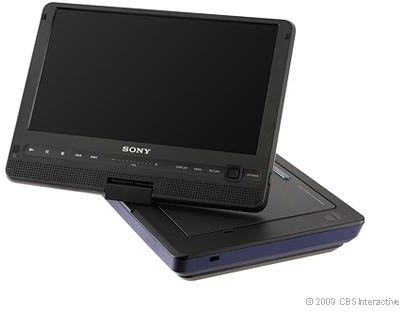 Why Portable DVD Players – Why Not Notebooks?
Before we review some of the best portable DVD players, lets understand the difference in DVD players and notebooks. Upon examining the sleek, ultra lightweight, portable DVD player as a possible purchase some may find it lacking in functionality. They might think notebooks are a better option, after all, they serve both computing and entertainment needs. However, for people who live by battery life, it is just not feasible to run extra processes, not even music on notebooks while in battery mode, let alone watch a DVD. You also have to consider price, even buying a cheap netbook is comparatively expensive and they often lack a DVD drive to save on size. This is where portable DVD players come into the picture. Affordable and easy to carry, these best portable DVD players save your laptops' battery for other important uses.
Sony DVP-FX930 Portable DVD Player
Another great product from Sony, like the PlayStation 3 and the Sony Bravia KDL-40W5500 HDTV, the DVP-FX930 is good for people who are willing to invest a little more for their love of entertainment. One of the best portable DVD players, the DVP-FX930 has a 9 inch swivel display. The LCD based screen has a resolution of 800 x 480 pixels. This is actually slightly disappointing when you consider the price range of $160 to $200. Still, the pixel depth of 24 bit compensates and produces real life images in motion without a single blurred dot (depending on the DVD disc).
The Sony DVP-FX930 weighs 2.7 pounds and as a very portable DVD player it offers six hours of battery life. Other than DVD, it also supports still image albums and doubles up as an MP3 player. There are built-in speakers and the device has two headphone jacks so you can share the experience with your friends.
The Sony DVP-FX930 does not support USB ports or flash card readers. Another disadvantage with this best portable DVD player is that it cannot play DivX files. (The exact specs seem to vary by territory because the UK version supports DivX files and has a USB port but it does cost a little more - Ed).
Toshiba SDP93S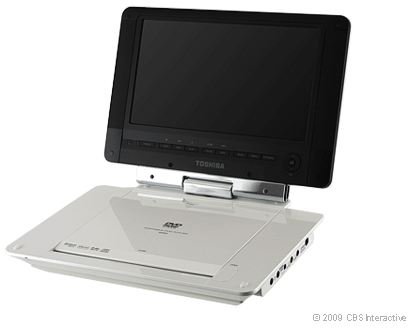 With just 1.3 inches thickness, the Toshiba SDP93S is a sleek portable DVD player that can be carried anywhere with you. The DVD player's LCD has a resolution of 800 x 480 pixels. The display is supported by TFT matrix format to produce HDTV NTSC style images using the 16:9 aspect ratio. It is also a swivel screen like the Sony DVP-FX930 Portable DVD Player.
The built in speakers are 2 way but are not backed up by Dolby surround. However, you can connect it to an external surround system using one of the two headphone jacks. The Toshiba SDP93S also carries dual headphone jacks so that you can share the experience with your partner. Other controls are placed at the lower end of the LCD display. They are feather touch, allowing you to operate the machine easily.
Though the picture quality is close to the Sony DVP-FX930, the Toshiba SDP93S plays DivX videos as well. It can also be used to watch personal photo albums and can be used as an MP3 player. The Toshiba SDP93S carries a memory expansion slot in case you want to save more songs or movies on it.
The only negatives noticed with the Toshiba portable DVD player are the fact it is slightly heavier than the Sony DVP-FX930 and the fact it does not carry support for USB devices. The battery life is a little smaller at up to five hours. Overall, it is a good choice for people willing to buy in a price range starting from $150 to $200.
Philips DCP851 Portable DVD Player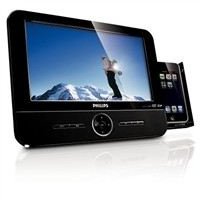 The Philips brand is trusted all over the globe and is known for experimenting with products to offer a better experience. The Philips PetDVD (2006 model) was one such experiment that could fit into your palm. It was not successful as the image size was too small. Moving ahead, Philips produced another product, one of the best portable DVD players in the world and named it the Philips DCP851.
The sleek, lightweight portable DVD player has an 8.5 inch LCD – big enough to help you NOT miss out the details. The display is laid as a TFT matrix and uses the 16:9 aspect ratio for better quality. 24 bit depth for the pixels offers you real life images and videos.
The best thing about Philips DCP851 is the built-in iPod dock. You can use your iPods with the DVD player, probably the only one on the market that does this, in this price range. The portable DVD player supports iPhone, MP4, DivX, and JPEG for images. The Philips DCP851 can play MP3 files as well.
Still, the Philips DCP851 has some deficiencies that include only 3 hours of battery life (approx). The iPod video is not bright enough.
These are the top three based on rankings from CNET. There are plenty of portable DVD players with different features. Just search for the top portable DVD players and you can find the right one that suits you.