Blu Ray Home Theater with Wireless Rear Speakers: Panasonic SC-BT 100 and Samsung HT-BD 1250: What is the Best Blu Ray Home Theater System in a Box?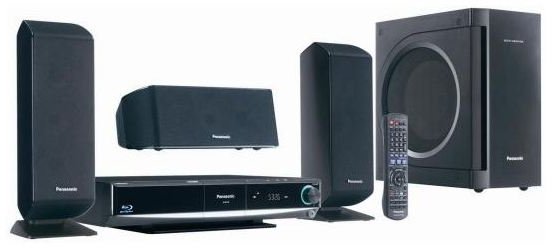 Introduction
With many users complaining about the ugly cables running across the room in their home theater setups, manufacturers began to roll out products which do not include wires to the rear speakers. These products are complete sets, which have Blu Ray Players and 5.1 surround speakers, allowing the user to purchase one set as a complete solution for their home theater system.
Panasonic SC-BT 100 5.1 Home Theater System (3 out of 5)
Panasonic's SC-BT 100 set comes at $425 from Amazon.com, which is a budget rate for such a system. The rear speakers are light and easily mounted on the walls, whereas the front and center speakers are bigger. The subwoofer, unfortunately is a passive one, but it has a bamboo driver and delivers a very good sound. The set is compliant with Dolby TrueHD, Dolby Digital Plus, Dolby Digital, DTS HD Master Audio, DTS and Dolby Prologic II X decoders and the speakers are magnetically shielded, so you can expect a very clear overall sound output. The set is also compliant with BD-Video (Final Standard Profile), BD-MV (BD-RE Ver 3)/JPEG and BD-MV (BD-R Ver 2). And finally it has an iPod dock connection. If you already own a Panasonic TV set with Viera Link display, you will be happy to hear that SC-BT 100 supports the connection.
Here are the downsides: The system has its own proprietary connections, meaning that you will not be able to use any of your existing speakers/subwoofers by simply plugging them in unless you go for cable splicing. Second the passive subwoofer is not replaceable given that the proprietary wire is implanted in it plus there is no way of getting nonamplified subwoofer signals from the amplifier. Third, the connection types are very limited, there is only one TOSLINK/SPDIF output and one conventional component audio in.
The Panasonic Blu Ray Home Theater System, the SC-BT 100 is for users who want a simple solution. Unbox the set, connect as guided in the user manual, turn it on and do not consider modifications or new components for the system. Other than that, the system is excellent in both sound and display quality.
Samsung HT-BD 1250 5.1 Home Theater System (4 out of 5)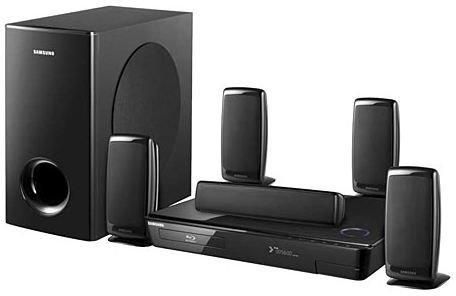 Samsung's Blu Ray Home Theater System, the HT-BD 1250 comes with similar specifications to Panasonic's SC-BT 100, at $450 from Amazon.com. Support for Dolby Digital Plus, DTS-HD decoder, Dolby TrueHD, Dolby Pro Logic II, Dolby Digital and DTS decoders are in-built. There is the iPod dock with video, audio and iPhone support. You will love to see that the system also has native USB support, which lets you copy your audio and video to a USB stick and effortlessly connect to your home theater system. The DVD upscaling feature is a real bonus. The system is wireless-ready, which means that with the optional purchase of a wireless dongle, which costs about $80 at Amazon.com, you can have wireless. The best thing for the U.S. users is the support for Pandora and Netflix out of the box. But remember that you will have to purchase the USB dongle. A note for the tech-savvy people here: you may get another wireless USB dongle working with the system, personally I haven't tried it, but I can safely say that Samsung's own WIS09ABGN dongle is configured in minutes without too much effort.
Here are the cons of this product: The Anynet+ capability, which is advertised as being able to control all home theater components with one remote, provides just basic capabilities to power on/off the system and volume/channel control. Do not expect to control more advanced features. Second, not all of the features of the iPod and iPhone are supported, for example the shuffle mode. Third, you cannot receive audio from both HDMI and the speakers. You have to choose one. Fourth, and maybe the most important, the connections are proprietary, meaning that you will not be able to add additional components to your system. Fifth, the connections are severely limited: no composite, no component, and no headphone connections are available.
Samsung's HT-BD 1250 is not an all-in-one solution. You will at least have to purchase an HDMI cable and one optical audio cable to get the system working. To run the system perfectly, you will need Samsung's dongle (to receive streaming video from the Internet) and one universal remote to cover what Anynet+ cannot. If these problems do not bother you and the system provides a total match for your needs, then we can safely say that the set is a good investment.
Sony BDV E500W 5.1 Home Theater System (3 out of 5)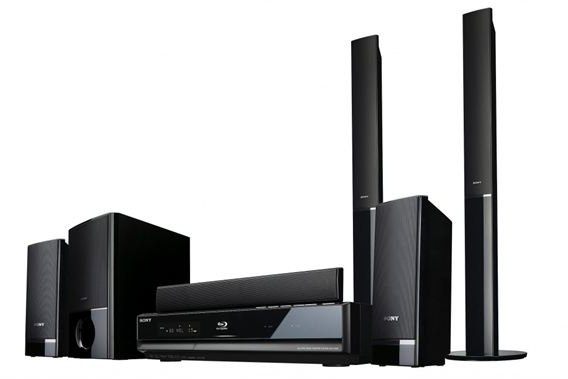 Sony's BDV E500W is the most expensive product on our list, coming in at $625 from Amazon.com. The decoder on the unit supports DTS-HD, DTS-HD MA, Dolby Digital Plus and TrueHD high-definition surround sound formats. The system also supports an iPod dock. This is the only player in our comparison that has BD Live support. The setup is easy with the on-screen instructions and you will be happy to hear that there is a microphone included which will start the automatic speaker calibration. No worries, after finishing the automatic calibration, you can tweak the results manually. Compared to the other systems in our review, Sony lets you connect up to three additional components to the system: TV, Satellite/Cable and one audio. The ports are two analog and two digital (one optical and one coaxial to be precise). Sony showed its brand quality in this product and it also has the DVD upscaling feature. Very well done. The rear speakers work as they should and there is no noise.
The downsides of the product are first, its higher price. Second, it has no support for streaming content from the Internet, such as Pandora, Netflix, Amazon Video on Demand etc.. This is very surprising because Sony's Bravia Internet Video Link already has support for the streaming content; how come this excellent system doesn't? I am really shocked.
Sony's BDV E500W is a very good choice for your Blu Ray home theater system if you don't care about streaming movies. If you are considering purchasing a Blu Ray home theater system in the near future, consider Sony's BDV E500W seriously.
Conclusion
It is obvious that you still have questions about which of these three products are the best. This changes depending on your requirements. Streaming video or not? Proprietary connections or the ability to connect more components? One-stop solution or expandable set? You have to evaluate all these and make your purchase accordingly.
What would I do in this scenario? Without any question, I would wait for Sony to roll out a product that has streaming video support and Bravia connection. When this product hits the shelves, I would go for a purchase, thinking less about my budget and more about the quality on offer.