Wireless Rear Speakers - Complete Reviews and Buying Guide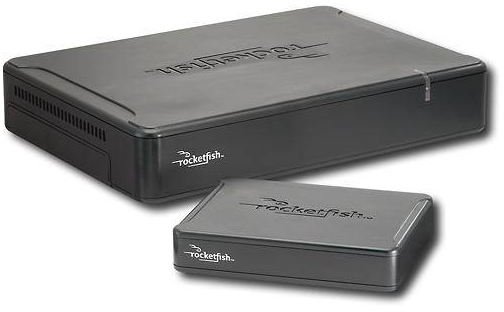 Introduction
If you already have a Blu Ray player, then you probably have a mess of wires running through the room. With a wireless kit or a wireless speaker solution you can put an end to these wires. If you do not have a Blu Ray player, then I suggest you to check the Blu Ray Buying Guide and 10 Best Blu Ray Players before going to your local electronics store.
The options for wireless rear speakers for your home theater are kit solutions. Some enable you to turn your existing wired speakers to wireless ones and others simply provide wireless speakers as a complete replacement for your existing set.
Are they what you are looking for? Do they provide a good return on your investment?
Rocketfish RF-WHTIB Universal Wireless Rear Speaker Kit
Rocketfish's RF-WHTIB kit sends CD-quality audio to your rear speakers via a 2.4 Mhz wireless signal, with 30 meters (100-feet) of range. To install the kit, you connect the transmitter unit to your amplifier's rear speaker outputs and the receiver to your wireless speakers. Then you connect both the transmitter and receiver units to the AC connectors and you are done. The receiver kit is as big as a hardcover book (both in size and shape) and have relevant stands and brackets, allowing you to either place it on a shelf or mount it on the wall. Once you set up the connections, you are ready to go. Just turn the receiver and transmitter on. The sound quality is excellent at 44 Khz 16 bit sound for the average user but whether it will satisfy the audiophiles or not is another question. I don't think this kit is for the serious audiophile. Plus there is a small digital noise that comes from the speakers. Would it be so hard for Rocketfish to have included an in-built noise filter to cut off this noise?
My verdict is that if you are really desperate to lose some wires from your home theater system, then Rocketfish will have some value for you. But don't forget that it does not completely remove the wires. It just modifies the problem. Instead of having wires from the amplifier to the rear speakers, you will have AC connector wires that run from the speakers to the wall outlet. Consider this issue before you purchase. The unit comes at $100 from Amazon.com.
Frisby FS-93000 and FS-6200 Wireless 5.1 Home Theater Speakers
At first glance Frisby's FS-9300 and FS-6200 are exactly the same units. The only difference between the two are 2 Auxiliary, Optical and Coaxial connection options on the FS-93000. These options place the FS-93000 in the ascendancy and make it an ideal place to connect your game consoles, portable music players and -of course- your home theater system.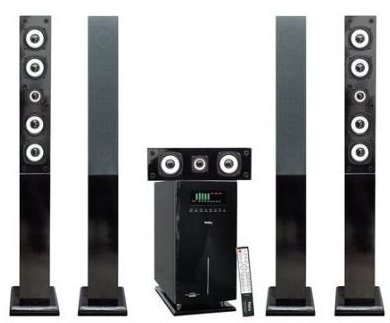 Frisby's speakers work at 2.4 Ghz, the same band many devices operate on. Your wireless Internet connection is the first obvious one. So if the speakers' band intersects with your Internet connection then you will need to shut down one of them. Second, the system says that it achieves 5000 Watts of PMPO (Peak Music Power Output), which is not believable for the price. If speaker system costing under $350 can provide this output and a speaker system that costs over $700 provides an output of 125 Watts (from JBL) then we have to wonder why. The system cannot deliver satisfactory results. Having tested this system in an isolated place in an electronics shop, I can say that it can only deliver decent results in a 20-square-meter radius in a sound-isolated room with no dect handsets or wireless internet connections. As my ears heard, the sound output is about 20 Watts per satellite (again, this is not an actual measurement though; I would be very happy to receive your measurement results). Unless you place the speakers in such a room, I strongly suggest you keep well clear of these speakers and keep your cables.
The Frisby FS-93000 comes in at $320 and the FS-6200 comes in at $300 from Amazon.com.
Conclusion
Rocketfish and Frisby tried to solve the wire problem in their own ways with a lot of goodwill but we cannot say they achieved satisfactory results. Rocketfish provides a modification rather than a solution. Frisby get so close to solving the problem but provide a questionable sound output. The big players in the market, namely LG, Sony, Pioneer etc. are putting their efforts into their own wireless home theater systems with all-in-one solutions rather than producing independent wireless surround sound speaker kits.