What is Apple TV? And Should I Buy Apple TV?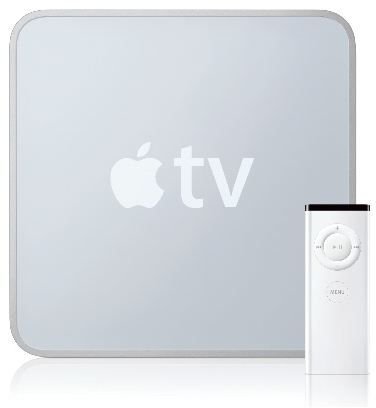 On Demand
The way people buy and watch entertainment is changing rapidly. We want to be able to watch, and listen to, and play whatever we choose and we want it…. whenever we want it! Luckily there are new options popping up all the time which give us greater flexibility and better access to entertainment. It is no surprise to find a company like Apple attempting to cater for this new demand but their Apple TV service has been less successful than you might expect.
What is Apple TV?
It is a digital media receiver which plugs into your TV. You can rent films in high definition, you can buy television shows, you can access music, and you can view your photos. The majority of the content comes from the iTunes Store but you can also access YouTube, Flickr and MobileMe.
This unobtrusive white box plugs into your TV and you control it with the remote provided. It also needs an Internet connection to work. It can also stream content from iTunes accounts on any networked computers. It provides an entertainment hub and works much like an HTPC (home theater PC) which is limited to Apple and a handful of partner services.
Apple TV Sales
Apple TV was actually released back in 2007. The first version had just 40 GB of space and a 160 GB version soon followed. The 40 GB has since been discontinued. Since the release sales have gradually grown from 100,000 in the first month after release up to a predicted 6 million by the end of this year. Apple has not released official sales figures so this is an estimate.
Apple TV Specs
The Apple TV device has been compared unfavourably to the Mac mini which can do everything Apple TV can and more, although this is reflected in the price. The specs for the Apple TV are as follows.
Intel Pentium M 1 GHz processor
NVIDIA GeForce Go 7300 graphics card
256 MB of 400 MHz DDR2 SDRAM
160 GB Hard Drive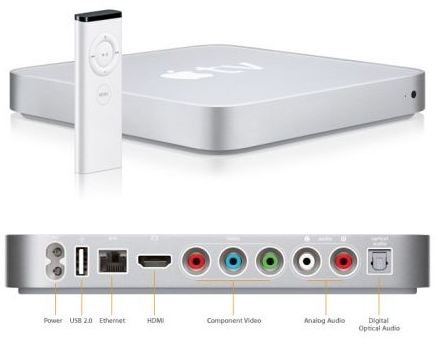 In terms of connectivity it offers the following options.
1 HDMI port
1 Component Video port
1 USB port
1 Ethernet port
Wi-Fi on the 802.11 b, g or n standards
Analog Audio ports
Digital Optical Audio port
The Weaknesses of Apple TV
There were all sorts of predictions about how Apple TV would be huge and how it was the equivalent of a DVD player for the Internet. However, despite fairly impressive sales, this device hasn't taken off in the way Apple would like. There are some good reasons for that.
Apple TV cannot record content
Apple TV lacks a TV tuner
The iTunes functionality is limited on Apple TV (no rating, no games)
Apple TV has no Internet browser
There are loads of services you can't access (Amazon, Rhapsody, Netflix)
Apple TV only supports 720p, 1080p footage is downgraded
Apple TV is not designed for use with older televisions
The Apple TV device has no off button, only sleep
The remote control can only change volume for music
The pay per view model is expensive and they don't offer a subscription
Should I Buy Apple TV?
Most cable and satellite providers offer greater functionality in their set-top boxes and a mixture of subscription and pay per view services. There are also more and more Tivo style DVRs (digital video recorders) out there to choose from. Apple TV doesn't really offer anything special and at the end of the day the best alternative is probably a good HTPC. It would be able to do everything that Apple TV does and a lot more besides.