How to Rip a DVD using Handbrake and DVD43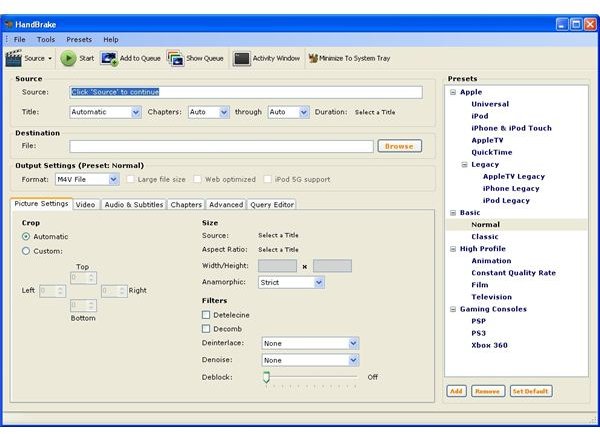 Overview
Before we get started, let me make it perfectly clear – ripping DVDs you don't own is not legal. This article is meant for users who have a collection of DVDs they've collected over the years and are ready to convert them to a more accessible format.
The Playstation 3 (PS3) is not only a great Blu-Ray player and gaming console, but it's a great home media player – allowing you to watch and listen to several formats of video, audio and still pictures. For many people, having such power in their living room is something new and exciting. The mission? Take advantage of the technology at your fingertips and convert your DVDs to a format supported by the PS3.
What you'll need:
Handbrake – used for ripping and compressing the video – available here: https://handbrake.fr/
DVD43 – used to decrypt DVDs on the fly – available here: https://www.dvd43.com/
USB Flash Drive or external USB hard drive (FAT32 formatted)
A PC or Laptop
Playstation 3
Handbrake and DVD43
DVDs are encrypted to make it more inconvenient to copy – in order to get around this, we'll need to use a decrypter like DVD43. Download and install DVD43 – do a reboot when completed. When you start up again, you'll have a little yellow face in your task bar next to the clock. If you have a DVD movie in your DVD drive, the face should turn green after a few moments. When it's green, it's ready to decrypt. If yellow or red, there is an issue (or no DVD is installed).
Handbrake does the majority of the work ripping (copying) the DVD to your hard drive, compressing it to take up less space on your hard drive and converting it to a format usable by your media player (PS3 in this case). Download and install Handbrake using the defaults.
Ripping the DVD and Putting the File on the PS3
Insert the DVD you want to copy and start up handbrake. It should look something like what you see in Figure 1.
Although Handbrake has a lot of options and looks a bit overwhelming, the whole process can be accomplished in a few clicks. First, click Source and then the location holding your DVD (typically D: or E:)

After Handbrake inventories the disc, you'll notice the Source information fill in. Click the Browse button and navigate to a location to save your file. Most typical DVDs take 1.5-3GB of space. Click OK.

You should be back at the main interface. Under the Presets pane, select PS3. Handbrake should now look something like Figure 2.

Click the Start button. A command prompt will open and will give you the status of the task (Figure 3). Note that this process will typically take 1-2 hours depending on your computer.

After the process is complete your file should be ready for playback. If you want to play it on your PC, you can use something like VLC player. Grab your USB storage device and copy the file over.
Plug the USB storage device into the PS3, turn on the PS3 and go to the Movies section. Highlight the USB storage device and use the Triangle button and select "Display All" – you should now see your movie – you can play it directly from the storage device or copy it.
Now, whenever you're in the mood to see your favorite movie - instead of having to dig through your collection of DVDs, you can sit back, relax and let your fingers do the work.
Images