Information on the Best DVD/VHS Recorder Players Available in 2009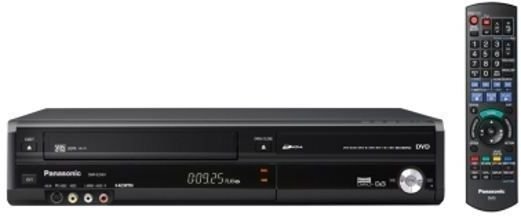 Panasonic Diga DMR-EZ48VK
The Panasonic Diga DMR-EZ48VK is one of the best DVD/VHS recorder players due to its high dubbing quality and easy to use features. It upscales standard DVD viewing to a 1920 x 1080 resolution. The unit includes a digital tuner for convenient program viewing and a VIERALink option that allows you to connect to a Panasonic TV and use a single remote control. Another good feature is that it is equipped with a USB port and an SD card slot for importing images and audio files. Average price is $229.
Toshiba DVR620 DVD/VHS Recorder Player

Released in April 2009, this Toshiba product has been vastly improved from previous models. It is a DivX home theater certified model that can produce Dolby Digital recordings with a one touch recording feature. It is compatible with the following formats: DVD/DVD-R/DVD-RW/DVD+R/DVD+RW/VCD/CD/CD-R. When used with the HDMI output cable, users can see an up-conversion to 1080p resolution on their HDTV. It is has a digital photo viewer (JPEG format) and is also able to play MP3 and WMA audio files. The device allows you to record and edit DVDs (so you can cut out commercials). However, despite all these great features, some people may find the instructions to be a bit complicated as it seems to be designed for more "tech-savvy" users. Average price is $180.
JVC DR-MV150 DVD Recorder/VCR Combo

The JVC DR-MV150 is one of the best DVD/VHS recorder players due to its ability to record up to twelve hours on a double sided DVD disk and its one touch recording feature. It has an ATSC digital tuner and includes an HDMI connector slot. The unit can produce Dolby digital/DTS sound input. Its only downside is that it has a bit of a learning curve when figuring out how to operate it. Average price is $240.
Samsung DVD-VR375

The advantage of this DVD/VCR recorder is its easy setup feature and sharp looking design. Users can record streaming videos and play back DivX files. This progressive scan player can produce Dolby digital sound and is capable of 720p/1080i/1080p when used with the HDMI video output. It supports DVD-RW/DVD-R/DVD+R/DVD+RW. The product's downside is that it has no S-video input and it is a bit difficult to label chapters on dubbed DVDs. Average price is $160.
References