Hiding Surround Sound Wires - Home Theater Speaker Cable Tips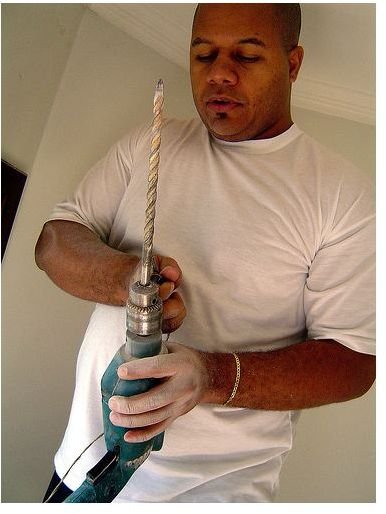 Getting Started
Surround sound systems are no longer a novelty reserved for the elite few. There are surround sounds to suit almost any budget, and setup is simple enough to perform on your own. However, even if part of your surround sound system is wireless, it probably still has some cords and wires that you would rather hide away. Make sure your surround sound is completely set up before you start hiding wires so that you will not need to go back and make changes.
Hiding Surround Sound Wires on the Ceiling
If some of your surround sound wires run across the ceiling, you have several options for hiding them. The one that is best for you will depend
on your DIY skills as well as the amount of time and effort you want to spend hiding the wires. For example, if you are particularly adept with tools and such, you could cut or drill a small hole in the ceiling at each end, run a length of fish tape through it and pull the surround sound wires through the holes, hiding them nicely away in the ceiling.
However, if you are not quite that handy, you have plenty of other options. For instance, you could place masking tape vertically over the entire length of the surround sound wires and then paint over the taped wires to match the ceiling. This would also work for hiding wires that run up and down your walls.
As another option, you can purchase adhesive wire tracks at most hardware and home improvement stores. Simply install the surround sound wires into the track, peel the backing off the adhesive and mount the tracks onto the ceiling, hiding the wires in plain sight.
Photo credit: flickr.com/photos/foxmuld3r
Hiding Surround Sound Wires on the Floor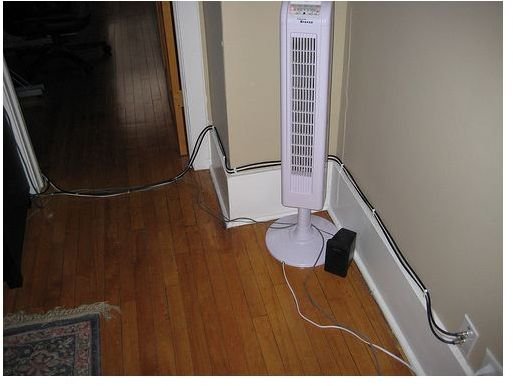 Chances are good that you have some surround sound wires strewn across your floor as well. Hiding them is not only more attractive, it is also much safer. Someone might trip over them or they could get tangled inside of a vacuum cleaner.
If the area where your surround sound is installed has carpet, you can use a fish tape to run the wires under the carpeting, hiding it safely away without much effort. This is not such a feasible option for tile or wood flooring.
For tile or wood floors, you can use many of the same methods for hiding the surround sound wires along the ceiling. For instance, run the wires under baseboards and around doorways. Cover the wires with masking tape and apply a coat of paint in the same color as your baseboards or walls. You might also opt to use adhesive wire tracks along the floor or baseboards to hide away the wires. PVC cord channel is plastic tubing made specifically for hiding long cords, such as surround sound wires. Look for it at hardware and home improvement retailers. Rugs are another option, especially if the surround sound wires run through the middle of the room.
Photo credit: flickr.com/photos/opie
When it comes to choosing the best solution for hiding surround sound wires, look at your room and use your imagination. You might use a variety of these ideas, or you may come up with a better one of your own!
For more information on home surround sound, check out the Bright Hub library of home theater articles, with titles such as Receivers and Surround Sound Installation, The Best Compact Surround Sound Systems and Wireless Home Theater Speakers.