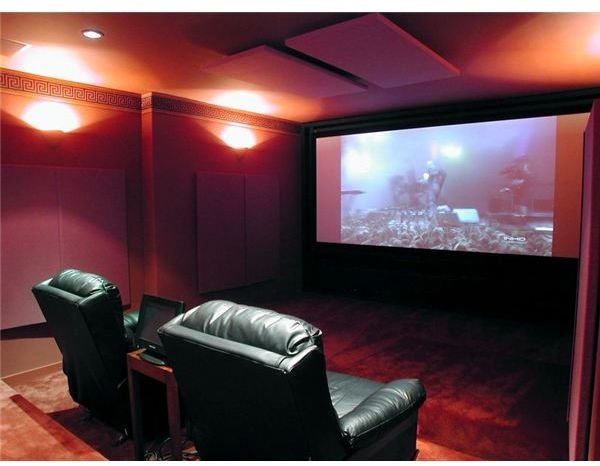 An Introduction to Building a Home Theater
The home cinema experience was never as good than at the present time. You can actually own a personal movie theater in your home. Home theaters are a combination of three different technology advances. The plasma or LCD gives you the big screen, the different modern disc formats (Blu-ray and DVD) allow a better cinema quality, and a set of Dolby/DTS-enabled speakers provide you with the surround sound experience, all at the comfort of your home.
The broad definition of home theaters can start from a basic setup of a DVD player, your home television, and a 2.1 speaker system which occupies a corner in your living room. A decent home theater setup can be a 60" plasma attached to a Blu-ray or HD-DVD player and a surround sound several thousand-watt speaker system. The more sophisticated high end home theaters can cost more than hundreds of thousands of dollars with its digital projection, ultra expensive screens, and a customized theater room which includes cinema-style chairs and Audiophile-grade sound devices.
Building the right home theater for your home involves a lot of decision making and research. This process can include choosing between the right plasma or digital projection, opting for the best blue-ray or HD-DVD player, making the choice for the right surround sound, deciding on the placement of the speakers correctly in the room, selecting the carpeting for your walls, and even deciding about the right seating arrangements. A lot of this can never be accomplished without expert advice. But, your expert does not necessarily need to be a person but can also be various review websites.
Home theaters are usually long term investments. And, remember: you'll be spending your hard earned money, so you simply deserve the best your budget can offer. Before actually buy anything, spend a lot of time researching over the Internet and in the stores. Make your priorities whether you need those extra inches on the screen or an enhanced sound experience. Depending on your tastes, passion for the cinematic experience, and what you can spend, you can easily reward yourself with a home theater of your choice.
Positioning and Placing Your Home Theater System
Whether you're converting a complete room in your house to a home theater with a top-notch system or you just wish to position your home theater as a part of your living room, correct positioning of the equipment comprising the home theater is very important. Deciding on best position for the screen just needs some common sense: always select a place which gives the best view. The player can be positioned conveniently near the display. However, getting the sound system in place isn't that easy, especially those speakers. If dealing with a 5.1, the front three speakers can be set evenly spaced at the front. The rear speakers are either positioned one at a side to the listener or behind him, depending on the surround technology. When setting a high-end surround speaker system, which gives you the perfect theatre sound, you definitely need a lot more expertise. With such systems, it's always better to get an expert or spend more time researching.