PC Home Theater Sound Cards

Introduction
Determining what is a good audio card mainly depends on what your prime interest in using the card is. There are at least three major areas people use these cards for and the products available are optimized for such uses. You may be a gamer intent on getting the best possible sound experience out of your games. The audiophile user wants the best reproduction of music on his system. The largest segment are people who simply love movies and want to play them through those large screen sets and they want the best audio immersion experience they can get.
ASUS Sonar HDAV 1.3 Deluxe
The following discussion is based on the premise that it is the video/movie optimized sound card you are looking for. One of the most talked about cards in this category is the ASUS Sonar HDAV 1.3 Deluxe.
It is a PCI Express card and takes the space of two slots. The card has a HDMI 1.3 compatible output. The HDMI 1.3 output can be routed through the HDMI output of the video card, that is a special feature of this card. There is no need to down-sample the Blu-ray disc sound input. You can enjoy Dolby True HD and DTS Master audio because both are supported. The card works with ArcSoft TotalMedia Theatre software and it supports all three Blu-ray disc video formats as well as other video formats such as WMV, Quicktime and H.264 HD etc. The software supports the HDCP digital rights management system too. So that there will not be any problems with protected content play back. The product separates out analog and digital signal grounding and shielding that is essential in creating a clean audio sound. Look at the image gallery picture, where the shields show clearly. The audio quality is also helped by the use of high quality oversampling digital to analog converters and other components in audio processing that help create high SNR (signal to noise ratio) audio. Use of the special software to operate this card might look like a bother to some. The card costs around $220 to $230.
Auzen X-Fi Home Theater HD
The Au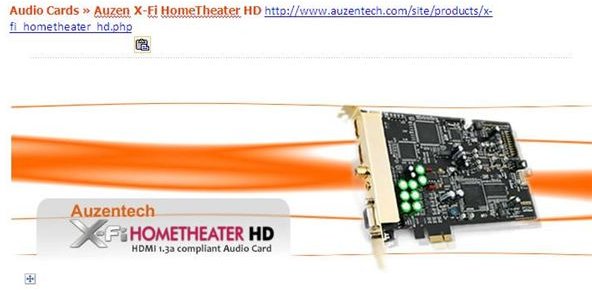 zen X-Fi HomeTheater HD is another good card that accepts video from either an internal or external connection, mixes it with digital audio, and outputs the combined video and lossless multichannel audio via a single HDMI™ 1.3 port. This is the same way the Asus card works. This helps with the cable tangle and you just have one cable to connect to your TV set. The card uses the same audio processor that Creative Labs uses for their high end card, the PCIe X-Fi. Dolby digital and DTS encoding is supported. Additional value delivered by the card includes the support for gamers. It implements the realistic EAX 5.0 effects and 3D positional audio. The card will cost you around $220.
Sound Blaster X-Fi Extreme Audio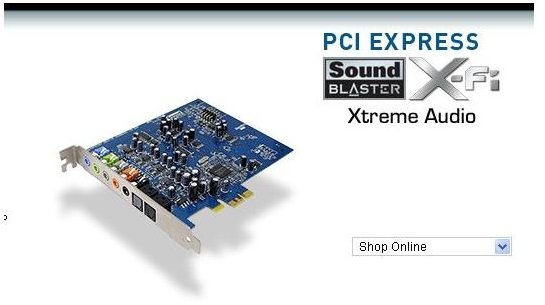 Products offered by Creative labs provide some alternatives. They have categorized the HTPC cards in a combined category of music and movies. PCI Express Sound Blaster X-Fi Extreme Audio is another good card you could look at to support your HTPC. Like the Asuzen card this too has additional features like EAX effects for games and 3D audio support. They claim it is optimized for digital music as well. Thus your music experience is also likely to be fairly good if you have this installed in your system. The immersive audio experience is supported by full 5.1 surround system. With head phones you should be able to discern a spatial dimension to the sound reproduction that you hear. The PowerDVD software available features Dolby DTS-ES and Dolby digital EX decoding.
Other Issues
With any of the high performance audio cards you should be choosing the rest of your audio gear with care. The speaker system that you use is of considerable importance. The TV set you use as part of the home theater set up also needs to have an audio response that matches your audio card performance.