Best Universal Remote Controls

The number of devices you may have separate remote controls for nowadays has gotten completely out of hand. There's your TV, your DVD player, your Blu-ray player, your audio system, your freeview box, your cable or satellite box, your DVR or HTPC… the list goes on and on.
New technology is increasingly consolidated so recent HDTV releases have built in TV tuners for freeview and if you happen to have equipment from the same manufacturer they often offer a sync remote option so you can control everything from one remote. Then there is the HDMI CEC (Consumer Electronics Control) standard which enables control via an HDMI cable. However most people have a mixture of devices and not all of them are HDMI CEC enabled.
If you are looking for an alternative solution then the best option is probably the universal remote control. These devices replace all of your existing remote controls and they often have advanced features. There are lots of universal remotes on the market and they can be very expensive. In this article we will take a look at the top five universal remotes and we'll try and identify something to suit any budget.
Logitech Harmony One Advanced Universal Remote
This is one of the most popular universal remotes and it combines a fantastic range of functionality into a slim ergonomic design. It is intended to be easy to use for the whole family and so a colour touch screen allows you to select your activity, whether it is "Play a DVD" or "Listen to the radio" with a simple button press. The layout has been organised into logical zones and sculpted buttons are also backlit so operation, even in the dark, is easy. The remote is rechargeable so there is no need for batteries and the battery indicator will let you know when it needs a charge. You can charge it by placing it in the base which also serves as a good place to keep the remote so you avoid losing it.
This remote control can support up to 15 separate devices. It has customizable buttons so you can set up multiple commands on a single button. It comes with an installation CD and there is online guided set-up software and plenty of customer support should you require it. You hook the remote up to your computer via USB. The remote can even learn from your existing remotes so in the unlikely event you can't find you existing model number you can actually teach the Harmony One the IR codes by pointing your old remote at it and pressing each button. It is very user friendly and simple to set-up. The Logitech Harmony One Advanced Universal Remote costs around $150, which is quite expensive, but then it does have an impressive range of features.
Sony RM-VL600 Universal Learning Remote

This universal remote from Sony is at the other end of the budget scale. It costs less than half of the Logitech Harmony One. Naturally it has fewer features but the functionality is still quite impressive and for me this remote offers terrific value for the money. It allows you to control up to eight devices. It supports a one-touch system control which allows you to set up multiple commands on a single button. It comes pre-programmed with a number of codes for most brands and it has the ability to learn from other remotes. In effect you can program this remote using your old remote. You will find more features on more expensive devices and the Sony RM-VL600 may not be as aesthetically pleasing, but it has the most important functions you need and the price is definitely right.
URC RFS200 PowerPak Bundle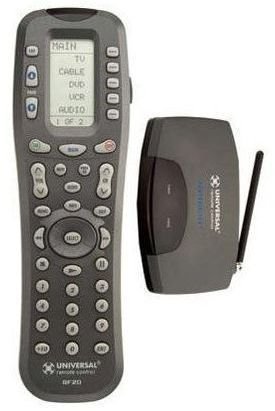 This is a mid-priced universal remote solution, and the bundle includes some very attractive features. The remote can control up to 10 devices. It is pre-programmed with codes for the majority of brands and like most other universal remotes it can learn from your old remote if required. It also supports one touch controls for multiple commands on a single button.
This remote also supports RF (radio frequency) so in addition to infrared commands it also sends radio frequency signals which can pass through doors or walls. In fact with this remote you can control devices with no line of sight up to 100 feet away. This is ideal if you want to put your components away in a cupboard. The keypad is fully backlit for easy operation in the dark and there is a customizable LCD screen. The remote is fairly easy to set-up, and the DVD guide provided will take you through the process.
This remote costs around $80 and comes with everything you need to set up RF control. The URC RFS200 is definitely a bit less user friendly than the Logitech or Sony remotes, and it is worth pointing out that if your neighbour also has an RF remote you may find you can change each other's channels.
Logitech Harmony 1100 Advanced Universal Remote Control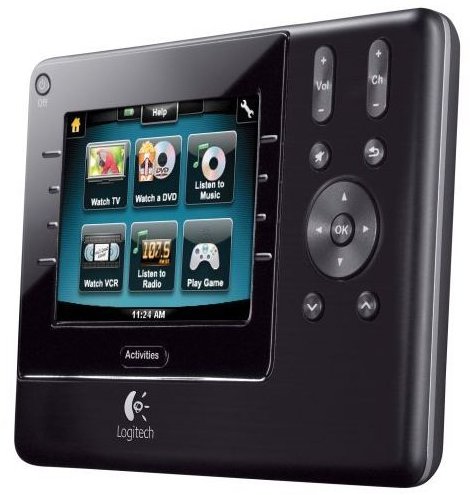 This is the top of the line Logitech remote and it has a 3.5 inch colour touch screen and a huge range of features. This remote is perhaps the ultimate in simplifying your home entertainment system. You can choose activities via a system of clear icons (the icons can even be customized). If you want to watch a DVD you can press a single button and all of the necessary equipment will power up and the film will start. The device works with a huge range of brands and models and online set-up via your computer is easy.
This remote can control up to 15 devices. It is rechargeable and comes with a cradle for storing and recharging. The Logitech Harmony 1100 remote has similar functionality to the Logitech Harmony One but the price tag here is a staggering $349 (currently reduced to $239 on Amazon). You are really paying for the fully customizable touch screen here and for me this device is not worth the extra money, especially when you look at the competition.
Philips TSU9400 Pronto Universal Remote Control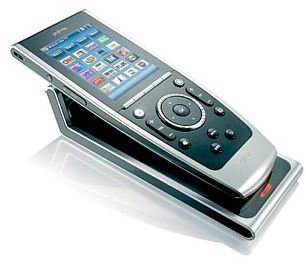 This is the ultimate in universal remote control technology from Philips. This remote features a colour 3.5 inch LCD TFT touch screen with a resolution of 320 x 240 pixels. It supports Wi-Fi on the 802.11g standard and it is absolutely packed with functionality. It is a rechargeable device with a docking station and it can be hooked up to your computer via USB or connect wirelessly. In addition to being pre-programmed with various codes it can learn from your old remotes. It also has one touch control for multiple functions and you can program buttons for any range of functions.
It covers all the functionality of the other remotes on the list and it also runs ProntoScript, a JavaScript based software tool. It can be used to incorporate Windows Media Center Edition and access digital files on your PC via the touch screen. It can also be used to access digital radio and pull up song information or even check lighting or temperature status. The draw back is that you'll need some skill with the ProntoEdit Pro software to set everything up. The Philips TSU9400 Pronto is a very attractive device but you are looking at a crazy price tag. Considering the RF control costs extra, this remote is just too expensive.
Finding the Right Universal Remote
Hopefully you've found the right universal remote control for you somewhere on the list. There are several other Logitech models out there in the mid-price range which are also worth a look but there is a reason that the Logitech Harmony One is so popular. For me the Sony RM VL600 is unbeatable for value. You may also be interested in another article on simple universal remotes or our article on how to program a Philips universal remote.
References