Best HTPC Multimedia Cases: A Great Enclosure for Your HTPC
A Special Enclosure
When you are building an epic home theater set-up one of the first things you'll want is a dedicated home theater PC. While an HTPC can technically be placed in any enclosure, an HTPC is simply a PC connected to a home theater, there are certain traits most people look for when building or re-purposing a computer as an HTPC. Some of the most important traits include a small size, good looks, and HTPC-friendly features like displays, controls, and IR/RF receivers. If you would prefer to buy a ready made system then check out the article on Top Home Theater PC's.
The three enclosures listed below take at least some of those features into account. This is balanced with their value as PC cases regardless of if they are used in a home theater. As a result these enclosures are the best HTPC enclosures and a good choice for anyone building their first HTPC.
Silverstone Sugo SG05
The Silverstone Sugo SG05 is, of the cases on this list, the most basic and the least oriented toward the HTPC role. It in fact has no specific features which are aimed at HTPCs. There are no special displays or controls integrated to enhance the HTPC experience. The Silverstone Sugo SG05 has made its way onto this list not because of any specific HTPC credentials but because it is easily the best value among mini-ITX cases today.
For about $100 dollars the Silverstone Sugo SG05 offers the kind of construction one would expect from full-sized cases costing around $200 dollars. It has a brushed aluminum finish which will look excellent in any home theater without being distracting. Inside the case there is plenty of room for an HTPC video card and any stock CPU cooler. The Sugo SG05 even includes a 300W power supply, which is more than enough for any HTPC.
Given its lack of HTPC-oriented features the Sugo SG05 will probably serve best as an internet-television player and media server. Those who are looking for their HTPC to also replace their DVD/HD-DVD/Blu-ray player would be better off with one of the other cases listed here.
Antec FusionRemote 350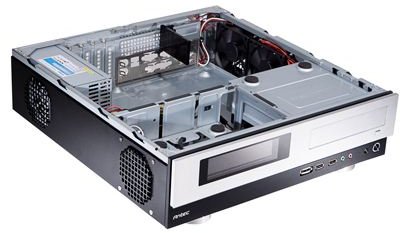 While Antec is probably best known for its full-size cases like the P183 and the Antec 300, the company also offers a full range of HTPC products. The Antec FusionRemote's role as an HTPC case is obvious from the start due to its short, wide construction. At a glance it is difficult to distinguish it from a mid-range Blu-ray player. It is only the existence of USB and A/V jacks on the front of the case which give it away as an HTPC.
The features included with the FusionRemote are impressive. It comes with a remote which is meant to be used with the Windows Media Center, allowing the user to navigate to their favorite movies. The screen on the front of the case can display information about what is currently playing, although the text is small and becomes hard to read from a distance. The FusionRemote even comes with an Antec power supply. Not bad for a case costing $120 bucks.
Unfortunately the FusionRemote's slim construction makes space tight. Only half-size video cards are sure to fit and some CPU coolers may be too tall. The FusionRemote's HTPC features are also well short of what more expensive cases offer. Those problems aside, the FusionRemote is an excellent choice for an HTPC, particularly if the HTPC is to double as a DVD/HD-DVD/Blu-ray player.
Zalman HD160XT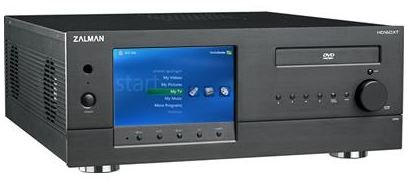 Anyone looking for the ultimate HTPC case should look no further. The Zalman HD160XT is it. Zalman cases have a long tradition of being somewhat over the top and the HD160XT is no exception. While most HTPC cases at least include a remote or a small screen, the HD160XT has a touch-screen interface, a great remote, and bundled software fashioned specifically to make it all work together.
The case itself is also outstanding. The build quality of the HD160XT is higher than one will find on most tanks. This helps the case stand out from most other HTPC cases, which tend to be a little flimsy. The HD160XT doesn't skimp much on interior space, either, so most hardware will fit comfortably inside.
The size of the HD160XT is in fact the case's only major flaw. The HD160XT weighs four pounds more than the FusionRemote and twice as much as the Silverstone Sugo. It is also far larger than the FusionRemote, resembling a receiver more than a Blu-ray player. Oh, and then there's the price. The HD160XT can sometimes be found on sale for as little as $550, but its normal MSRP is $699. That's more than most HTPC builds cost in total, making the HD160XT only suitable for hardcore enthusiasts.