Stocking up on Movies? Check Out These Blu Ray Movie DVD Clubs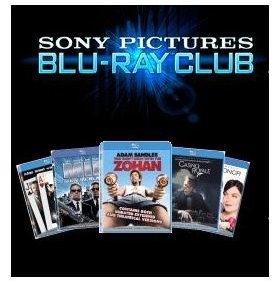 Blu Ray Movie DVD Clubs
While the appeal of buying movies on disc lessens each year, there are still several blu ray movie dvd clubs hanging on offering good deals on purchasing movies or rewarding you for having purchased them.
Sony Blu-ray Club
Sony Rewards allows you to earn points The Sony Pictures Blu-ray Club - now referred to as Sony Rewards program is not your typical movie club. However, if you purchase a lot of Blu-ray movies you might want to consider joining this club. Membership to the Sony Pictures Blu-ray club is free, and entitles you to tons of benefits and rewards that will save you money and earn you free stuff. For example, just for joining the Sony Pictures Blu-ray club and registering ten Sony Pictures BD–Live enabled Blu-ray Disc titles with the club, you will receive a $10 electronic coupon that you can use toward the purchase of a Blu-ray movie from the Sony Rewards catalog and 10% off an electronics item. You will receive the same rewards when you register your second set of ten titles. Every time you register a Blu-ray Disc you will also get an entry into the Blu-ray Registration Sweepstakes, with giveaways like a Sony HDTV every month. Also, if you apply and get approval for a Sony Card, you get to select five free Blu-ray Disc titles.
Columbia House DVD Club
If you are looking for a Blu-ray or DVD club with longevity, Columbia House may be the one for you. Columbia House has offered music and video clubs for decades, with the inception of their DVD club taking place in 1997. The Columbia House DVD Club will help you build your collection of films on DVD and Blu-ray for far less than you might spend at a big box store, and the videos are delivered right to your door. While in the past, Columbia House required you to buy movies at their relatively high "club" prices, the Columbia House of today doesn't have such requirements. Buy what you want and depending on the movie, you might actually save some money. Columbia House DVD Club offers DVD's and Blu-ray discs at a 25% discount to members, and features monthly specials such as "Buy One Get a Second for 50% Off," and "Unlimited DVD's at $19.95 Each."
Disney Movie Club
Perhaps you want your DVD or Blu-ray collection to consist mostly of family-themed movies. If so, then the Disney Movie Club may be the one for you. You can select four Disney movies on DVD for $1.00. After joining and receiving your special initial Blu-ray or DVD movies, you will need to buy at least five regularly priced DVD's or Blu-ray discs within the next two years. Aside from getting a great price on your first order, subsequent DVD or Blu-ray selections will also be discounted. You may receive special offers on selected releases and you get to choose from all the wonderful, family-friendly movies Disney has to offer.
Film Movement Movie Club
If your tastes lean more toward foreign and independent films, check out the Film Movement DVD of the Month Club. By subscribing to this club, you will automatically receive the newest award-winning film every month, before they are available to the general public. You are also entitled to discounts on all of the films in the club catalog and special features, such as director's commentaries and trailers. Currently, you can sign up for a monthly subscription for $16 a month. Of course, before committing to any membership you must read and agree to the terms and conditions. Make sure you are comfortable giving your personal information, such as your credit card number, and fully understand the membership agreement for these blu ray movie dvd clubs. As you begin building your Blu-ray or DVD collection, you will need a place to store the movies. Check out Choosing Blu-ray and DVD Racks for some ideas!