Rustic Home Theater - Decorating Ideas for Your Home Theater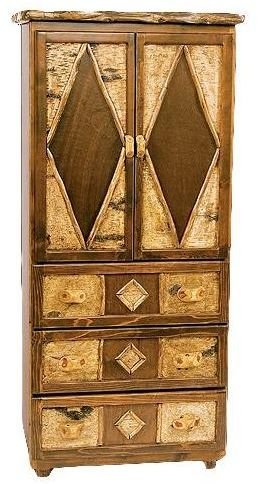 Rocky Mountain Decor
Rocky Mountain Decor offers a wide selection of rustic, hand-crafted wood furnishings, including home theater pieces. There are a variety of rustic themes in home decorating, and Rocky Mountain Decor takes this into consideration. For example, the Adirondack Three-Drawer Armoire looks as though it might belong in a charming lodge. The three drawers are ideal for storing DVD's, CD's and remote controls, while the cabinets will hold a medium-sized television. Crafted from hand-peeled Northern White Cedar and embellished with hand-stained birch bark and twigs, this piece will likely become a family heirloom.
Still decidedly rustic, but with a distinctively different style, the Back Porch Armoire is a charming piece with a country cottage feeling. With color choices such as Ruby Red Peeled Paint and Green Apple Scraped Paint among others, there is sure to be an option that will suit your home theater.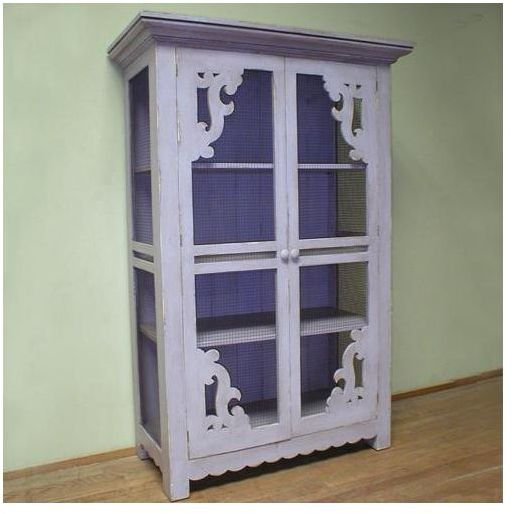 Rustic Furniture Depot
Rustic Furniture Depot is home to some of the largest choices in rustic home theater pieces. For instance, the Big Daddy sports a 55" by 55" center, large enough to hold many sizes of big screen television sets. This massive entertainment center is categorically rustic, with a natural wood appearance and strong hardware pieces. It also features lots of storage for all of your home theater needs, from surround sound to DVD player and other media. It is also worth mentioning that this sturdy piece sells for under $800.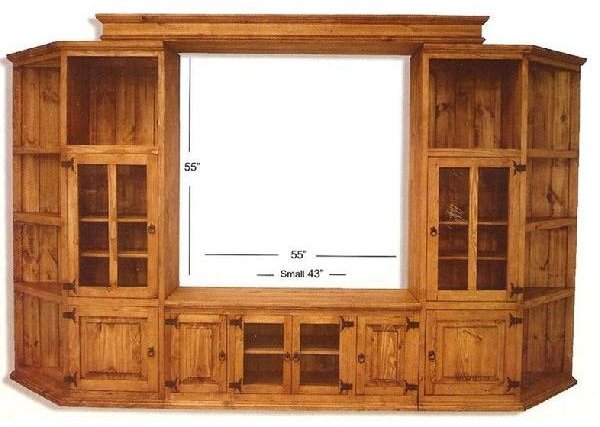 Other rustic home theater furnishings available at the Rustic Furniture Depot include the Jailhouse Star Wall Unit, a natural wood piece embellished with decorative metal bars and emblazoned with several Texas stars, perfect for the rustic home with a wild west ambiance or the Sierra wall unit, with a bit of Southwestern appeal.
RusticFurniture.com
RusticFurniture.com features rustic, hand-crafted, American-made furniture in rich, sturdy woods such as hickory, pine, alder and aspen with an assortment of finishes and designs. If you are aiming for a home theater with a log cabin atmosphere, you might enjoy the Frontier Log Furniture Television Stand. Fashioned from hand-peeled pine, this charming TV stand looks as though you chopped down a tree and created it yourself - that is, if you were a skilled carpenter. Best of all, since these pieces are handmade, you can even request a custom size or stain.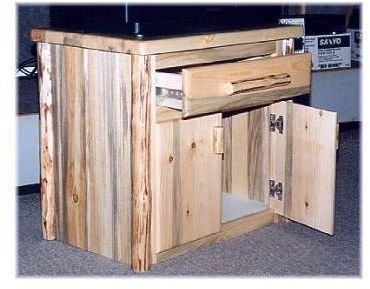 Rustic and yet distinctively elegant, the Augustine Plasma TV Stand is inlayed with intricate cast iron grills and crafted from sturdy, stylish acacia wood. The cabinet is enclosed with four doors, with one shelf behind each to store your cable box, DVD player and other home theater needs. The inlayed grills allow remote controls to access these devices while hiding them neatly away.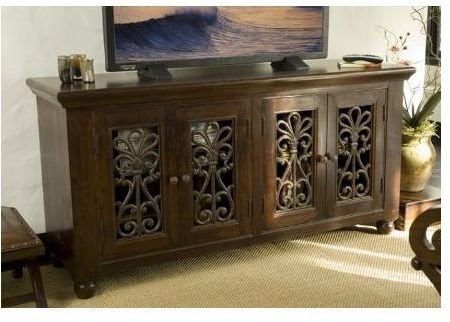 Once you have selected the rustic home theater furnishings that suit your needs and complement your decor, be sure to read How to Organize your Home Entertainment Center for tips on maximizing space in your home theater.