High End Blu Ray Players Compared - Panasonic, Denon, NAS, Sony and Pioneer Blu Ray Player Reviews

Denon DVDA1UDCI Blu-ray/DVD/CD Player
First on our list of high-end Blu-ray disc players is the Denon DVD-A1UDCI. Don't get turned off by its price because it is certainly packed with powerful features. Obviously, this Blu-ray disc player is capable of playing popular high resolution audio formats including SACD and DVD-Audio. It is also BD-Live ready. It also features AL32, an advanced digital audio processing that upconverts conventional 16-bit CDs to full 32-bit digital format. What this means is that the Blu-ray disc player is capable of DVD deinterlacing and upconversion to HD.
The Denon DVD-A1UDCI disc player is equipped with the Silicon Optix Realta HQV processor, 32-bit dual differential D/A converters for each channel and analog 7.1 outputs. It also has dual parallel HDMI outputs which you can assign with HDMI Pure Direct Mode. This Blu-ray disc player features 720p/1080i/1080p output resolution, built-in audio decoding for Dolby TrueHD and DTS-HD Master Audio and 70block construction that protects against cross-interference circuits. (Price: $4,061)
Pioneer Elite BDP-09FD Blu-ray Disc Player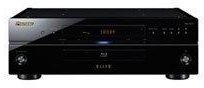 Feauturing 7.1-channel Analog Audio Outputs, 12-bit 297MHz Video Encoder, and 7 Individual Wolfson Audio DACS, the Pioneer Elite BDP-09FD Blu-ray Disc Player lets you experience movies and music like never before. It is capable of simultaneously delivering pure signal, great image quality and sound.
This single disc Blu-ray DVD/CD player also features HDMI ver 1.3a output, 1080p TrueFPS video output (BD/DVD), Dolby TrueHD, dts bit-stream out, 48-bit Deep Color support, 297 MHz video encoder, BD-Live Ready via ethernet, 4GB internal memory, 16-bit video processing LSi and Coaxial frequency response PQLS jitter. In other words, if the Denon's Blu-ray disc player's price is too expensive for you, the Pioneer Elite BDP-09FD is your cheaper alternative. (Price: $2,179.99)
Sony BDP-S5000ES Blu-ray Disc Player

Of course our list will not be complete if we don't include something from Sony. Well, for this list we've added the Sony BDP-S5000ES Blu-ray disc player. This player does not only provide you with Blu-ray playback at 1080p resolution, but it is also capable of upscaling your DVDs. This Blu-ray player boasts Sony's 14-bit HD video processor. That feature alone is enough reason for you to consider getting this player. It enhances standard definition picture quality through its HD Reality Enhancer and Super Bit Mapping.
Other features of the Sony BDP-S5000ES Blu-ray disc player include an isolated audio circuit board and high quality parts, rigid beam chassis and dual shield construction, Dolby TrueHD and dts HD-71. analog, and R-Core Transfer. (Price: $1,499.99)
Panasonic DMP-BD30
If you want a new feature which Panasonic claims is unique only to their Blu-ray disc player, well you might want to consider the DMP-BD30 Blu-ray disc player. This feature called Final Standard Profile adds Picture-in-Picture modes including Enhanced Commentary, Backstage Pass, Peek Behind the Animation and Audio Mixing features to the Panasonic DMP-BD30. This Blu-ray disc player upsamples the color information in video signals before up-converting content recorded in 480i/p, 720p or 1080i video format. In other words you get superb picture and sound quality when watching your favorite movies on a Blu-ray Disc if you get this player.
Some other notable features of this Blu-ray player include support for Blu-ray DVDs PAL or NTSC from region A and B, playback of regular PAL or NTSC DVDs from regions 1 and 2, SD card slot, and support for other media including VCD, SACD, DVD-Audio, DiVX, DVD-R, DVD-RW and more. And while this may be a high-end multi-region Blu-ray DVD Player its price is certainly affordable. (Price: 499.99)
NAD T 587 Blu-ray Disc Player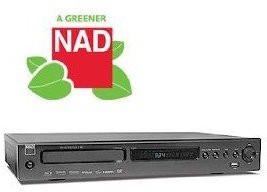 The last high-end Blu-ray disc player on our list is the NAD T 587. This Blu-ray disc player fully supports Profile 2.0 standard and boasts of high-end features including BD Live Network connectivity, full native 1080p resolution, digital HDMI transmission, standard DVD upscaling, support for 1080p videos at 24fps and superb audio performance with its 7.1 Linear PCM soundtrack with 24 bit resolution. The T587 Blu-ray disc player also support Dolby and DTS HD formats as well as Audio CDs and CD-Rs with MP3 or WMA decoding. The NAD T587 Blu-ray disc player has a reasonable price as well. (Price: $2,098.99)