Use Xbox 360 As A Media Extender With Media Sharing - Setup Windows Media Player 11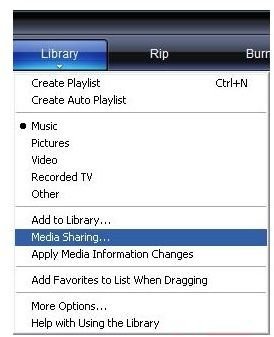 Media Sharing With Windows Media Player 11
If you're the owner of a Windows PC and an Xbox 360 and have been thinking about buying some form of media receiver to stream content from your PC to your TV then hold it right there - your Xbox 360 is more than capable of playing your video clips, audio files and photos!
Thanks to Windows Media Player 11 you don't even need a Windows XP Media Centre Edition in order to do this. The enhanced functionality of the latest media player from Microsoft allows you to set up media sharing on your PC, allowing content to be shared across your home network!
As long as your PC and Xbox 360 are on the same network you can share videos and music from your PC. Setting this up is a case of setting the correct options in Windows Media Player 11 and on your Xbox 360.
By utilising the star rating system in Windows Media Player 11 you can also manage which files are shared and which are not - so those embarrassing videos and song demos will go nowhere near your TV unless you want them to, while the different media types (images, video and music) can all be controlled. If you just want to listen to music through your PC you can disable images and video.
Setup Windows Media Player 11 For Media Sharing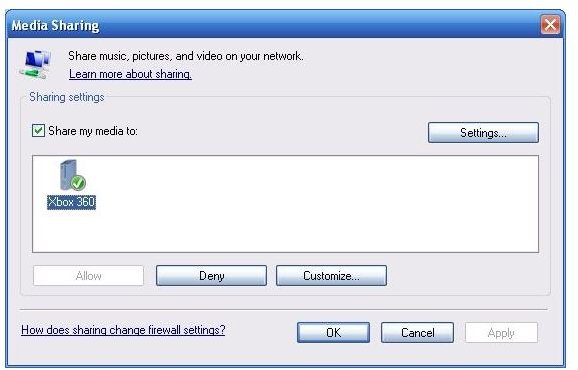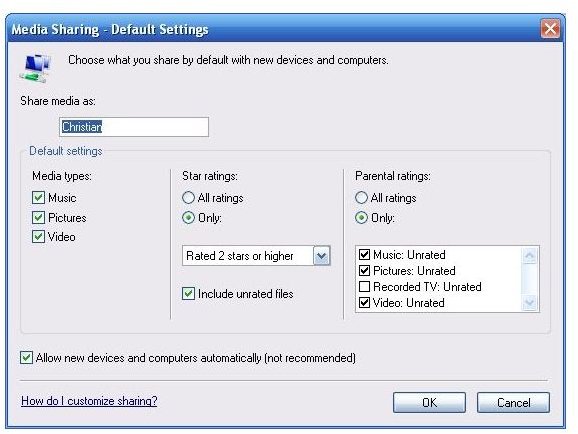 Windows Media Player 11 Options
Setting Windows Media Player 11 up to allow media sharing is very simple.
With your Xbox 360 switched on and with a connection to your home network, open Windows Media Player 11 on your PC and go to Library > Media Sharing…
You should see your Xbox 360 listed under Sharing Settings - select it and click Allow to begin sharing.
Settings… allows you to select which file types to share, while Customize… allows you to set file types for each device you share with - it's best to select the Default check box in the Customize… screen while setting things up. This will copy the configuration from the Settings… screen.
Once you've done this, you may find your firewall is informing you that Windows Media Player and various related components are trying to access your network. You'll need to add exceptions for the following files:
wmplayer.exe
wmpnetwk.exe
Xbox 360 Sharing Options
In order to view your files on your Xbox 360, go to My XBox > Video Library (or whichever library you wish to view files in). You should see your PC listed among the device sources, click this to see your shared content.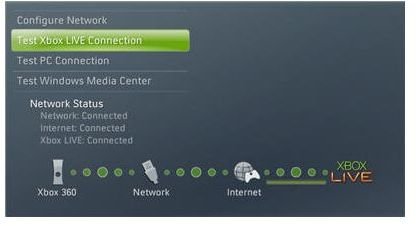 In the event that you can't see your PC listed, you'll need to follow the onscreen instructions provided by your Xbox 360 for configuring this. Once complete it's worth turning your Xbox off and back on again in order to complete the media sharing connection.
You may experience some difficulty at this stage. It is advisable at this point to disconnect your router from the internet and turn off the firewall on your PC, as well as any AV scanning software. With a restart of the services managing your Windows Media Player network sharing, any issues you've had should be resolved.
This can be done by going to your desktop, right-click My Computer and choose Manage. In the left pane expand Services and Applications, select Services and search for Windows Media Player Network Sharing Service and Universal Plug and Play Device Host, restarting each of these should sort the problem out.
With your PC firewall and AV disabled and your router disconnected from the internet, you may find reactivating each of these together will prevent further connections. If this happens switch each back on in turn and test your media sharing, leaving the internet connection until last.
Files You Can Share
There is some restriction in the types of files that can be shared in this way. This is due to the filetypes that Windows Media Player 11 will share and those that can be used on an Xbox 360.
Below is a list of filetypes that can be shared:
Video files: Windows Media Video (.wmv), AVI (.avi), MPEG-1 (.mpeg, .mpg), MPEG-2 (.mpeg, .mpg)

Music files: Windows Media Audio (.wma), MP3 (.mp3), WAV (.wav) files.

Picture files: JPEG (.jpeg, .jpg), Bitmap (.bmp), GIF (.gif), PNG (.png) files.

Playlists files: Windows Media playlist (.wpl) and MP3 playlist (.m3u) files will also run, allowing you to share playlists from your PC.
You should note however that DVD-Video discs and audio CDs inserted into your computer won't be shared across your network.