Small Budget Theater Guide - Buying a Budget Projector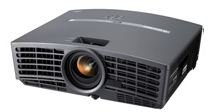 Overview:
There are a ton of choices out there when choosing a projector. So it is helpful to first decide how much you want to spend on a projector. Remember that there will be other costs, namely a sound system, a mount, depending on your configuration, and a screen. While you could spend more than a car on a projector, the goal of this article is to help you get the biggest bang for your buck. You might be surprised how far a few hundred dollars might take you.
Three worthy Projectors:
Mitsubishi HC1600
Epson PowerLite Home Cinema 720
Optoma HD65
Each of these three projectors offers native HD performance (720p) for less than a thousand dollars. They each have their advantages and disadvantages, which may help you to decide which one to get.
**
Mitsubishi HC1600 – Offers a very bright image and excellent contrast (side to side brightness consistency). It however suffers from a slow 2x color wheel. This means that some viewers may see rainbows in the image, making for an unpleasant viewing. Faster color wheels all but prevent this, something the other two options offer. While this isn't a deal breaker, and may not affect anyone in your audience, it is something to be aware of. (Approx $630 new)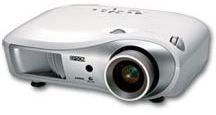 Epson PowerLite Home Cinema 720 – This projector takes the cake for all around performance in this group. It has the highest contrast, offers the brightest image, and is extremely flexible in its throw distance. The Cinema 720 will be the most expensive of the three, but may be worth it for those with larger or longer rooms, as the generous throw distance means that user will have more options on how far they want to mount the projector from the screen. (Approx $1000 new)

Optoma HD65 – Is the best all around projector for those on a budget. It offers very accurate colors and is the only projector I could verify supports native 24 frames per second play back, which is what blu rays play at – a huge plus for any movie buff. Two drawbacks are that you will need a light controlled room, as ambient light will wash out the image more noticeably than the other two projectors, and the throw distance has a very limited range, meaning that those with longer or larger rooms may have to mount the projector closer to the screen than desirable. (Approx $700 new)
A few helpful thoughts:
All the prices were found using Google product search, but a few minutes searching around will likely fetch you a few dollars in savings. Further, some of these projectors can be found refurbished with nearly new bulbs, at the additional savings of one to two hundred dollars! The one down side to buying refurbished is that the warranties are usually very limited.
The one advantage is that your projector has been inspected thoroughly and problems fixed - something that buying new doesn't necessarily guarantee. Of course you can also buy used, but be aware that lamp life is estimated between two to three-thousand hours, and lamps can cost over two-hundred dollars!
Further, leaving a projector on for an excessive time (over eight hours) can shorten the lamp life, and finally, leaving a movie on pause or having an image on screen for a long period of time can cause burn in, leaving a permanent shadow on that part of the screen. So it might be best to spend the extra on a refurbished or new projector.