The New Summit IC Chip (FS848) - Improving Home Theater Audio & the Frustration of Having to Setup Your Home Theater System Speakers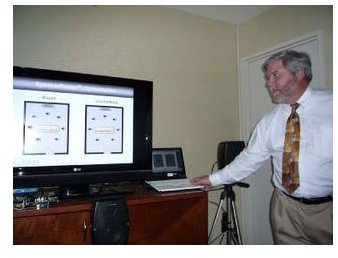 Eliminating the Frustration
So, you get a home theater system and are trying to set it up. There's a myriad of cables that you have to negotiate, and none more confusing that those that connect your speaker setups. Even more frustrating is that if you get these wrong, your speakers can be polarized incorrectly. Basically, this means that after all your hard work, your audio will sound no better that your average television. There's also the problem of sound delay and irregular volume. But, what do you do to correct this problem?
Well, one company has taken up the challenge and is offering a very exciting solution. The Summit IC Chip (FS848) from Focus Enhancements, Inc., an A/V technology designer, allows you to wirelessly control and synchronize your speakers. The chip transmits 48K/24 bit quality audio similar to DVD-quality for your home theater system speakers up to 7.1. While the chip has not been released yet, it promises to simply the lives of many.
SpeakerFinder Technology and MyZone
But, what sets this system apart? It's the SpeakerFinder technology. This system will find each speaker as soon as you turn them on, and each has their own channel. What's even greater about this system is the MyZone software. This SpeakerFinder system will map the
room, figure out the position of the listeners in the room and put the listener in the virtual center of the speaker network.
MyZone takes this technology even further. A remote control comes with this system that a user can put at their optimal ear height and the location of their favorite seat. This location and the height it's at are then programmed into the system. A chirping sound allows all the speakers to synchronize to each other based on that location. Within one centimeter of the listener's optimized position, the consumer is placed into the sonic center of each speaker. This location is remembered each time the speakers are turned on.
You can also just as easily change the location of the optimal speaker transmission by resetting the system with the same remote control. For example, if you're doing housework and want the system pointed towards where you're cleaning, you place it there. But, if later you want the family to gather on the loveseat, you can the point the system that way. And, it's all done with the touch of a remote control, making it easier than ever to coordinate your speakers.
5 GHz U-NII Wireless Band
What's also nice about this system is that it increases signal reliability. As opposed to using the crowded 5.8 GHZ space, which your wireless mouse, keyboard, phone, etc. use, or the 2.4 GHz band, the 5 GHz U-NII wireless band goes from 5.1 to 5.7 GHz. Thus, it avoids those more widely used bands, making the signal to your speakers more consistent. Plus, it also uses 24-bit/48K non-compressed audio, which practically eliminates noise from wireless transmission. So, your MP3 files will sound better than ever. Finally, Forward Error Correction helps with the resending issue that many devices have, or where your audio and video become out of sync.
This chip should improve home theater system audio dramatically. You can also use this system for your PS3 gaming platform.