Bright Hub Review of Hulu Desktop for Windows - Fullscreen TV for Your PC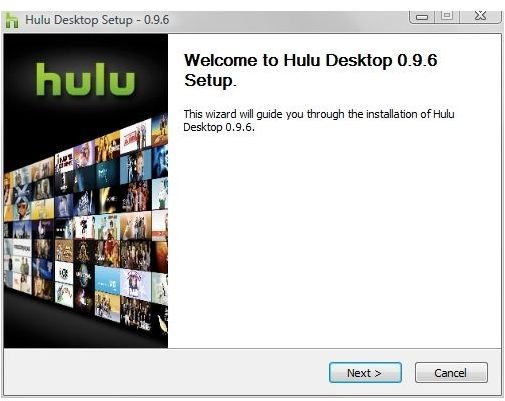 A better TV than TV? For a Windows Media Center enthusiast already watching TV and satellite TV on the PC, that's a tall order. For one thing, the Hulu Desktop does not play inside Media Center; it's a separate application. In fact, Hulu Desktop is not currently aware of Media Center. The use of the remote is the only point that they have in common, and Hulu doesn't even fare great there because it does not use the standard buttons.
Downloading and Installing Hulu Desktop
But that's getting ahead of our story. We downloaded Hulu Desktop using the "Labs" link at Hulu.com. The application was installed and tested on a two-year-old Vista Ultimate PC with 3 GB RAM, an AMD 64x2 5200+ (2.60 GHz) processor, and fairly low-end integrated Nvidia GeForce 6150SE graphics. The Internet connection was ADSL+.
The download was an 862 KB file named "HuluDesktopSetup.exe." It installed quickly and smoothly.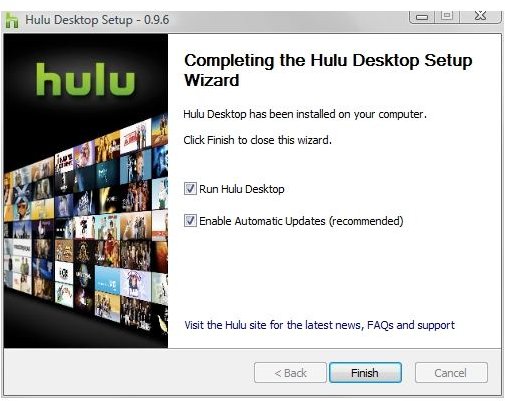 First Run and Follow-Up
At first run, Hulu Desktop launches directly into a video. In fact, it does this at every start, even to the point of restarting the last video watched – from the beginning! While it only takes moments to navigate away, this is a bit unpolished for an Internet media application. However, it mimics the way real televisions work, and Hulu would like us to think of it in just that way.
Now the fun begins. Hulu started in an application window, and my first impulse was to reach for my remote. Hmm… How to make it full screen? How to pause or resume playing? How to navigate within the window?
It's not what you think. It's not even what you expect. Pressing "Clear" on the remote causes Hulu Desktop to go to the menu screen. From there, the menus can be navigated by using the up, down, right, and left buttons. Pressing the OK, or Select, or center button, has the same effect as right-clicking on the video: it pauses the video and brings up the context menu with "Continue" selected. Selecting Help → Remote → Menu shows the following two screens.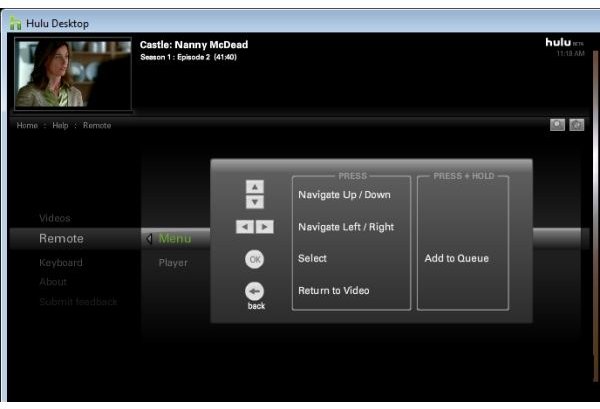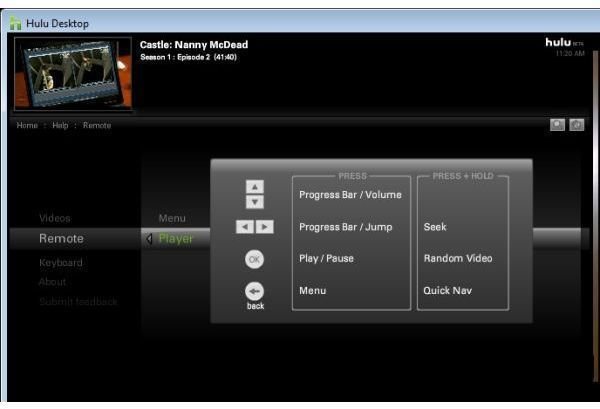 Pressing OK for "Select" had the same effect as right-clicking on the image. However, the "Back" button had no effect at all. (I was surprised that the back button did have an effect on Firefox, though.)
Here's what it looks like after pressing OK.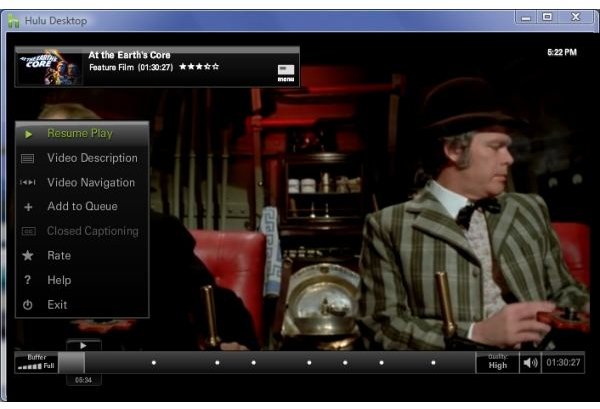 And after pressing "Clear," which minimizes the video and returns the view to the main menu.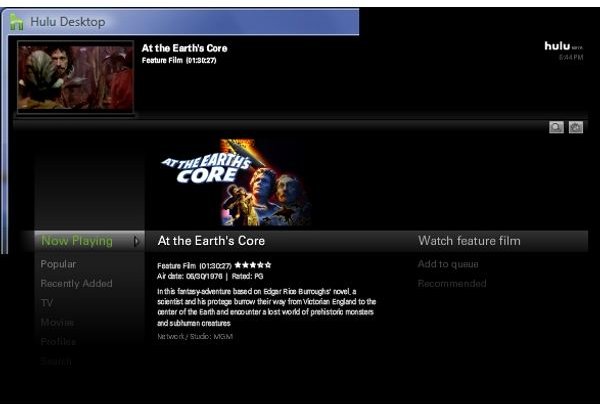 Pressing up or down on the remote, or clicking the video or frame, brings up an information pane and the duration or time-line strip.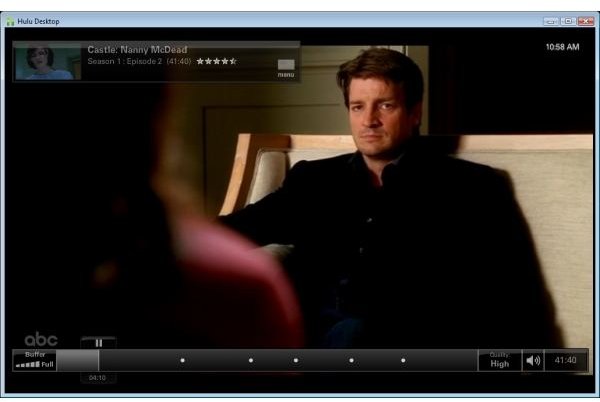 A nice feature of the interface, and one that deserves wide adoption, is a preview window that appears a second after you click a location on the time-line. The right and left buttons on the remote also move the focus along the time-line: a brief press moves the "insertion point" forward or backward, while pressing and holding brings up the preview window and smoothly moves it along the time-line.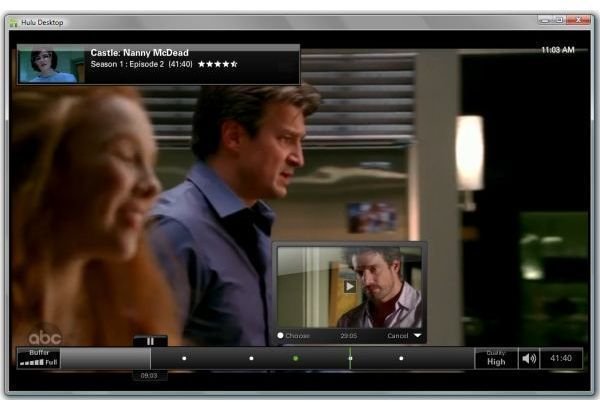 It was a bit of a surprise that the Hulu Desktop application does not respond to the play/pause controls on a Microsoft multimedia keyboard. Most other multimedia Windows applications do, so perhaps this is just an oversight.
More of a surprise is that there's no obvious way to maximize the player from the remote. If running it from a keyboard, pressing Ctrl-F maximizes the application. Clicking the maximize box with the mouse also makes it go full screen. In either case, it needs to be done before using the remote.
Minimum Requirements for Hulu Desktop
Full-screen, by the way, translates into 480p when "High" is selected by clicking on the "Quality" button on the time-line. This should also be done before switching to ten-foot couch mode.
The video quality is dependent on the connection speed. The modes are:
Low: 400 - 480 kbps, 288p
Medium: 650 - 700 kbps, 360p
High: 1000 kbps, 480p
Hulu seems to overstate the minimum requirements somewhat.
Intel Core 2 Duo 1.8GHz

At least 2.0 GB of RAM

Windows XP or later

2 Mbps Internet connection

Flash 9.0.124
I also tried the application on a 1.73 GHz, 756 MB Windows XP machine. Hulu Desktop was well able to run in a window, but it stuttered when in full-screen mode. This machine has never been great for playing DVDs, either, so it was pleasant to find that Hulu Desktop worked at all on it.
A third machine I tried it on was a 2.2 GHz Core 2 Duo laptop with 2GB RAM. Hulu Desktop had no problem running full-screen at 1680 x 1050 on it. (It actually ran better than on my desktop machine.)
Conclusion
So there you have it. Hulu Desktop is a Windows (and Mac) application that is trying to be a better TV than TV. It has a few rough edges, like not working with the standard buttons on a Media Center remote, but it's an obviously capable application, and it is surprisingly smooth and easy to use.
Hulu made some choices that make the experience better. For example, the videos don't exactly stream. The Hulu Desktop buffers a certain amount of video and downloads entire sections at a time. It spends most of its time playing video that has already arrived. This makes for a smooth presentation and smooth playback.
I would prefer that it not begin playback until I have decided what to watch, but if that is my biggest criticism, there is little reason not to recommend trying this application out.