Installing a Flat Screen TV above a Gas Fireplace - Weight Distribution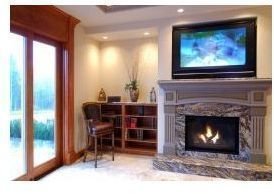 Consider Position, Heat, and Power
A brand new 48 inch flat screen TV… a perfect piece of wall just above the fireplace… surely a match made in heaven!
While installing a flat screen TV above a gas fireplace is quite possible, it isn't the easiest thing to do, and there are several things that need to be considered.
Chief among these are the physical aspects such as the strength of the wall and the size of the TV - but don't forget to factor in the element of heat rising from the fire. Soot and smoke also rise…
Consideration also needs to be given to cabling and how you provide a tidy solution routing power and signals to and from your new TV. Whether you have a games console, DVD or Blu-Ray player or a surround sound system hooked up to your TV, unsightly cabling is going to cause problems at some point.
Let's take a look at each of these aspects and see how installing a flat screen TV above a gas fireplace can be done safely and without any reduction in heat output from your fire and any harm to your new TV!
Plasma TV above Fire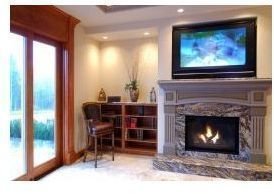 The Physical Factors
The physical factors of TV and wall weight to area ratio and the natural properties of burnt gas are the key concerns for anyone fixing a flat screen TV to a chimney breast or other wall already partially occupied by a fireplace.
With your new TV you should receive detailed instructions on how to mount the set on the wall. With a space above the fireplace already identified, it's a case of ensuring that weight distribution issues are settled with the correct mounting rack, and cracking on with the work.
The other main concern for anyone planning to stick a flat panel TV on the wall above a gas fireplace that they expect to use is of course heat.
Using a gas fire results in a habitable amount of heat that is radiated away from the fire. Heat, of course, rises and often carries with it smoke and soot. What will become of a TV mounted on a wall above a fire?
The Elements
With a gas fire situated in a chimney, heat, smoke and soot can be all but ruled out as any form of threat to the TV. Heat will rise within the chimney, barely heating the back of the wall the TV is mounted on, and carry away with it the majority of smoke and soot.
A standard gas fire in most modern homes will come with a blower fan to push generated heat away from the fire and into the room. A filter will remove smoke and soot, while heat generated by the fire and channeled around the cavity will dissipate as it spreads throughout the wall or be radiated away by the casing.
There is however one other thing to consider - heat and the minimum of smoke and soot that does escape from the fire and travels upwards, coming into contact with your flat panel TV and potentially damaging it.
Luckily, this can all be prevented with a standard mantelpiece. The mantel will buffer the heat, sending it into the room and away from the TV. It's also worth noting that various safety standards ensure that the TV itself is protect from outside influences such as domestic heat and dust in order to continue working without issue.
A Wooden Mantelpiece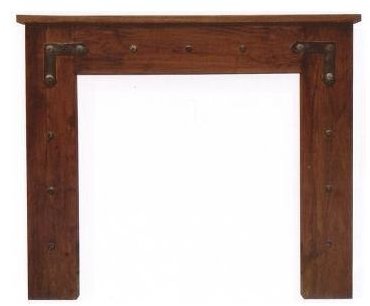 Keep Your TV Tidy
There are countless methods to keep your cables out of the way. Power cables and HDMI cables running to the TV from the mains and other hardware can be an eyesore.
If you're drilling into the wall to affix mounting clamps, then chiseling a few inches of brick or plaster for the power and HDMI cables to run along might not be too much of an extra job, and these can even be plastered over once the TV is seated.
Standard cable tidies can help meanwhile, as can office-style cable runners. These can be affixed to the wall with a strong backing adhesive and once the cables are successfully laid inside they're covered. Cable runners are available in a limited range of colors however, and look best running alongside a larger object as a fire surround or skirting board rather than jutting in from the right.
One of the best solutions is iConceal®, a stylish cable runner available from www.iconceal.tv. Designed to enclose cables running from the floor to your TV, these concealers can be cut to length - perfect for masking a gap between a fire surround and a plasma TV - and you might decide to use other methods to conceal the remainder of the cable around the fire surround or take advantage of a hollow file surround to run the cabling through to the floor, at which point the cables can then be fed through to the power supply point.