Emtec MovieCube S800 Review -Digital Video Recorder, Media Streaming Player And Much More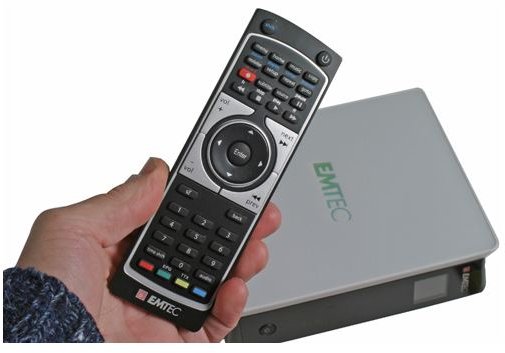 Emtec MovieCube
As digital multimedia gains popularity, having everything stored and accessible from a single location is becoming more and more desired. We use different electrical appliances like audio players to listen to songs, digital TV to watch movies, and the Internet to watch latest video content. Surely, we would like to have a single device in which all these features are incorporated.
To get that joy, look no further. The Emtec Movie Cube S800 seems to be the all-rounder that does everything. This glossy black & white machine comes with many attractive features. It includes a 500GB hard drive for storing a large number of audio and videos, a digital and analog TV tuner, a personal video recorder (PVR), and both wired and wireless connectivity options for sharing your media from all around the home and tuning into Internet radio stations.
The Emtec Movie Cube S800 is an innovation bound to impress anyone. Its features and capabilities are so impressive that as soon as you take it out of the box, it will have a captivating affect. Maybe you will not like its small body and it is not that scratch resistant either, but you will definitely appreciate its technical features and usefulness. You will not find any loose or squeaking panels as you hold the device, and the back panels look very solid, with clearly visible connection labels that are neatly arranged on a metal sheet.
The S800 comes with a high definition multimedia interface (HDMI) socket, which essentially would be required. In addition, there are component and composite video, coaxial, optical and analog stereo audio outputs. The S800 also provides a SCART connector (used in Europe) that allows you to connect your old TV with this box. The box has inputs for composite video and audio as well. Also, it has a TV aerial socket and a USB socket. The USA model does not provide the analog and DVB-T TV tuners, and with the UK model, you will also get an aerial splitter.

The S800 will definitely attract more buyers because of its support for a large variety of file formats. It will play video in MPEG-4 AVI, VOB, ifo, MPEG-2 TS and MPG2/1 formats. It can also play Xvid files but the quality would not be that great.
Many different audio files can also be played with S800. The audio file formats it supports include WMA, OGG, MP3. In addition, JPEG and BMP image formats are also supported. It has maximum resolution support of 720p 50/60Hz and 1080i 50/60Hz but no 1080p.
The S800 has a small fan at its rear, which is the primary method of ventilation, and it does not produce any annoying high-pitched noise. You can expect a little noise from its hard drive which is only audible when you are close to the box.
Bottom Line
The Emtec MovieCube S800 is a very good device for video streaming, Internet radio, large storage as well as dual TV tuning for recording the content of your choice. This is certainly one of the best picks if you are looking for a NAS for media playback. If you are really looking for a gadget that can do everything, then the S800 is a good choice that comes at a fairly reasonable price.