How to Connect Laptop to Television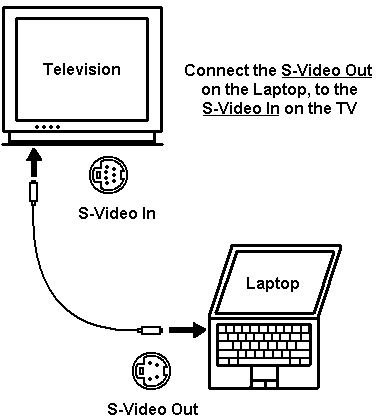 Many people find it useful to use a television as a display for their laptop. The larger screen makes it easier for others to view the same material, rather than having to crowd around a small laptop. Connecting your laptop to a television is useful for many other reasons as well. Laptops can be used as DVD players to watch movies, or you can connect a game controller to your laptop and play games on your television's larger screen. Fortunately, there are only a few simple steps to connecting a laptop to a television.
Non-HD Connection
Depending on the type of television you have, there are different cables that you will need in order to connect the laptop to the television.
For an older non-HD television, you'll most likely use either an S-Video cable or an "S-Video to RCA" adapter cable. When you have the cable, simply plug one end into the S-Video Out port on your laptop, and the other into the S-Video In on your television.
If you are using an "S-Video to RCA" adapter cable, you'll need to plug the cable into the S-Video Out on your laptop, and then plug one end of an RCA cable into the adapter, and the other end into the Video-In on your television.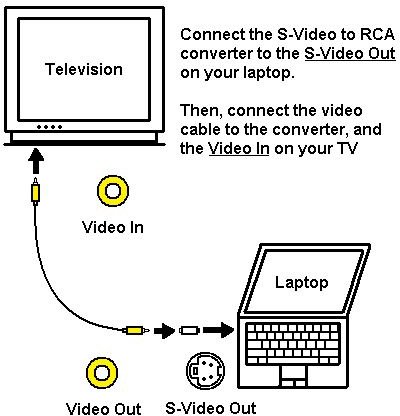 HD Connections
For High Definition televisions, there are a few more options for connecting the laptop. Most new laptops have an HDMI-Out port, making them very easy to connect to HDTVs; simply plug an HDMI cable into the laptop and television.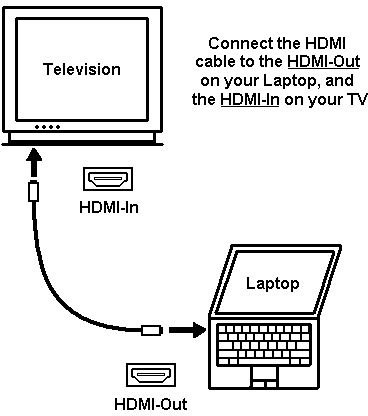 You can also use the DVI or VGA ports on your laptop to connect to an HDTV, though you might need to use an adapter to convert them to HDMI, if your TV doesn't have those connections. If your laptop does not have an HDMI or DVI connection, but you still want to view High-Definition content, you can use an "S-Video to Component Video" adapter. This is similar to the S-Video to RCA adapter, but supports HD resolutions.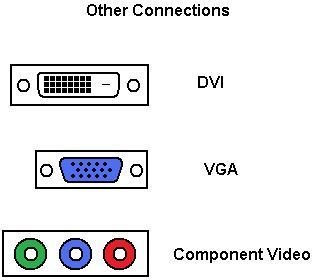 Enabling the Monitor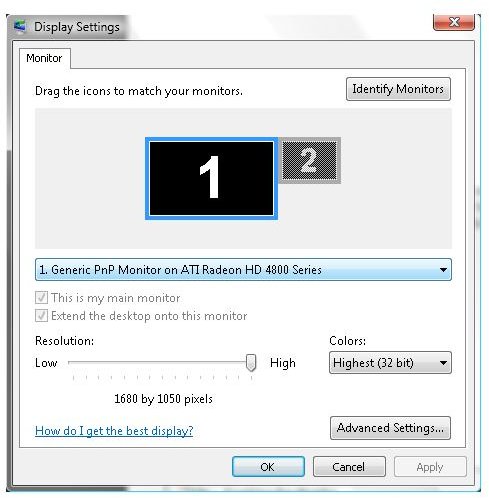 Next, depending on your laptop, you may have to manually enable the monitor. Some laptops come with a presentation mode that does this automatically, but some don't. If yours does not, you will have to navigate the Display Settings window (In Windows Vista, right-click on the desktop background, and choose "personalize", then click on "display settings"). Once there, you select the new monitor under the drop-down box, and check either "This is my main monitor" to use the television as the primary screen, or "Extend desktop onto this monitor" to use it in addition to your laptop's screen.
You'll also have to set your television to the correct channel for whichever connection you are using. Once you hit the right channel, you should be seeing your desktop background display on the TV.
Sound

If your laptop does not have an HDMI connection (which carries sound in addition to video), you may need to connect a sound cable to your TV as well. To do this, you will need a "3.5mm Stereo to RCA" adapter cable. Plug the 3.5mm jack into the blue Line-Out port on your laptop, and then plug the red and white jacks into Line-In on your television.
Now you will have to enable the television speakers. In Windows Vista, right click on the sound icon on the bottom right side of the screen, and select "sounds". Under the sound window, select the "playback" tab, and there should be a list of speakers to choose from. Find the newly connected set of speakers, right click on it, and select "enable".
Now that you have your laptop connected to your television, you're ready to use it as a monitor. You're now able to use the television for presentations, movies or games, or just to browse the internet on a larger screen.
For more TV connectivity guides read:
How to Connect a Wii to an LCD TV
How to Connect a PlayStation 3 to your TV without HDMI
How to Connect a DVD Player to a Flat TV
How to Connect a DVD Player to an Old TV