How to Install a TV Converter Box with a DVD Player

Getting Started
First, if you already have the DVD player or the converter box connected to the TV, go ahead and unhook it. This will make it easier to follow the steps. Make sure you turn off the TV while you are at it, too. If you want to unplug the TV or the other devices from the power, you can do this as well.
If you have an antenna that you want to use to improve reception along with your digital converter box, hook that up to the converter box first. To do this, simply plug the cord from the antenna into the jack on the converter box that says Antenna In.
Connect the Converter Box to the DVD Player
On the back of the converter box, look for a jack that says Output to TV. Plug one end of a short coaxial cable into this jack. You would normally plug the other end of this coaxial cable right into the TV. However, since you also want to connect a DVD player to the TV, the opposite end of the coaxial cable plugged into the digital converter box will go into the DVD player. Plug it into the Antenna In or Cable In jack on the back of the DVD player.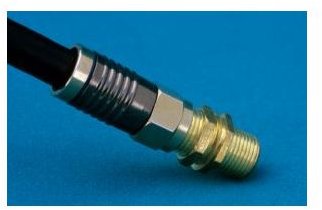 Photo Credit: sxc.hu//tlloyd
Connect the DVD Player to the TV
Now that you have connected the antenna to the digital converter box, and hooked up the converter box to the DVD player all that you have to do now is connect the DVD player to the TV set.
To do that, you will need another coaxial cable. Plug one end of this coax cable into the back of the DVD player. There should be a jack labeled Output to TV or something similar. This is the one you want to use. Plug the other end of the coaxial cable into the back of the TV. It should have a coax jack that says Antenna In or Cable In. Many analog televisions will only have one coaxial jack on them, which will make it easy to find.
Plug all of the electrical connections in (preferably to a surge suppressor) and turn on the TV. Switch the TV to channel three or four, and then use the switch or setting on the DVD player to set it to the same channel you selected for the TV. If your converter box requires it to be on a certain channel, make sure to use that one for both the TV and the DVD settings.
Turn on the TV and start scanning for channels. Read How to Scan for DTV Channels to learn how to find the channels available in your area, and How to Improve Digital TV Reception to get even more channels.