Is it safe to hook an SPDIF Output into a Hifi System?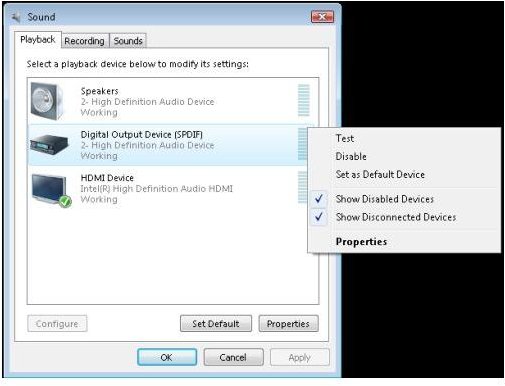 Configuration
You configure your receiver using the same method for your PC as you would for any other audio device, and allow the receiver to decrypt the digital signal automatically. The majority of receivers these days will support the common audio formats of DTS and Dolby Digital. When the signal is received, the receiver will light up with the appropriate logo and you will hear audio.
From the PC side, you will need to do some configurations to ensure proper audio playback. First will be to enable the S/PDIF output to be your default source. Right click on the speaker icon in your system tray and select "Playback Devices." (Note, you can also reach this page from Start > Control Panel > Sounds) Once there, you should see "Digital Output Device (SPDIF)" option—right click on it and select "Test." You should hear audio from your receiver. Once verified, right click again and select "Set as Default Device."
The final step is to make sure that the audio signals are transmitted appropriately. Without doing this step, your audio will be transmitted uncompressed through the receiver, instead of allowing the receiver to do the work. In the same Sound settings, right click on the Device and select "Properties," and then switch to the "Supported Formats" tab. Assuming your receiver supports them—and most current ones do—enable the check boxes next to "DTS Audio" and "Dolby Digital." Click on each format, and select "Test." The receiver should light up the respective audio format logo, and you will hear sound through all 6 audio channels. And that's it, your PC is now setup to work with your receiver over the S/PDIF cable.
Note: if you are using a 3rd party software such as Arcsoft's Total Media Theater, you will also need to configure the sound settings of that application to transmit the sound over S/PDIF as well. Any Microsoft applications however—such as Media Center or Media Player—will utilize the previously configured audio settings.
Images