Choosing a Flat Screen Kitchen Television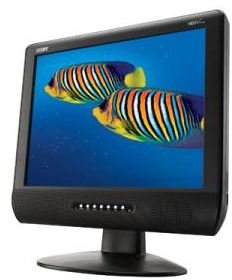 Choosing a Flat Screen TV for the Kitchen
If you are looking for a flat screen television for your kitchen then you'll probably want something fairly compact. There are various options out there and a small television maybe up to 20 inches should do the trick depending on the size of your kitchen. You can get flat screen kitchen televisions which are specifically designed to fold down from underneath a cabinet or you could go for a traditional flat screen display with a stand which can sit on the kitchen counter.
It makes sense when space is at a premium to purchase a flat screen kitchen television which has built in TV tuners and maybe even a DVD option. This will save you from needing any other devices alongside it. In this article we'll have a look at some of the options and try to find some suitable candidates for any budget.
Coby TFTV1524 LCD TV
This is a cheap 15 inch LCD TV which supports high definition footage and has an HDCP compliant HDMI port which means you can watch Blu-rays on it. It also features built in ATSC and NTSC TV tuners for standard and digital broadcast television. It has stereo speakers and it is suitable for wall mounting. This TV can also be used as a computer monitor although that is unlikely to be much use for your kitchen. However if you are short on space and have a limited budget then the Coby TFTV1524 is a good option.
Toshiba 15LV506 LCD TV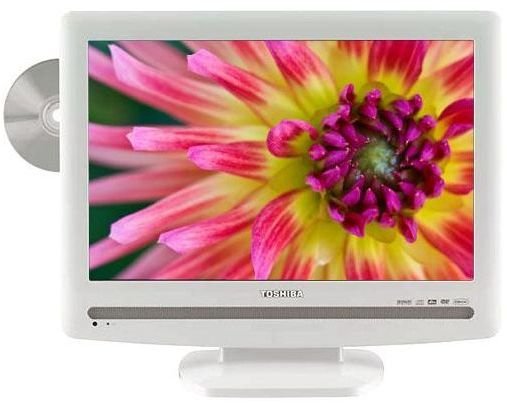 This model is ideal for your kitchen. It features a 15.6 inch widescreen display at a resolution of 1366 x 768 pixels. It also has a white finish which is easy to wipe clean and will look at home in the kitchen environment. There is a built in DVD player and it will even play your burned DVDs with support for the DivX codec. It also supports WMA and MP3 playback so you could use it to listen to music as well. The built in ATSC, NTSC and QAM tuners allow you to watch standard and digital broadcast television. The only possible drawback with this model is the fact it is not suitable for mounting so it will need to sit on the counter. Overall the Toshiba 15LV506 is a strong contender with solid performance and a great range of features at a reasonable price.
Vizio Class LCD TV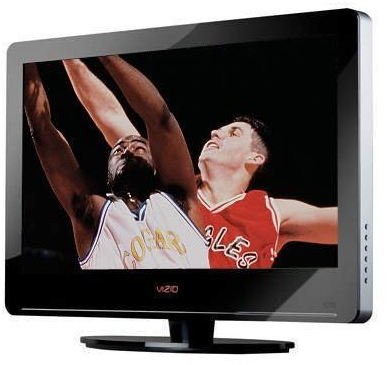 This is a 19 inch LCD TV which is capable of displaying high definition footage at 1366 x 768 pixels. It also has built in ATSC, NTSC and QAM TV tuners. It does lack the DVD player option but it offers exceptional picture quality with terrific contrast and brightness. There are lots of connectivity options including 2 HDMI inputs. This TV also offers good quality stereo sound. The Vizio Class is a definite competitor for some of the better known makes.
Sony Bravia KDL-19M4000/S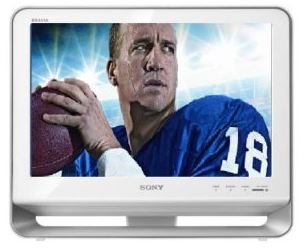 This 19 inch silver Sony LCD TV can be picked up for a lot less than the RRP of $400 but it is still at the expensive end of the scale. So what do you get for your money? Well it does have built in ATSC, NTSC and QAM TV tuners. It supports high definition footage with a resolution up to 1440 x 900 pixels. It also has a wide range of inputs including HDMI and VGA for a PC. The picture and sound quality are both great and this device can be mounted with a kit. The Sony Bravia KDL-19M4000/S is a good option but it is undeniably expensive and in part you are just paying for the name.
Samsung LN19A451 LCD TV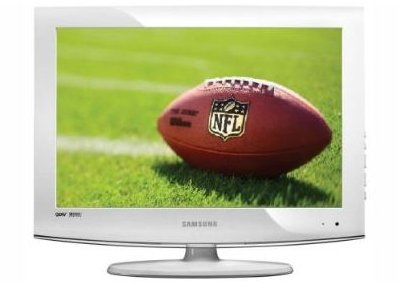 This is another fairly costly option but this 19 inch high definition television from Samsung is great quality. It is also white so it will fit in with most kitchens. It has the built in digital TV tuner and good contrast and brightness. There is also an HDMI input and a virtual surround sound option. It is suitable for wall mounting. Once again with the Samsung LN19A451 you are partly paying for the name and if you examine the specs then the cheaper Vizio beats both this set and the Sony for quality.
Audiovox VE927 Drop Down LCD TV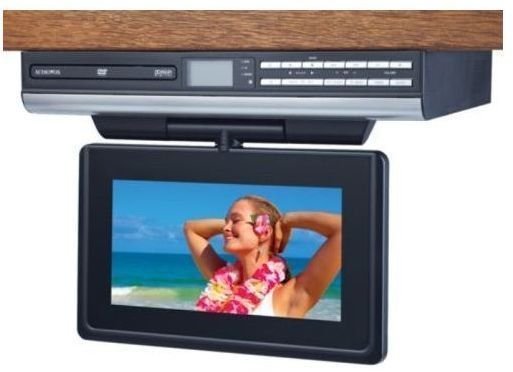 This device is super cute and designed with the kitchen in mind. It is extremely compact and comes with a mount so it can be fitted beneath a cabinet and it folds down for viewing. It features a 9 inch screen with a built in digital TV tuner. It also has a built in AM/FM radio tuner and a clock. To top it off there is a DVD player which also supports CDs and the MP3 format. The Audiovox VE927 is ideal for people with very limited space who are seeking a complete solution.
The Right Kitchen TV for You
It is tough to make the right choice when it comes to buying a flat screen kitchen television and one of the most common complaints is poor sound quality. All of these options have at least reasonable sound and the majority will give you a terrific picture as well. The blend of options that works best for you depends on what you think you'll use it for most. For me the Toshiba 15LV506 has the best range of features at the best price although unlike all the others it is not suitable for mounting on the wall or under a cabinet. You can buy mounting kits separately and they are easy enough to use but they can be quite expensive so there is something to be said for the all inclusive Audiovox.