Best Entry Level Blu Ray Disc Player - Introduction, Panasonic DMP-BD60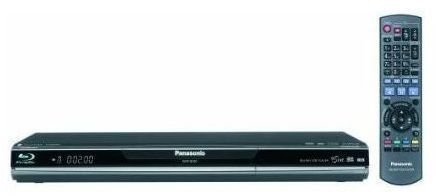 Introduction
High Definition disc players have seen a bloody war between the HD-DVD of Toshiba and Blu-ray of Sony, a war in which Toshiba eventually retreated. After a couple of months we did not see any price decreases, but the situation has long changed. Considering the abundancy of Blu-Ray players in the market, it is too hard to choose among them.
In addition, with our last year's "Best Budget Blu-Ray Player" article, the budget line was USD 300, whereas this year's budget line is USD 200. If you want to fall even below USD 150, there is a very good product for you. You can see the competition here: 1 year, half the price, twice the features.
Panasonic DMP-BD60 (4 out of 5)
Panasonic has made an excellent Blu-Ray player with a lot of essential features required by today's Home Theater enthusiasts. Looking at the unit from its core functions, we see BD-Live, 1080p Upconversion and PHL Chroma Processor Plus. PHL Chroma Plus is developed in collaboration with Panasonic Hollywood Laboratory to enable the player to produce crisp and vivid colors on HD TV sets. The HD sound decoders support Dolby Digital Plus, Dolby TrueHD, DTS-HD Master Audio Essential with 7.1 channel surround sound output. The unit has an SD card slot and a USB reader, allowing you to connect your digital/video camera to your player without bothering with the wiring. There is one downside with the USB connection: it does not allow you to play DivX or XViD videos, meaning that it is restricted to JPEG and MP3 files. Lose one point Panasonic.
As expected, Panasonic embedded and extended its Viera technology in the product, with Viera cast, which allows you to connect to YouTube, Picasa and Weather. With the latest agreements with Amazon Video on Demand you can rent movies from Amazon.com for as low as USD 0.99. If you are wondering about Netflix, the news is bad: as announced by Panasonic in Consumer Electronics Show (CES) 2010, Netflix will only be supported by the 2010 models. If you are not a Netflix subscriber nor you are planning about it, you can safely disregard this lack of functionality.
If you have a Panasonic HD TV with Viera technology, you would expect to manage your HD TV and DMP-BD60 with only one remote. You can do that with this Blu-Ray player, because they both have Viera technology.
I can recommend this Blu-Ray player if you are looking for a reliable, high-performance DVD player. The price/performance ratio is high, but if you are looking for a long-term investment, especially with Netflix support, then I have to say that you will have to look for other Blu-Ray players, possibly with a higher price range.
Panasonic DMP-BD60 comes with a USD 130 price tag from Amazon.com with a typical 1-year warranty.
LG BD-370 (4 out of 5)

Although we are familiar with the introduction of the new electronics devices to the market everyday, some products do keep their positions for quite some time, such as LG's BD-370 Blu-Ray player. We have reviewed this product one year ago and it still remains on our list due to its strong capabilities.
The Dolby TrueHD, DTS-HD and Dolby Digital Plus audio features with 7.1 output are present in the BDP-S370. LG also packs BD-Live with this model, which is welcome. What is especially good to have is the NetCast for YouTube and Netflix HD BD Live (BD 2.0) features in LG BD-370. The video output is 1080p and it has the upscaling feature for the standard DVDs as well.
The connection is Ethernet for the BD Live features. The player also has a USB port for the BD Live storage and also capable of playing movies from the plugged in drives.
LH BD-370 is offered below USD 190 with 1 year warranty.
Sony BDP-N460 (4 out of 5)
As more and more Blu-Ray players are introduced to the market, consumers want more features, especially connections to their favorite online stores such as Amazon Video on Demand, Netflix, Slacker etc.. Sony BDP-N460 has a wired ethernet connection to your home network system to access the online media. If you wish to connect the product wirelessly, then you will be pleased to hear that the wireless connection is supported but you have to do this by pairing the optional Linksys Wireless Ethernet Bridge (WET-610N) with your wireless router. No need to say, these products are sold separately.

I will not go into the discussion of the base features of the product, such as the audio formats supported (Dolby TrueHD and dts HD- 7.1 Analog etc.), video upscaling, mp3 support etc. since you find all these features as "basic features" in all Blu-Ray players.
You might be thinking that Sony should have introduced at least one outstanding technology in its product. You are right. BDP-N460 has x.v.Color Output, which displays colors near to the real RGB colorspace, meaning that you will be able to see colors closer to the real life. Compared to the current RGB color standard, the x.v.Color Output technology displays close to twice the number of colors. Keep this in mind when you are making your final purchasing decision.
Sony BDP-N460 comes at USD 175 from Amazon.com with a 1 year warranty.
Conclusion
Samsung BDP-1600 was March 2009's choice but the Korean giant lost its position to the inventor of Blu-Ray Sony, this year in the best budget Blu-Ray player arena. Sony has integrated a lot of useful and nice features into its product, plus the x.v.Color Output technology.
With the purchase of any of these devices, we strongly recommend that you add-on a high-capacity USB Stick (32 Gigabytes or higher) to enjoy the BD-Live features as well as the Bonus Content that is available online. The Blu-Ray player manufacturers still do not install hard drives by default as of now, but with the ongoing competition and the fall of the price-per-gigabyte ratio, we can safely expect players with onboard storage in the coming year.