Component Parts for Home Theater - Media Players, Speakers, DVD & Blu Ray

Basic Components for a Home Theater System
We discussed home theater receivers and displays in a previous article. Now, we would like to move forward and look at media players and speakers. Each of these components is a major part of any home theater system, but a bigger price tag does not always mean better quality or value. So, we'll investigate the options to see what is the best solution for both your needs and your budget.
Players
Digital Versatile Disc (DVD) Players (including DivX, XviD Players)
DVD players have been on the market for a long time now, and they allow us to watch videos with decent quality. Their prices have dropped rapidly over the last few years, and they are now available for as low as USD 30. With the falling prices, manufacturers have embedded additional functions, such as the ability to play DivX and XviD files, show pictures, listen to MP3 music files, and even play media from USB thumb drives. With these additions and a considerably lower price tag, DVD players can be found in almost every home theater system.
Whether you plan to go out to buy a new DVD player or you're considering a first-time purchase, consider these additional options, because today or tomorrow you will probably find a movie that is encoded in a different format, which your DVD player may not be able to handle. I recommend that you go with a DVD player that has the following features:
DivX, XviD Support
USB Port
TOSLINK and S/PDIF output
Upscaling, if your budget permits
Recently, manufacturers have introduced DVD players that are advertised to be capable of increasing the quality of your DVDs to HD standard, which is called upscaling. In fact, this upscaling is no more than basic interpolation that increases the number of lines from 720x480 (NTSC) or 720x576 (PAL) to 1920x1080. At this point, although I personally do not like these types of manipulation, I must admit that some DVD players do this upscaling very nicely. I definitely suggest that you check out the models with upscaling capability. Ask the salesperson to insert a standard DVD into the player and connect it to a Full HD TV to see the output yourself. If you have time, ask the salesperson to put different DVDs into the device so you can further compare the output.
Blu-ray Players

After Blu-ray claimed victory in the HD arena, we did not see many players in the market. Still, there are not that many options, but competing products have been introduced one after another.
Currently the prices of the Blu-ray players are in the USD 250 range. With this component, I recommend that you wait for prices to fall, but if you want to make a purchase soon, I suggest going with the player that has Profile 2.0, which allows you to enjoy Bonus View and additional features such as BD-Live.
Read on to the next page for more information on game consoles, computers, standalone disks and other media players. We'll also take a look at the different options for home theater systems speakers.
Game Consoles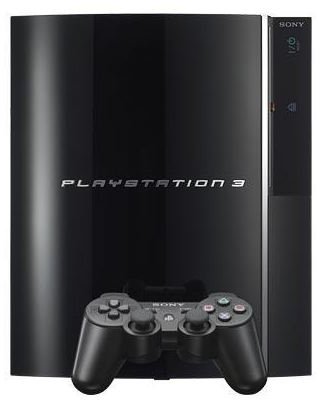 We cannot leave games out of our home theater components analysis. They are about to reach the same worldwide market value of the movie industry.
The main players in game consoles are Sony's Playstation 3, Microsoft's XBOX and Nintendo's Wii. I will not go for a superior/inferior comparison here, but Sony's Playstation 3 fits better with home theater systems since it already has a Blu-ray player, a hard disk, Bluetooth, and USB connections making it a perfect media player. As an added bonus, you can play games if you want to.
Computers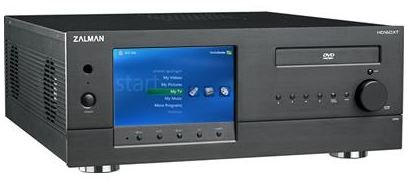 No matter what we do to stop the invasion of computers, they have already taken their place from our desktops to our pockets, from our bedrooms (aren't you watching movies on your laptop before going to sleep?) to our living rooms. There is a simple reason for this: today's computers are capable of doing almost anything you want: play movies, surf the Internet, make video calls, listen to music and play whatever you want to play, including games and any other media you can think of.
If you want to add a computer as a part of your home theater system, I suggest you check your alternatives very carefully and make silent running one of your top priorities. You would not want a continuous loud fan noise in the background when you are watching movies.
Manufacturers have been a little bit hesitant to roll out their home theater computers (HTPC) to the market and there are not a wide variety of options. But with a careful selection of components, you can get the best HTPC, designed by yourself.
Standalone Disks and Other Media Playing Devices
If you don't want to purchase a full HTPC, there are also standalone external disks that can play media without the need for a computer. These devices are new but come in very handy if you want to store a lot of media files inside. They are very quiet, making them one of the best solutions for home theaters. For the time being, the main standalone disks are from Western Digital and Seagate.
There is also a network multimedia center worth mentioning. Mediagate's network multimedia center offers network connections, both wired and wireless, and has the ability to download files from the Internet or from the local network and play them on your TV.
Read on to find out more about stereo speakers and multichannel speakers. We'll also give our final recommendation for which players and speakers you should invest in for your home theater system.
Speakers
Stereo Speakers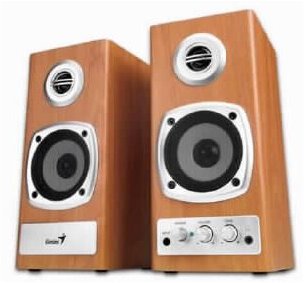 You may wonder why I placed this option at the top of the list for speakers when we have 5.1 as the least we can get, and 7.1 speakers are slowly making their way in the market. With multichannel speakers, there are three speakers in the front: front left, front right and center; make that four if you place the subwoofer somewhere in the front. But, if you want to listen to music, which is recorded for left and right speakers, then you fall short. The bass sounds come only from the subwoofer and the mid-range and treble sounds come from the other two front speakers (left and right), making the music experience a little bit disappointing.
When you are building your home theater, keep the stereo speaker issue in mind. You can also think about the possibility of connecting two stereo speakers and two front speakers together to the receiver. But, in this case you have to be careful and place a switch between the cables so that when you are listening to music, the waves will go to the stereo speakers and the sound will be relayed to the front speakers when you are watching videos.
Never forget that the best sound can only be received from speakers with wooden casings. There are many stereo speakers that have plastic casings – I strongly recommend you stay away from them.
Multichannel Speakers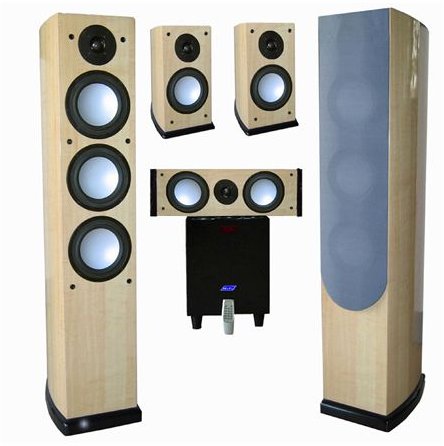 With DVDs, we have been introduced to the 5.1 surround system: front left, front right, center, rear left and rear right making the "5" and the subwoofer the "1." With the advancement of sound recording and processing technologies, we have been introduced the 6.1 and 7.1 surround systems. The speaker setups are as follows:
6.1: front left, front right, center, side left, side right, rear center, subwoofer
7.1: front left, front right, center, side left, side right, rear left, rear right, subwoofer
By adding more speakers to the system, you can get better surround effects, as you will guess. Nowadays, the shift is from 5.1 to 7.1 and if you plan to purchase multichannel speakers, it is better to go with the 7.1 option.
Once again, the best sound can only be received from speakers with wooden casings. There are many 5.1 and 7.1 sets which look beautiful and ready to be placed but have plastic casings. I strongly recommend that you not be influenced by these speakers.
Buying Guide for Media Players and Speakers
As of today, it is not possible to tell people to go with a special media player. But, thinking about the future, I can say that blu-ray players will be the standard media player for households and that computers will be the standard player for more ambitious people.
For speakers, there are strong brands with varying levels of price. Personally I only check speakers that have wooden casings and totally discard the plastic ones, no matter how they look or how they claim to be successful.
This post is part of the series: Home Theater Basics
In this article series we take the reader step by step to building a home theater. The connections, devices, setup, layout will all be explained in detail and finally the reader is well equipped to build his own home theater system.