Best Speakers for Home Theater Systems

Center Channel Speaker
The center channel speaker is the most important speaker in a home theater system. The center channel speaker provides up to 50% of the music as well as the dialogue. The main purpose of the center channel speaker is to evenly balance the sound of the home theater system.
Our pick: Polk Audio CS10 center channel speaker
The Polk Audio center speaker is compatible with virtually all types of electronic equipment. The speaker has the best performance for its price range and includes 5 way binding inputs. The enclosure is vented and offers an impressive 2500 Hz crossover. The design of the Polk Audio center speaker was designed to deliver a clear,efficient sound. The best feature of the Polk Audio speaker is that it can be controlled by any modest receiver and deliver quality sound.
Available in black and has an amplification of 20-125 watts per channel
The top is inverted so that the speaker can be placed conveniently under the TV
The speaker has been magnetically shielded which allows safe placement around other equipment
Product Measurements: 6-1/2 by 20 x 9-3/4 inches (HxWxD)
Product Dimensions: 9.8 x 20 x 6.5 inches ; 16 pounds
The Polk Audio Center Speaker is available on www.amazon.com for $101.97
Front Left and Right Speakers
The front right and left speakers provide the sound that creates the movie theater experience. These speakers provide a more realistic and entertaining movie environment. The front speakers are vital to the home theater system because these speakers provide the special effects sounds of many movies. These speakers are perfect for sound that needs to travel back and forth between the left and right speakers.
Our pick: Sony SSF-7000 floor-standing 4-way speaker with 8" woofer
The left and right speakers offered by Sony provide a clear and powerful sound. The speakers are smooth and sleek. The attractive appearance and compact frame offer a stunning high-resolution clarity. These floor-standing speakers include several high-quality drivers and produce amazing sound reproduction. The speakers provide an impressive 35-50,000 Hz frequency response. This is ideal for listening to a wider range of vocals, tones and sounds.
Newly developed 8" mica reinforced woofer provides room shaking bass
3.25" mid-driver is perfect for mid-ranges and lows
1" Nano-Fine balanced dome tweeter extracts the detail of vocals
Maximum of 200-watt input power
Dimensions: 215 x 950x 200mm each
The Sony Floor Standing Speakers are available on www.amazon.com for $191.44

Surround Speakers
Surround speakers are perfect for producing background noises or ambient sounds. These types of sounds can include footsteps, rain drops or crunching noises. Surround speakers also work well with your other speakers to deliver impressive directional effects. These effects can be bullets flying by or trains speeding past. Great surround speakers will have any listener in the middle of powerful sound quality.
Our pick: Polk Audio RM8 wide-dispersion array satellite speakers
The Polk Audio surround speakers offer a powerful sound for such a compact frame. These speakers are attractive and stylish. The Polk Audio speakers offer dual-drivers that provide the listener with a more diverse dispersion pattern. This option allows for advanced flexibility. The RM8 speakers use technology that guarantee excellent performance and impressive sound. The RM8 speakers can be conveniently mounted on a wall next to the TV or on bookshelves. The style is heavy-duty, sturdy and durable. The enclosures are non-resonant and offer an elegant, high-gloss finish.
These speakers come in pairs for both left and right
Available with a 0.75-inch tweeter and two 2.5-inch midrange
Frequency response rate: 95Hz-24kHz
These speaker have been magnetically shielded which allows safe placement around other equipment
Flexible wall brackets come standard with the speakers
The Polk Audio Surround Speakers are available on www.amazon.com for $189.99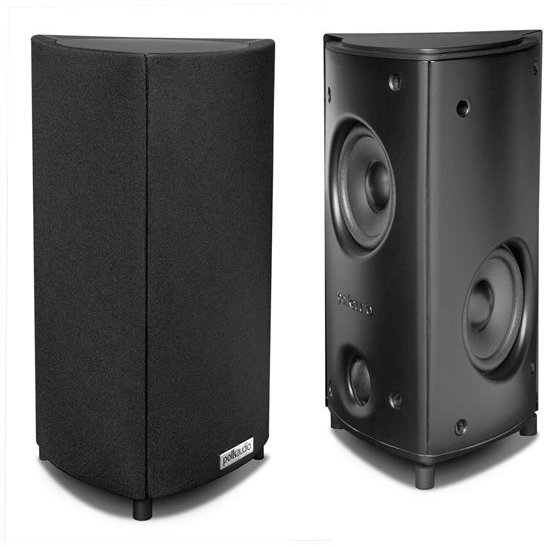 Powered Subwoofer
A home theater system is not complete without a powerful subwoofer. The deep bass offered by DTS soundtracks and Dolby Digital are ideal for these speakers. The bass provided by these speakers make the movie experience more entertaining. Surround speakers give special effects like explosions and thunder a more powerful room shaking appeal. Many speakers are not capable of delivering such a strong level of bass alone. For that reason, a powerful subwoofer is a necessity for any home theater system.
Our pick: Polk Audio PSW505 12-Inch powered subwoofer
This powerful subwoofer is versatile and flexible. The subwoofer can deliver powerful bass while offering quality lows and mid ranges. The design of the subwoofer is compact and simple; however, the speaker is well-built and affordable. The Polk Audio speakers provide impressive sound quality with a top notch amp, driver and cabinet. The PSW subwoofer is a perfect edition to any home theatre system.
The speaker is magnetically shielded with a 12-inch long-throw woofer
The ventilation is slot-loaded so distortion and outside noise is minimized
460W peak and 300 watts of power
Includes an auto on/off feature that turns the speaker on when a signal is present
Measures 16-1/8 x 15-1/8 x 18-3/16 inches (HxWxD)
The Polk Audio Subwoofer is available on www.amazon.com for $223.01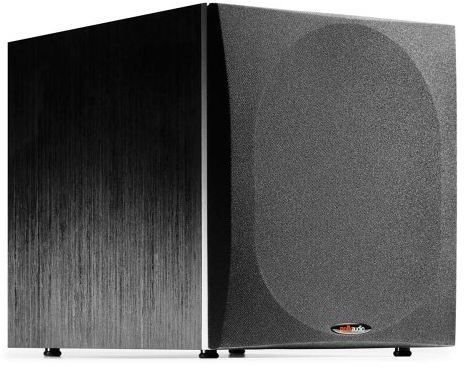 References