What Kind of DVD Recorder Do I Need to Record TV Shows?

People have been keeping recordings of TV shows since the invention of the VCR. Yet, with the appearance of the DVD player the ability to record a TV show permanently became a bit more difficult and the DVR became the default choice. More recently DVD recorders have dropped in price becoming inexpensive enough that it once again makes sense for the average TV viewer to ask what kind of DVD recorder do I need? To record TV shows any DVD recorder should work, but finding the best choice with all the features you could hope to have becomes a bit more difficult simply because of the many optional features in these devices.
DVD Recorder Basics
Before you even begin to look at DVD players the first step is to understand what features are most important. The most basic of these features is ensuring that the device can connect to your TV. In most cases this won't be a problem, but the wrong connections will lower video quality and make it harder to set up the device. To solve this simply look at the back of your TV and make a note of the choices for connecting devices.
Next you need to check the formats. If your only DVD player is going to be the DVD recorder this won't matter, but if you already have a DVD player and want to keep it then you'll need to ensure that the formats are compatible. Checking this isn't all that hard hard. In most cases the formats the DVD player can read will be written on the front of the DVD player. This usually isn't a problem, but it's worth checking especially if you have an expensive DVD player.
Once you know that you can use the DVD recorder you'll want to look at the specific features. One that is easy to understand is the hard drive. A hard drive allows you to record shows without burning them to DVD, do basic video editing and other useful features. The good news is that comparing hard drives is very simple. The more storage on the hard drive the better because it will allow you to record more hours of TV before you need to decide if you want to burn them.
Another feature that many DVD recorders have is DVR functionality. This includes features like the ability to pause live TV, watch one TV show while recording another and even skipping commercials. If you already have a DVR you like these will be less important, but if you don't looking for a DVD recorder with them is a good idea.
Finally, if you want to record TV you need to ensure that it has a TV tuner. Most do but there are differences in the type of turner you need based on where you get your programming. For nearly everyone what you want is a NTSC Analog TV Tuner. This will allow you DVD recorder to replace your VCR.
Toshiba DR570 (5 out of 5)
One of the most popular of the DVD recorders the DR570 is simple and can do almost anything you would want. It has a built in TV t

uner so you will be able to record from your TV. In addition to this it has several of the basic functions of a traditional DVR. It can record over a hundred hours of video, pause live programming, watch one show while recording another and even watch the beginning of a show while recording the end. In addition this isn't all that expensive for a device that can likely replace both your DVR and VCR.
(Cost: $157.00) Link
Panasonic DMR EZ28K (4 out of 5)
There are two major aspects of the Panasonic DRM EZ28K which are generally accepted as the primary advantages of the DMR. The first of these is that it is easy to use. For most people though any of these DVD recorders will become easy to use after a few days so while this is nice it isn't vital.
The other major advantage is that it is able to upconvert both TV and DVDs. This basically means that it can take a standard definition DVD and make it look a bit closer to high definition. This is useful for people who have a large DVD collection and want it to look better. Simply be aware that this isn't HD and there are many who feel that upconverted programs look worse than those that haven't been altered. This means that you should look carefully at the videos before you spend the money on this device.
Beyond these features it also has many of the features that you want. It has a built in TV tuner and a hard drive as well as an SD card slot which very few of the DVD recorders have. This makes moving video between it and your computer a quite a lot easier than with many of the other devices.
(Cost: $299.99) Link
MAGNAVOX H2160MW9 HDD and DVD Recorder with Digital Tuner (3 out of 5)
Not the newest model of DVD recorder the Magnavox recorder is an excellent device that has already worked through the bugs and glitches that are likely to appear in any complex device like a DVD recorder. THis device will let you set it to to record upcoming shows or watch a previously recorded show while recording another. With a good side hard drive moving videos from the hard drive to a DVD is very simple. If you want something that has been tested rather than the newest model then this is a good choice.
(Cost: $199.99) [Link](/tools/MAGNAVOX H2160MW9 HDD and DVD Recorder with Digital Tuner)
Tascam BD-R2000 HDD/Blu-Ray/DVD Recorder (5 out of 5)
If price is not an issue then the Tascam recorder is an interesting option. The record is able not only to burn DVD's but Blu-Ray vide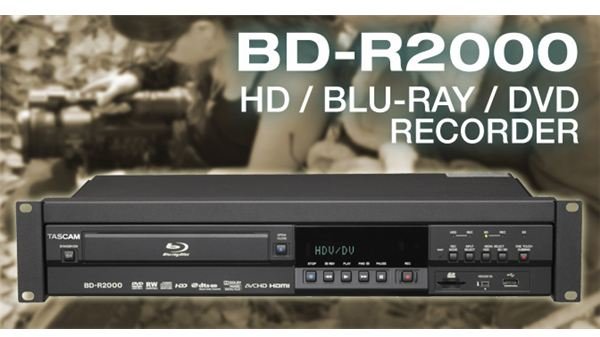 os as well. It has the ability to record into any format you want, edit video in a number of ways and has a 500 GB hard drive. This DVD recorder can do just about anything you might want the device to do and at its price it should be able to do all of that and more. THis DVD recorder isn't going to be anything the average person is going to buy, but it is interesting to consider as what the as the upper limit of what a DVD recorder can currently do.
(Cost: $2,199.99) Link
Finding the right DVD recorder is really a process of understanding what it is you want to be able to do. From simple devices that work more or less like a VCR to others that have all the features of a DVR along with abilities to save the information in a more permanent format you can buy a DVD recorder that will do almost anything you want.
References