Home Media Installers: Could This Be the Job for You?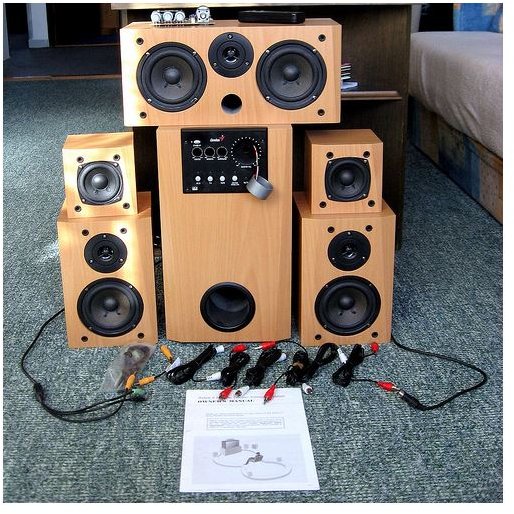 Home theater systems can be overwhelming to the electrically challenged. This means that there will always be a place for installers to do the technical part of the job. With the cost of large home entertainment systems coming down and becoming more accessible to the mainstream public the need for trained installers will only continue to grow.
Job Duties
What does a home media installer do? Depending on the specialization that they choose an installer may work with any number of products including big screen TVs, surround sound systems and computer controlled home systems. In-home installers work directly with customers to equip their homes with the system they have purchased. This involves hardwiring the system to the customer's specification so that it fits in the home décor without being unsightly.
Many of the current home media devices are comprised of tiny electronic components. Installers must be familiar with these components and how to troubleshoot problems with them while on site. This requires an advanced understanding of the circuitry of both audio and video components and the safe precautions that must be taken to prevent damage to the unit or harm to the installer. This knowledge is usually obtained through internship with a certified company, vocational education, community college classes or previous experience in another field dealing with electronic circuits.
Certification
Being certified by the CEDIA (Custom Electronic Design & Installation Association), ETA (Electronics Technicians Association) or NSCA (National Systems Contractors Association) makes an individual much more attractive to a potential employer. Many college course and vocational degrees lead up to the taking of certification tests from one or more of these organizations. These certification exams are both theoretical and practical in nature so education that includes hands on training will best prepare the student for this type of exam.
CEDIA offers a Designer Certification and a Home Theater Design Specialist Certification. These two certifications are the most highly recognized and offer the most weight when trying to land a job. The Designer Certification exam is a theoretical exam that costs $149 ($99 for members) and once passed stays active for a term of 36 months at which time recertification will be necessary. The Home Theater Design Specialist Certification is a two day (12 total hours) practical exam where an installer must implement a complete install to specifications within the time period. The Designer Certification is required as well as the passing of a 20 question pre-test before the practical exam will be administered.
The NSCA offers a training course to help students pass the C-EST (Certified – Electronic Systems Technician) test. This test is the industry standard. The certification exam covers electrical basics; tools; construction methods and materials; wiring and installation practices; and standards, codes and safety practices. Passing this test will qualify an individual to work on both standard in home installations and larger fiber optic installs.
Tools
A home installer needs to have a large toolbox including standard screwdrivers, a hammer, wire cutters, coaxial cable strippers, RJ-45 crimping tool, RG-59 and RG-6 connectors, BCN connectors, an F crimp, cable organization belts, adhesive tape, a portable rotary cutting tool, a tape measure, punch down tool, zip ties, a cordless drill, labeling strips and a permanent marker. If the installer will be working with a computerized system then a few extra tools will be necessary; an anti static wrist band, multi-size wire stripper, and possibly a thin snaking camera for interior wall installs.
Home entertainment system installers also need a few indelibles. They need to have excellent vision and great sound sense so that installed products are left running their absolute best. Excellent communication skills and a clean cut appearance are also highly valued.
Income and Job Potential
The Bureau of Labor Statistics (BLS) projects at least an 11 percent growth in home media installers in the next seven years. The current median wages for an installer are from $17.19 to $24.13 per hour ($35,000 to $50,000 a year) depending on the region and experience level of the installer. The current trend for installers is to obtain an initial certification and then supplement that with an internship. Once the installer has a year of work under his belt, there is the opportunity to start up an independent business. Because certifications are given to the individual and not the company they work for an individual can take his certification with him.
The job growth rate quoted by the BLS is conservative at best. As the cost of owning a home theater system comes down it can be expected that the purchases of these systems will grow exponentially (as we have seen with the recent HDTV boom). With this influx of new systems there will need to be an exponentially equal number of installers to put them in. There are currently just of 50,000 certified installers in the entire country (1,000 per state). This is woefully under the number that will be needed if the growth is even half of what was experienced in the HDTV market.
References
Bureau of Labor Statistics, Electronic Home Entertainment Equipment Installers and Repairers, 2011, https://www.bls.gov/oco/ocos187.htm
E-Commerce Times ,"New Tech and New Horizons for Home Media Installers", Bill Ablondi
August 2009. https://www.ecommercetimes.com/story/New-Tech-and-New-Horizons-for-Home-Media-Installers-67884.html?wlc=1310309626
NSCA, Increase Margins, Motivate Staff, Build Reputations with the Technician Training Series, https://nsca.org/TrainingCertification/ESTLevelTraining/tabid/212/Default.aspx
CEDIA, CEDIA Celebrates 20 Years of Excellence, https://www.cedia.net/ip/ip.php
Image courtesy of Pitel @ FlickR, https://www.flickr.com/photos/pitel/5170996345/sizes/m/in/photostream/