Get Connected with the Kenwood Compatible Sirius Satellite Radio Tuner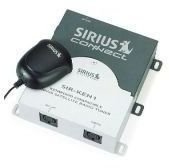 If you love to listen to radio but you get tired of all the commercials and broken broadcast signal, you are ready for Sirius radio. For a small subscription fee, you get a crystal-clear digital signal, and there are no commercials. You probably will not even miss your favorite stations because everything you love listening to is on Sirius Satellite Radio: all styles of music, a variety of sports, and controversial talk radio. Many styles of music that you will not hear on regular broadcast radio are available to you.
Getting Sirius Radio on Your Tuner
You need a way to get the digital radio signal to your radio. If you have a Kenwood Sirius ready head unit, you are in luck: The SiriusConnect SIR-KEN1 Kenwood Compatible SIRIUS Satellite Radio Tuner has been designed to do just that. All you do is hook it up to your Kenwood car stereo, and you will be styling to the sounds of satellite radio. All you have to do then is pick out some favorite radio stations; no more long drives out of the city without tunes.
If you have other things hooked up to or plan on adding other components to your Kenwood and don't want to sacrifice the input you need, you don't have to worry about that: SiruisConnect already thought of that. They put in a pass-through so you can hook up a CD changer or other similar accessory through the SIR-KEN1 and right into your car stereo. You sacrifice nothing in your system to get cool satellite radio.
The kit comes with what you need to get up and running: 5L-bus pass-through to add additional Kenwood products, J-bus pass-through to add JVC products, and a magnetic mount micro antenna with a 21-inch 5L-bus cable. You also get a manual that you can read offline or access it online.
The Low Down on Specs
We know you audio aficionados want all the detailed dirt, so here are some of the specifications:
Satellite Frequencies: 2322.293/2330.207 MHz
Terrestrial Frequencies: 2326.250MHz
Power Requirements: 11-16 Volts DC
Dimensions: Width: 4-1/8 inches Height: 4-7/8 inches Depth: 1-3/8 inches
Antenna Connector Type: SMB (Right-angle)
Audio Interface: 2- 5L Bus Connectors (Input/Output)
Why Sirius Satellite Radio?
Have you ever noticed that broadcasters play the same songs over and over on the radio? Even great songs have a way of becoming tiresome when that happens. And sometimes you just can't find anything you want to hear, even though you are going through all of your Favorites presets. That's won't happen to you with satellite radio. There are over 150 stations from which to choose.
If you think you had a good rock station or two on your broadcast radio list, try satellite. The rock programming ranges from rock you haven't heard for years to rock you won't hear on broadcast radio because it is not commercial enough. It is often referred to as "underground' music. That usually means it's real good stuff.
Stations don't play good jazz on the radio, but they do on satellite radio. You can get your smooth "elevator-ish" jazz if you like, but if you want to really hear what is going on in jazz, as well as how it got where it is today, you need satellite radio. The same can be said for blues, country and other types of wonderful music.
If you love talk radio, particularly news radio, Sirius is a must have. AM radio will drive you bananas after a while because it sounds tinny and the signal is often week. Try listening to talk radio from a satellite for a while and you will never go back to AM.
Aside from the styles of music and talk radio, there are some popular hosts for those shows: Howard Stern, Joan Jett, Marky Ramone of the Ramones, and Eminem. Do you have a favorite artist you want to hear all the time: How about an all Rolling Stones channel? Other artists that have or have had stations dedicated to them include Elvis, Bruce Springsteen and the Who.
It is definitely worth adding satellite radio to your entertainment arsenal. Getting a Kenwood compatible Sirius Satellite radio tuner will put you right into the game. The transition is easy with the SIRIUS Connect for Kenwood. We found it available for $99 at the Sirius Shop, an online store that specializes in selling equipment for SiriusXM Satellite Radio supplies. You can visit them and see the product here: Sirius Shop.
Resources
References: Sirius Shop, shop.sirius.com Sirius, siriusxm.com
Images: Sirius Shop, shop.sirius.com