Program Universal Remote for DirecTV
A universal remote control allows you control multiple electronic devices with just that one remote when you enter in specific codes. Included among the devices you can control is your satellite receiver.
Of course, there are two major satellite television providers in the U.S. but, chances are if you're reading this article, you have a DirecTV receiver. Unfortunately, the code you need to enter to control one DirecTV receiver is not the same for all DirecTV receivers.
There are many different models of remotes available as well as many different DirecTV receiver manufacturers. Each remote has specific instructions you need to follow and each receiver's code depends on both the remote's model and the receiver's manufacturer when programming your universal remote to control your direct tv.
Sony RM-VLZ260 Remote
If you have not done so already, turn the receiver on that you want to program the RM-VLZ260 to work with. Once it is on, press the "SET" button on the remote and wait for the indicator light to turn on. While still holding "SET," press the "CBL" button.
If your receiver comes directly from DirecTV, the codes available for you to try are: "40099," "40566," "40749," "41377," "41414," "41442" and "41749." Type each of these codes in using the remote's number pad until one works. Unfortunately, once you enter a code you must perform the entire procedure again any time you try to enter a new code.
For a receiver you purchased yourself that is manufactured by Panasonic (indicated by "Panasonic" appearing on the receiver), the code you have to enter is "40847." The codes you can use for a Sony receiver are: "40847," 40853," "41558" and "41979." Again, you must repeat the entire procedure each time you try a new code.
After entering a code, the "SET" indicator light flashes three times and then turns off. At this point, you can press the "Power" button on the RM-VLZ260 to see if it turns the receiver off. If it does, you are set. If it does not, you need to try the different codes until it does.
RCA RCRN04GR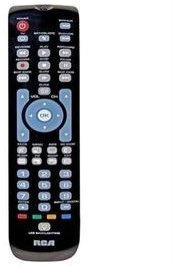 Turn your DirecTV receiver on (if it is not already) and press and hold the remote's "CBL/SAT" button. Wait for the "Power" key to light up. When it does, keep holding the "CBL/SAT" button and enter in the appropriate code (note that the light on the "Power" key turns off when you enter the code).
If you are using a receiver that comes directly from DirecTV, enter "03" on the RCRN04GR's number pad. For a receiver manufactured by Philips, enter "08" as the code. Enter "10" for a Panasonic receiver. Look at the "Power" key after entering the code. If it is illuminated, you are done. If it is not, you must go through the entire procedure again and make sure to enter in the correct code.
References
"Sony eSupport - RM-VLZ620 - Remote Codes and Programming" https://esupport.sony.com/US/perl/model-remote.pl?mdl=RM-VLZ620&region_id=1
"Information, User Manual and Code List for the RCA RCRN04GR Remote Control" https://voxrightnow.custhelp.com/app/answers/detail/a_id/10294/~/information,-user-manual-and-code-list-for-the-rca-rcrn04gr-remote-control
Sony RM-VLZ260 Remote image courtesy of buzzillions.com
RCA RCRN04GR Remote image courtesy of shopping.com